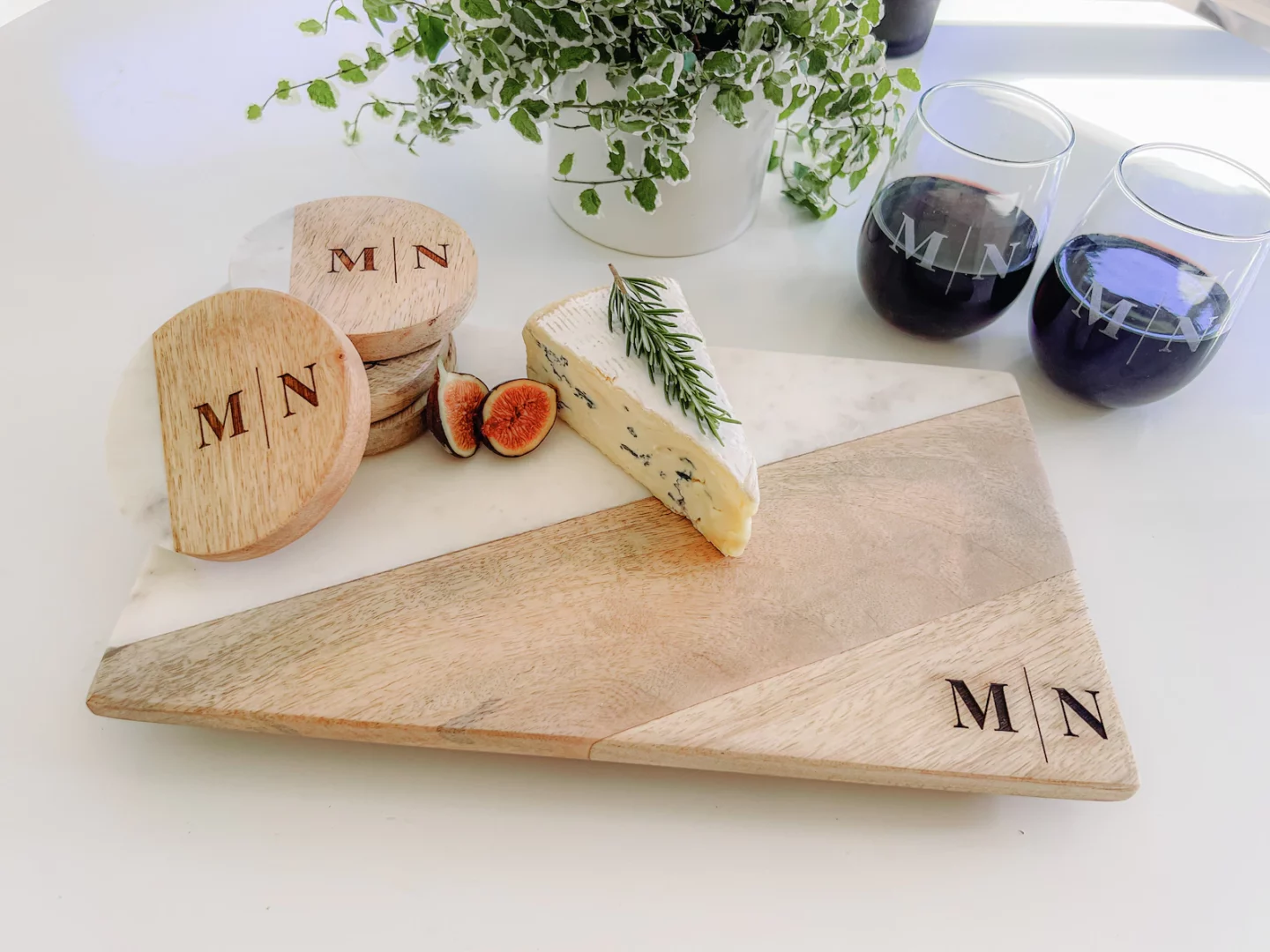 Who doesn't love a personalized charcuterie board? They're easily a fan favorite when it comes to weddings, house warmings, special occasions – or even a little special something for yourself. When someone unwraps one of these, they'll know the time, thought and love that went into your selection. And if you're shopping for yourself, it just gives your guests another opportunity to compliment your incredible taste!
If you're in the market for something unique, check out these gorgeous, personalized charcuterie boards!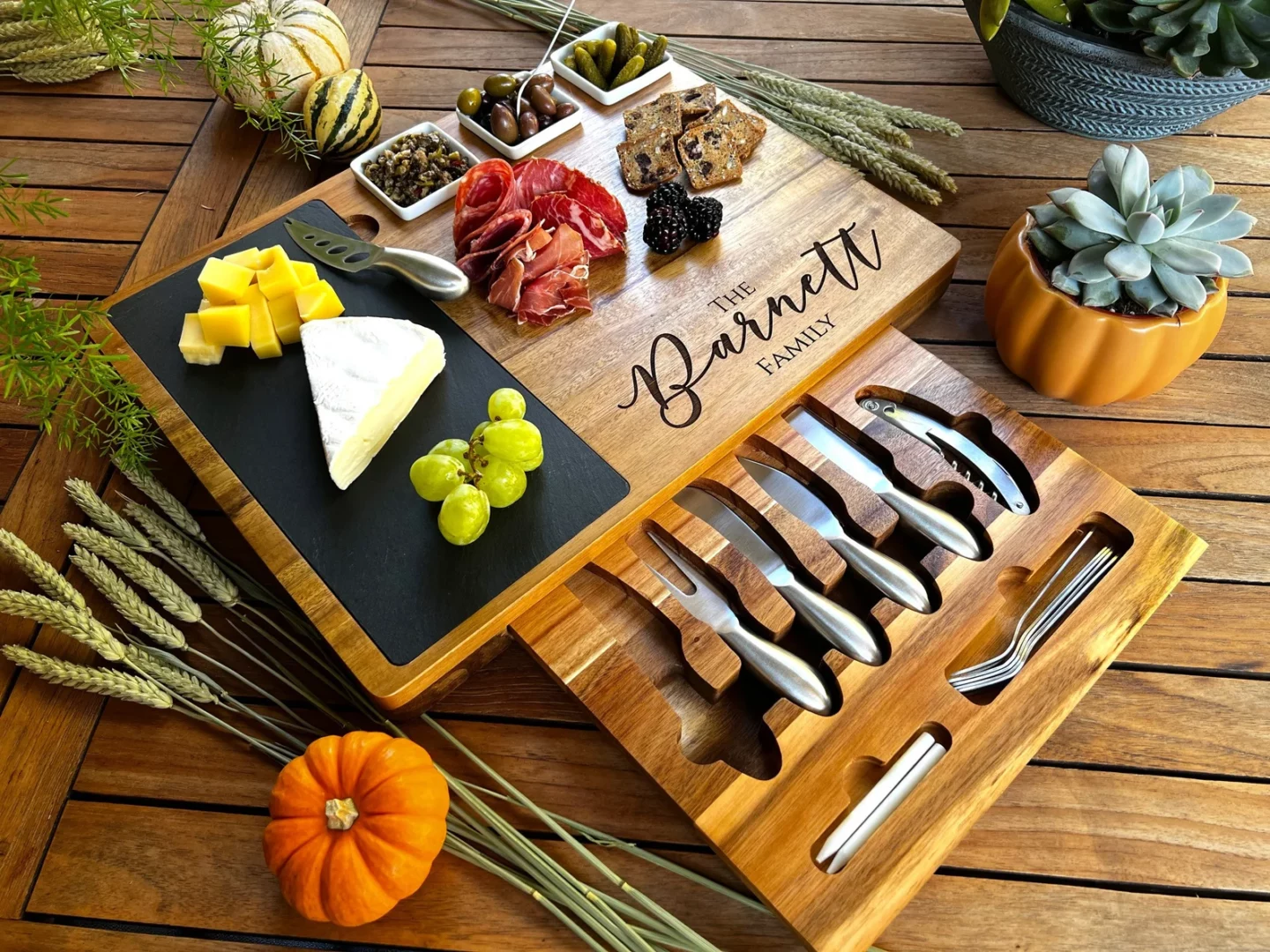 The All In Charcuterie Board
Who wouldn't want a full-stop charcuterie board set? This charcuterie board is the perfect gift for any occasion, and whoever is lucky enough to unwrap this set can rest assured they'll be "the hostess with the mostess." This personalized charcuterie board features a slate insert and a 19-piece cheese tool and knife set.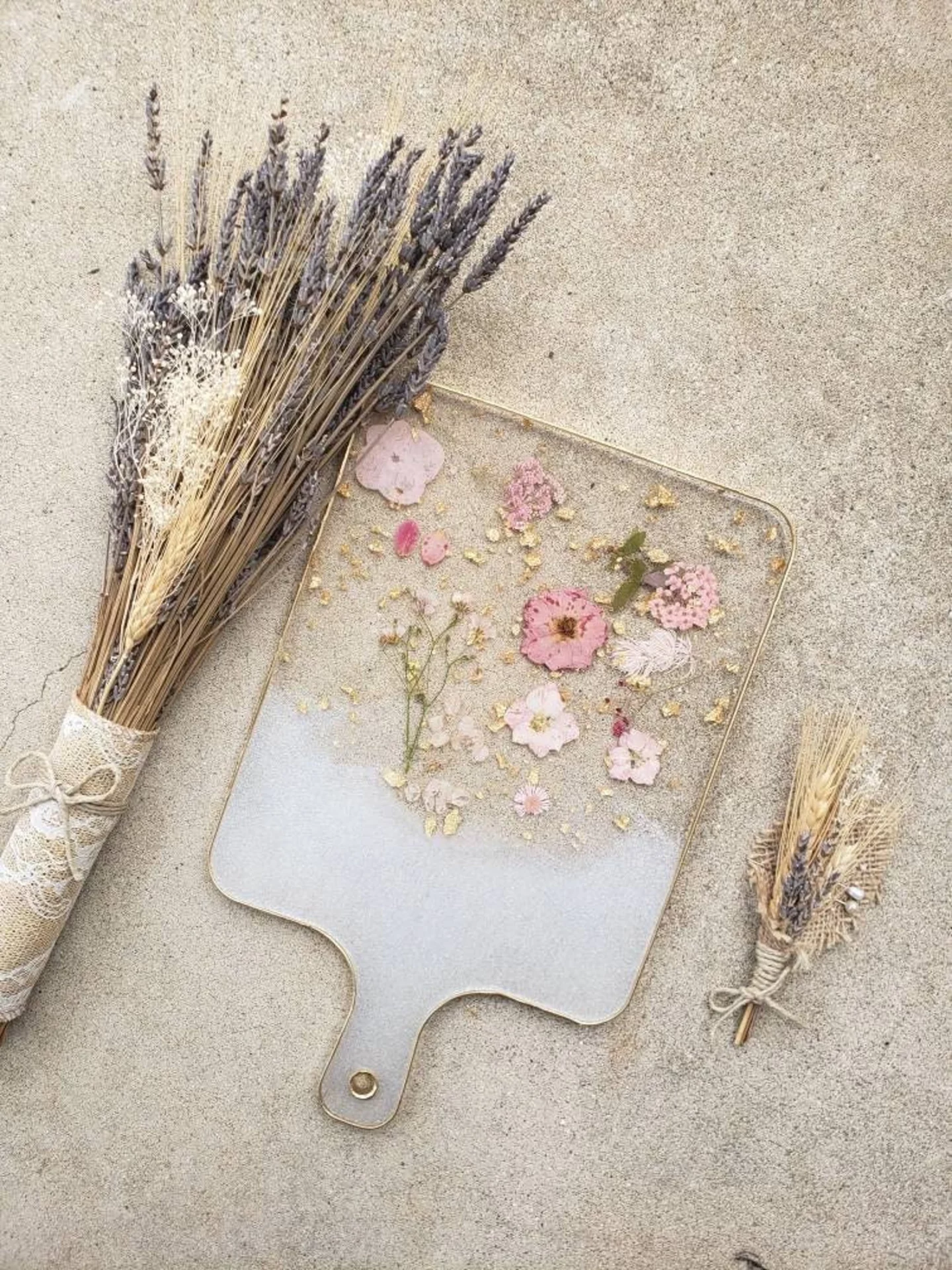 One Of A Kind Floral Charcuterie Boards
When you think of personalized charcuterie boards, chances are you're picturing the names of a bride and groom engraved onto a beautiful slab of wood. And while those types of personalized charcuterie boards always make gorgeous wedding gifts and housewarming presents, there's so many other ways to craft a one-of-a-kind charcuterie board no one will never forget. These stunning floral charcuterie boards are incredibly unique, and you'll have your pick of dried flowers and finishes when it comes time to custom order.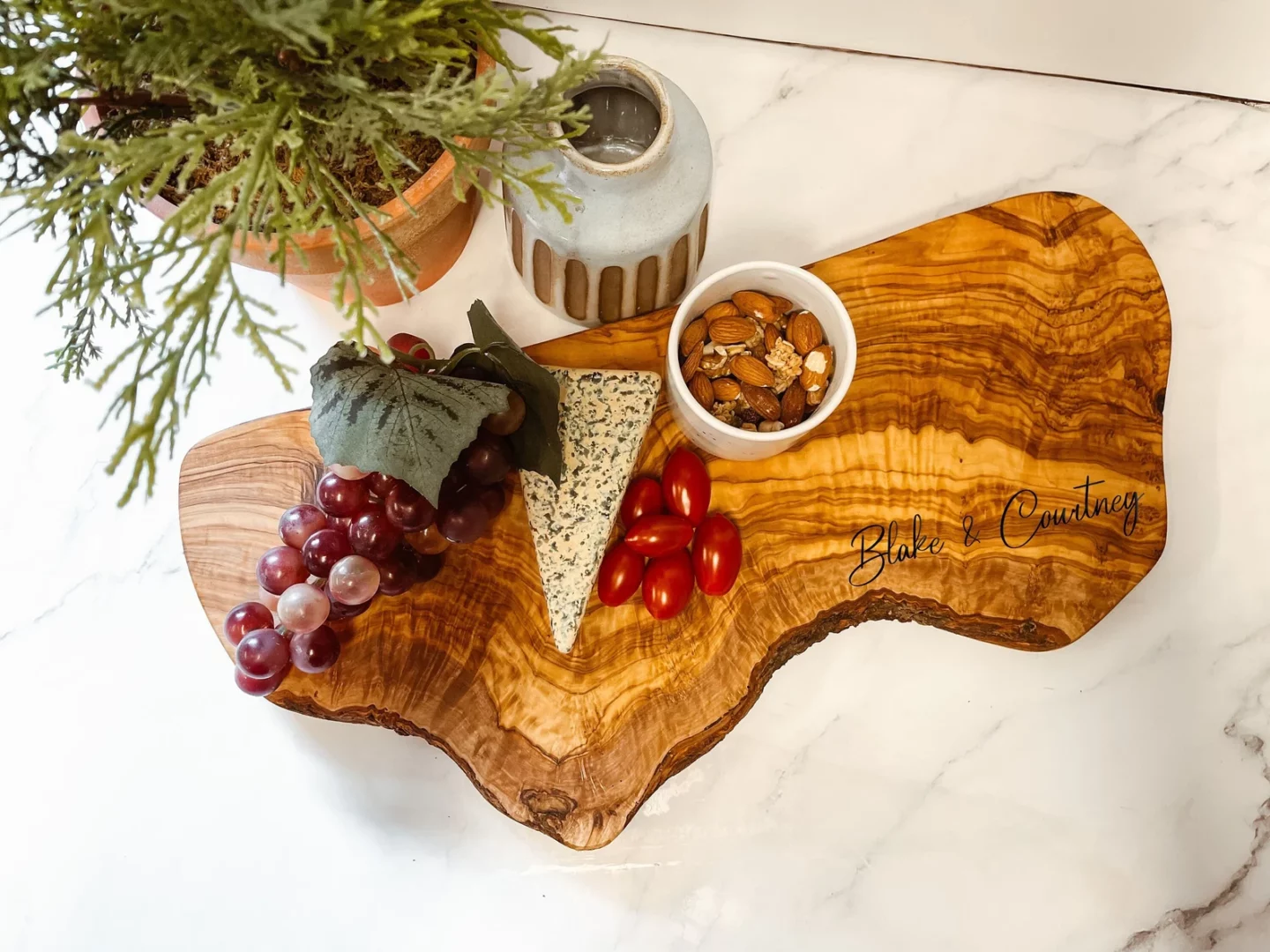 Live Edge, Olive Wood Charcuterie Board
This sleek, olive wood charcuterie board will look perfect in any kitchen – from cottage core to modern design. What's especially unique about these boards, though, is they're cut from a single piece of wood, meaning no two pieces are the same. Plus, all your guests will swoon when you explain that most olive wood sourced from the Mediterranean is more than 300 years old!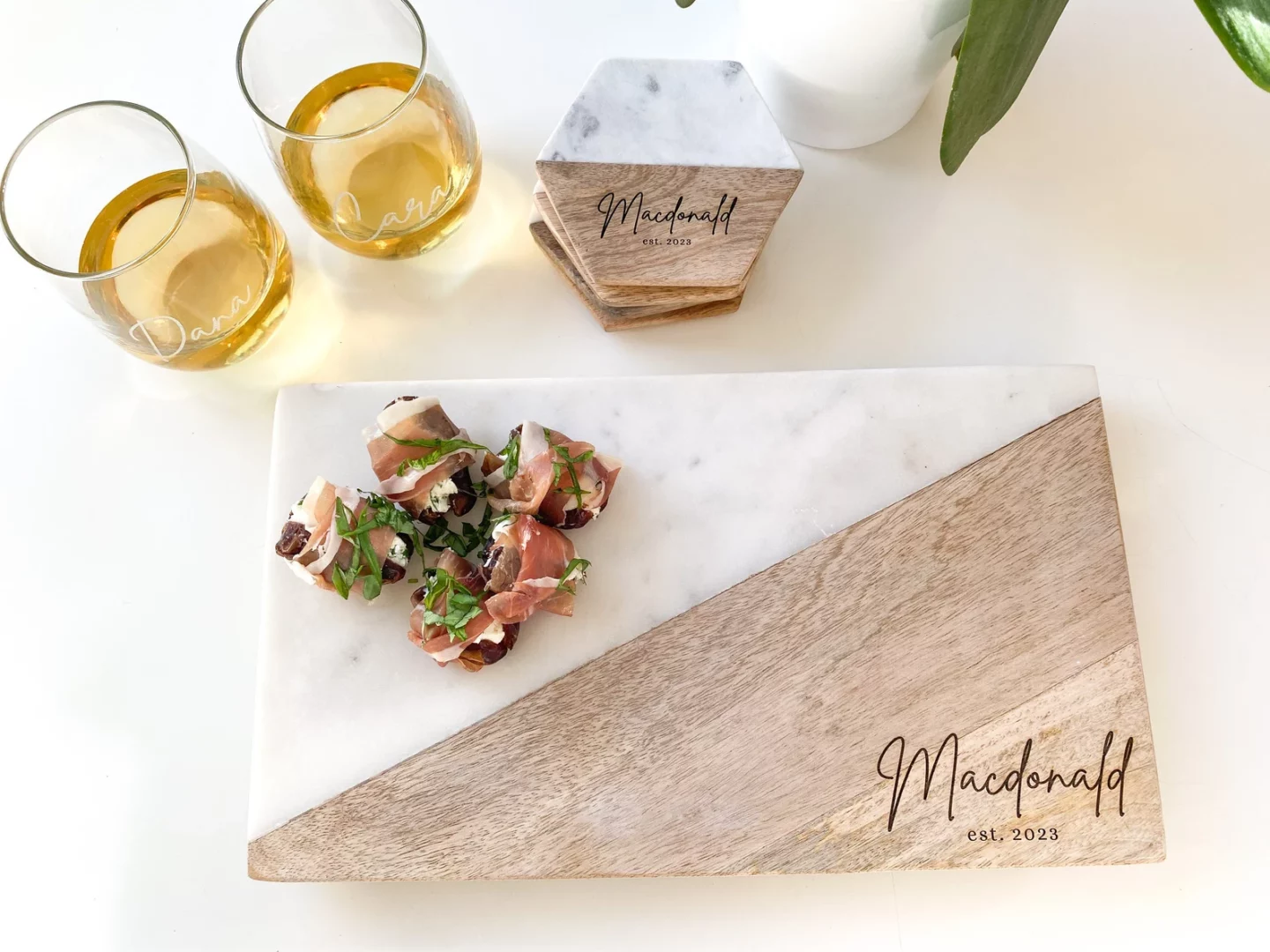 Marble and Wood Charcuterie Board with Coasters
This marble and wood charcuterie board is effortlessly chic, and when you debut it at your next gathering, the matching coasters and stemless wine glasses will scream "I've got it all figured out!" No matter what kind of spread you put out, your guests are sure to be impressed!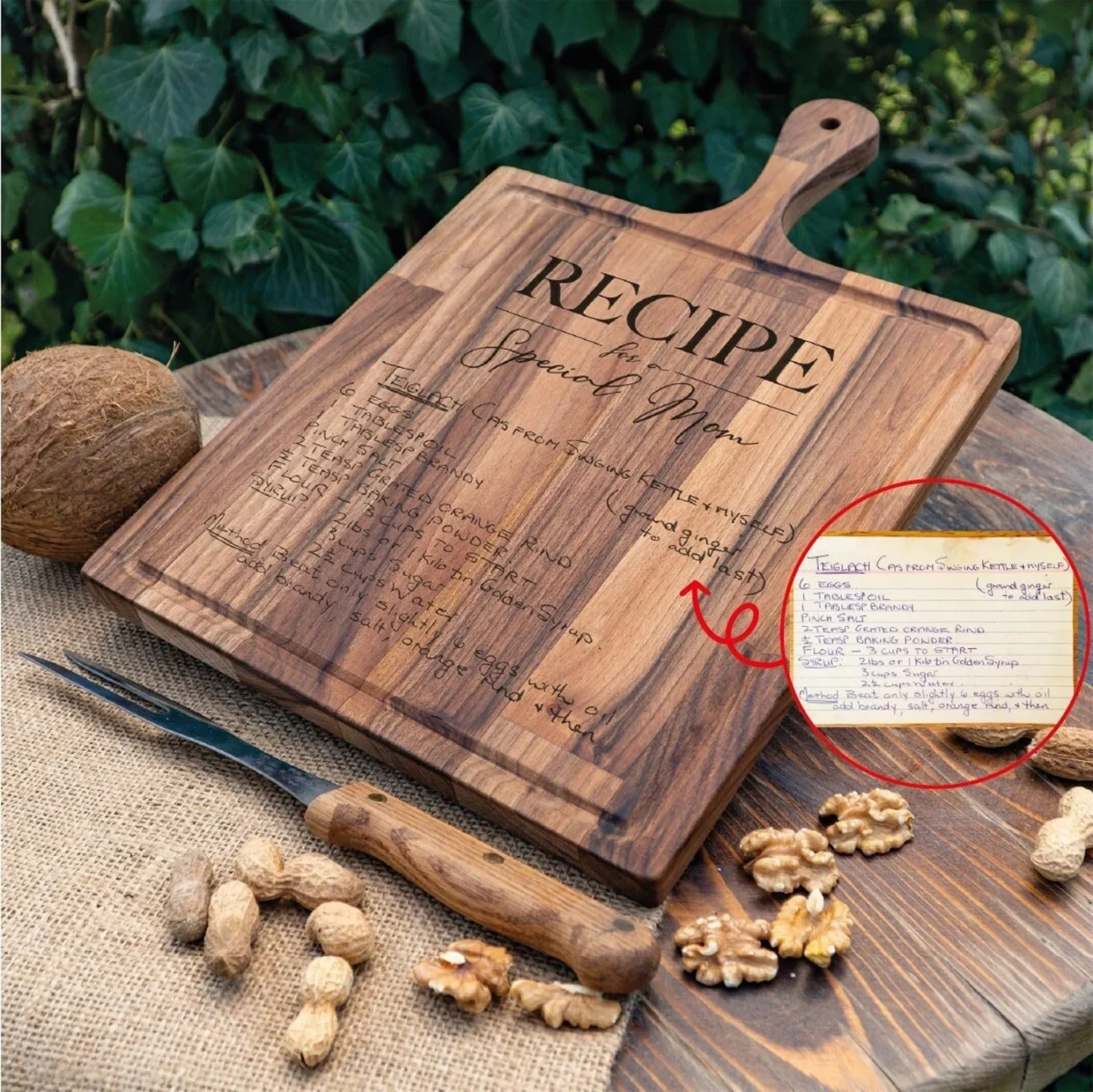 Handwritten Recipe Board
There's a reason handwritten recipes are treasured and passed down from generation to generation. The food we share around the family dinner table is a major part of who we are, and it's a deep connection to our family's history. This personalized charcuterie board would make an incredibly heartfelt gift for any relative, and I'm willing to bet you already have that signature dish in mind!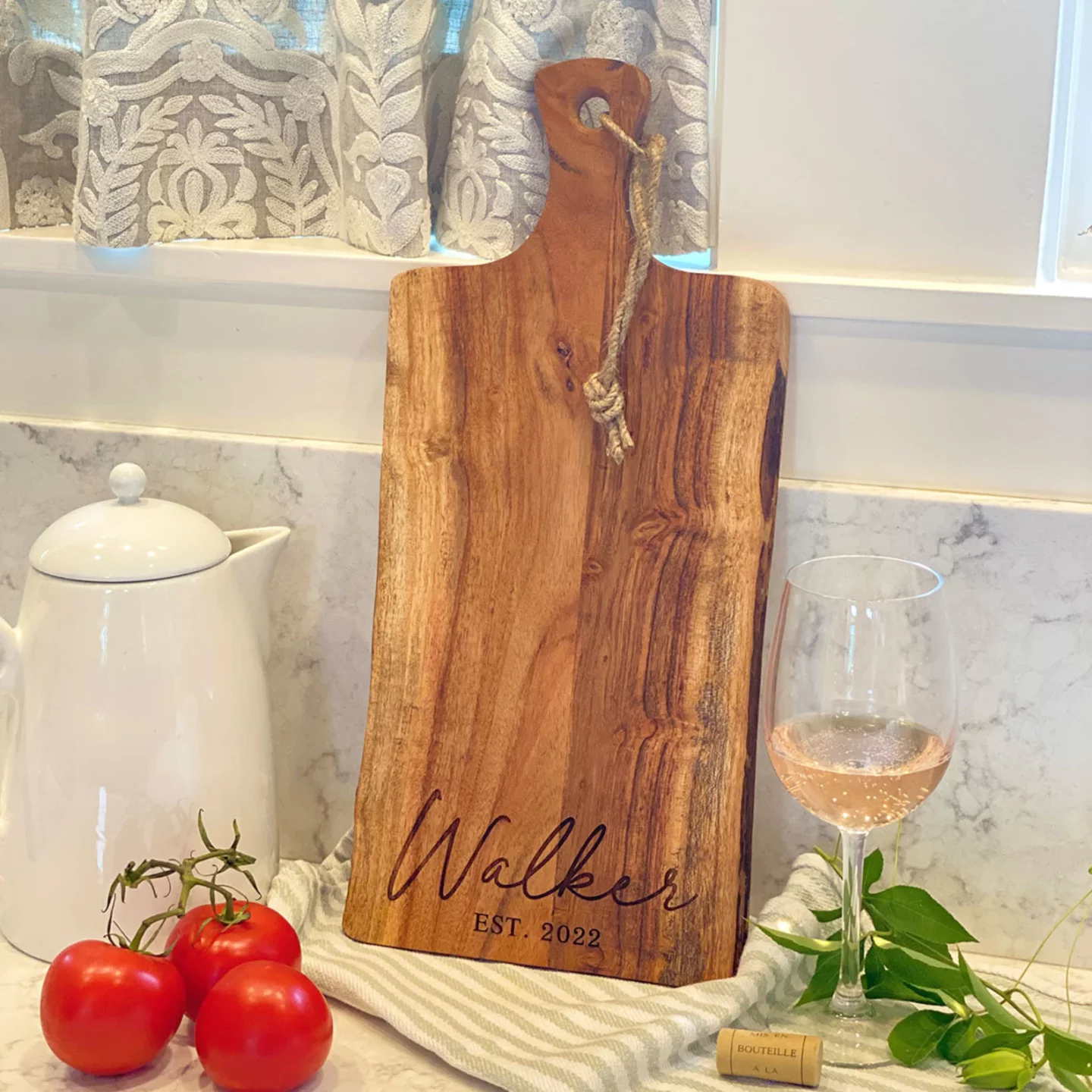 Rustic Charcuterie Board
This rustic, live edge charcuterie board is giving some serious farmhouse decor vibes. What's really special about this personalized board is you have plenty of options. Do you want to keep things simple and only display an initial? That's an option. Want to showcase your full last name? The year you were married? Your hometown and GPS coordinates? Those are all options too!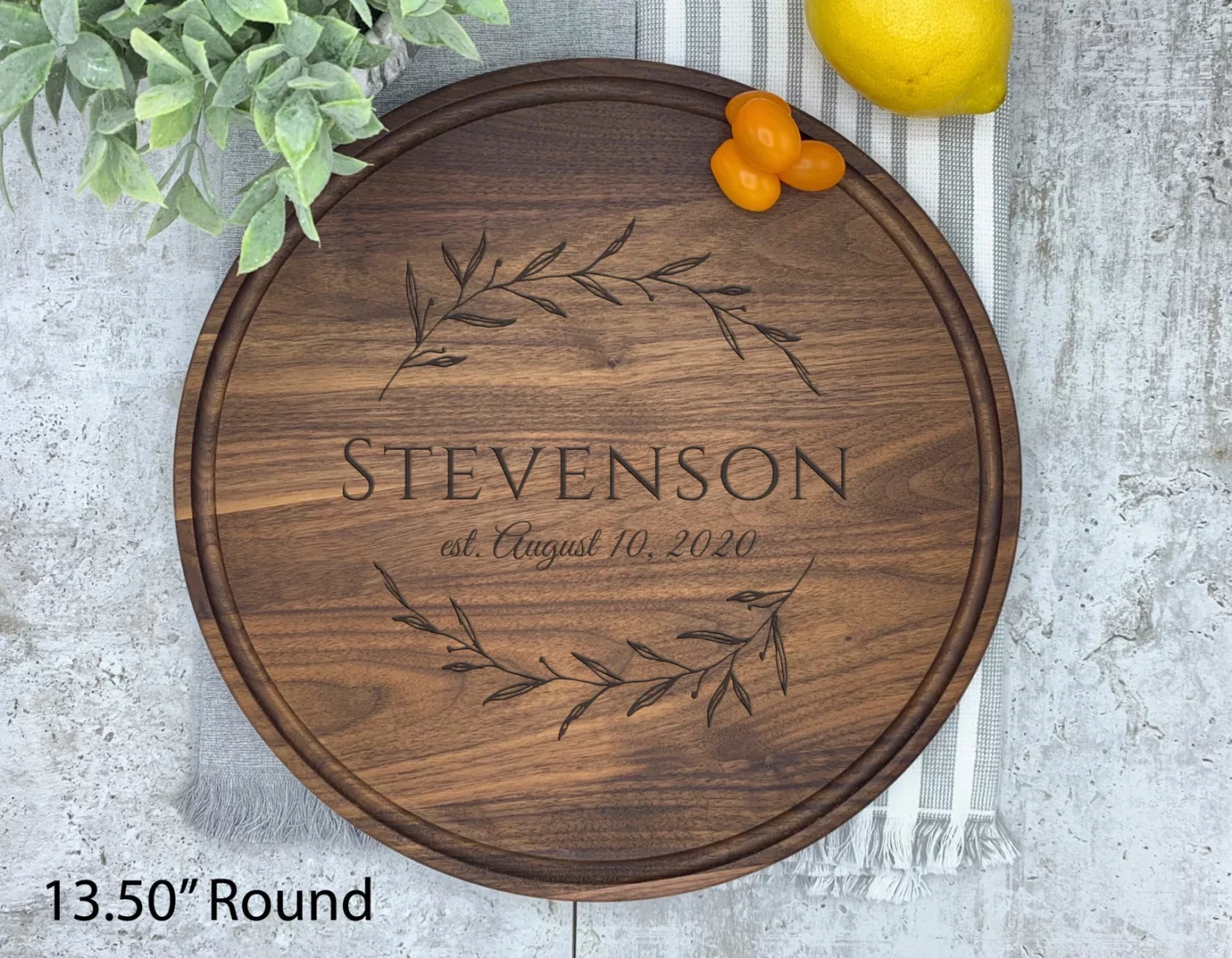 Walnut Serving Board
Is there anything more classic than a round, walnut serving board? There's something timeless about this design, and it's the perfect wedding present for any new couple!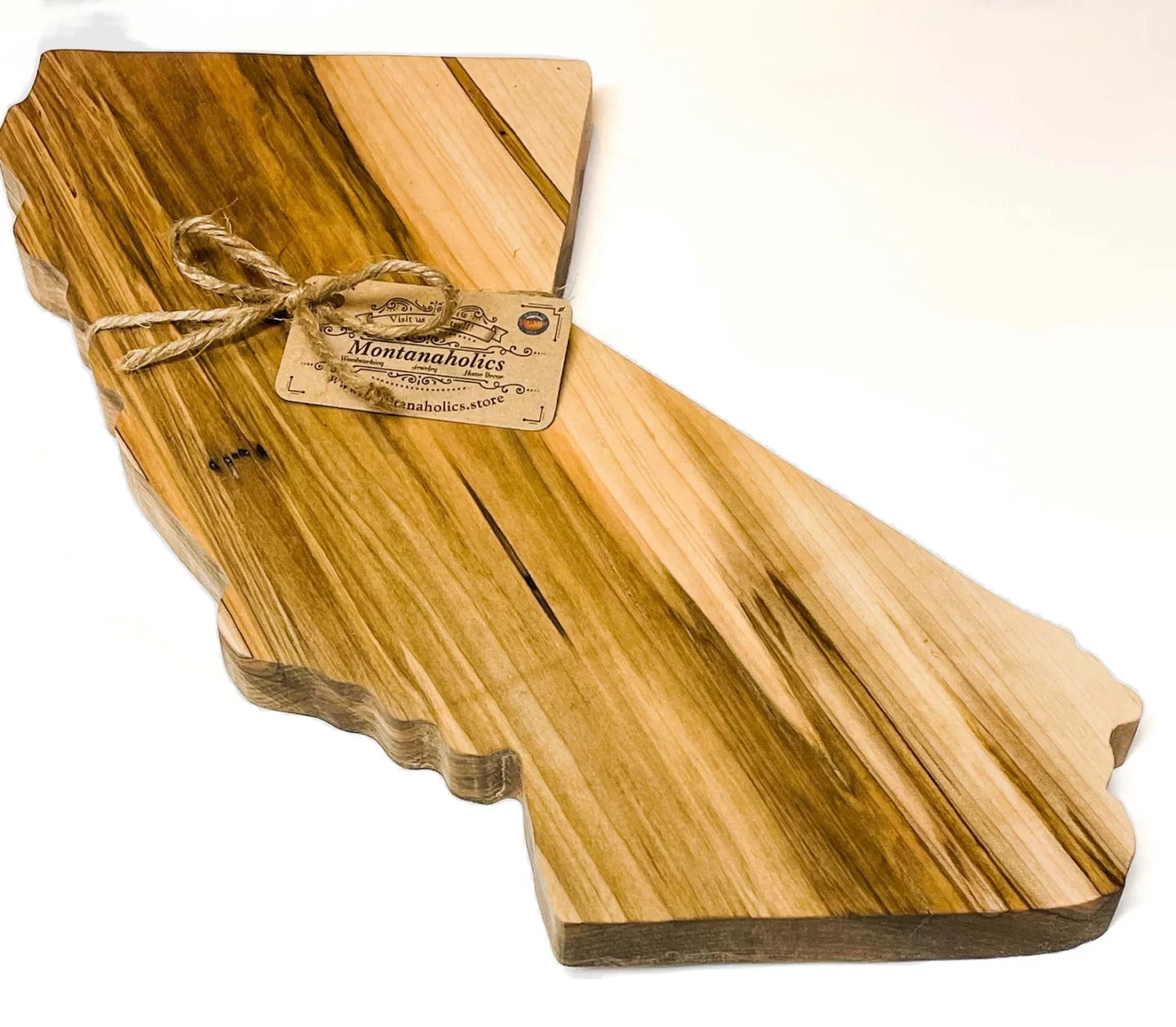 State Pride Charcuterie Boards
These boards are the perfect gift for nearly anyone in your life! If you're welcoming out-of-state neighbors, or saying "Bon Voyage" to a friend or family member heading to the other side of the country, what could be better than a personalized charcuterie board shaped like your state? You don't need to wait for a housewarming party in order to gift one of these gorgeous boards, though. If you're like me, and you've fallen in love with destinations all over the country, one of these charcuterie boards could serve as a wonderful reminder of your favorite adventures.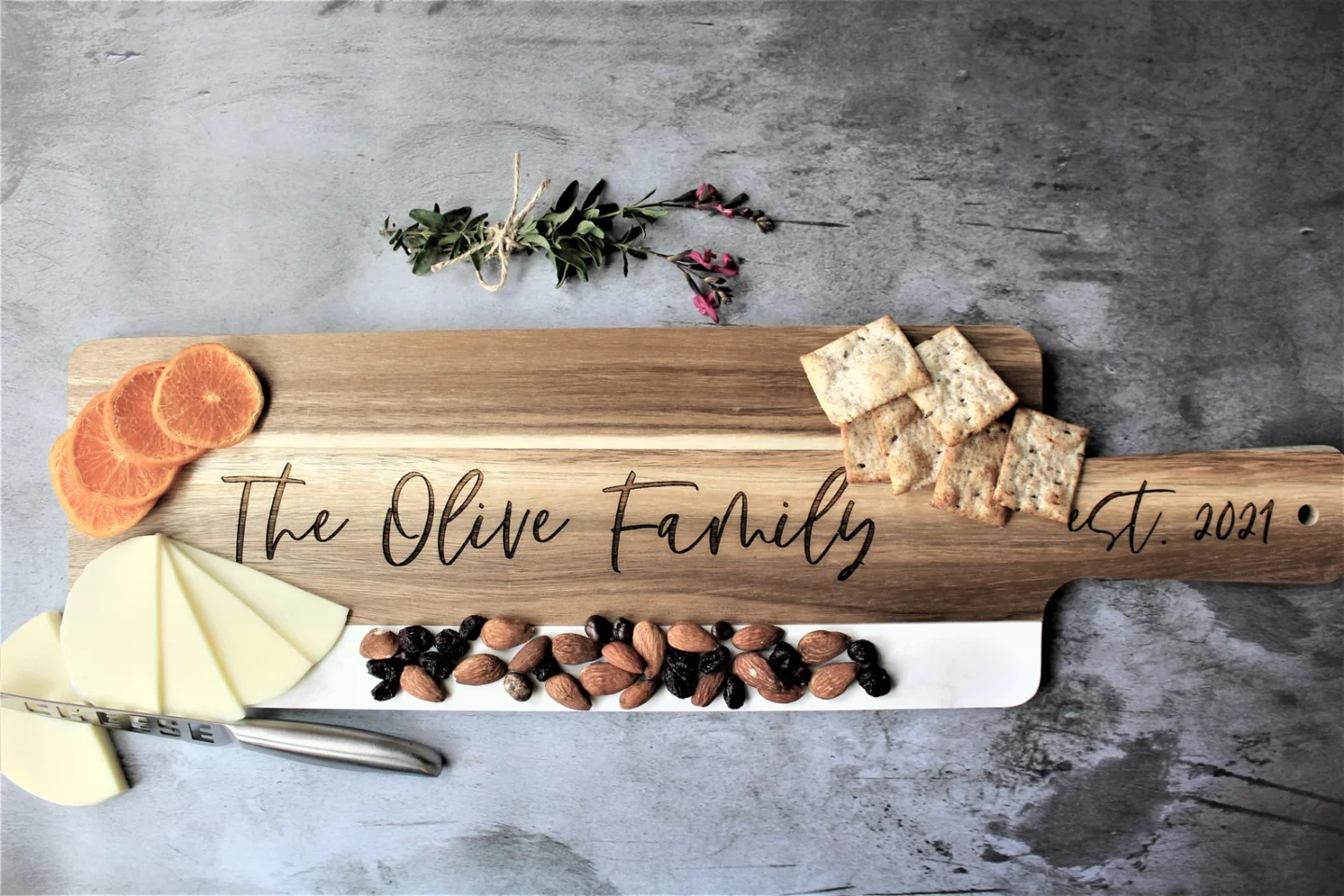 Mixed Materials Charcuterie Board
There's a lot to love about this beautiful, mixed materials charcuterie board. The striking contrast between the marble and the Arcadia wood is gorgeous, but personally, I'm obsessed with the font style! Think of how perfect your name would look in big sweeping letters! Plus, there's an option to add on matching coasters.
Frequently Asked Questions
Should I get a personalized charcuterie board?

If you've never invested in your own personalized charcuterie board, you should absolutely get one! These pieces are beautiful and full of sentimental value, and they're sure to be a conversation starter at your next gathering. Plus, you'll be supporting small businesses and artists. Did I mention they also make the perfect gift?
How big of a charcuterie board should I get?
What size charcuterie board you should go with really depends on how many guests you'll be feeding and what kind of event you're hosting. If the charcuterie board is going to be the star of the show, a general rule of thumb is to provide about 5 oz. of meats and cheeses per guest. You'll want to serve less, though, (about 2 or 3 oz.) if you're planning to bring out your charcuterie board as an appetizer. That way, your guests will still have room left over for whatever delicious meal cooked up in the kitchen!