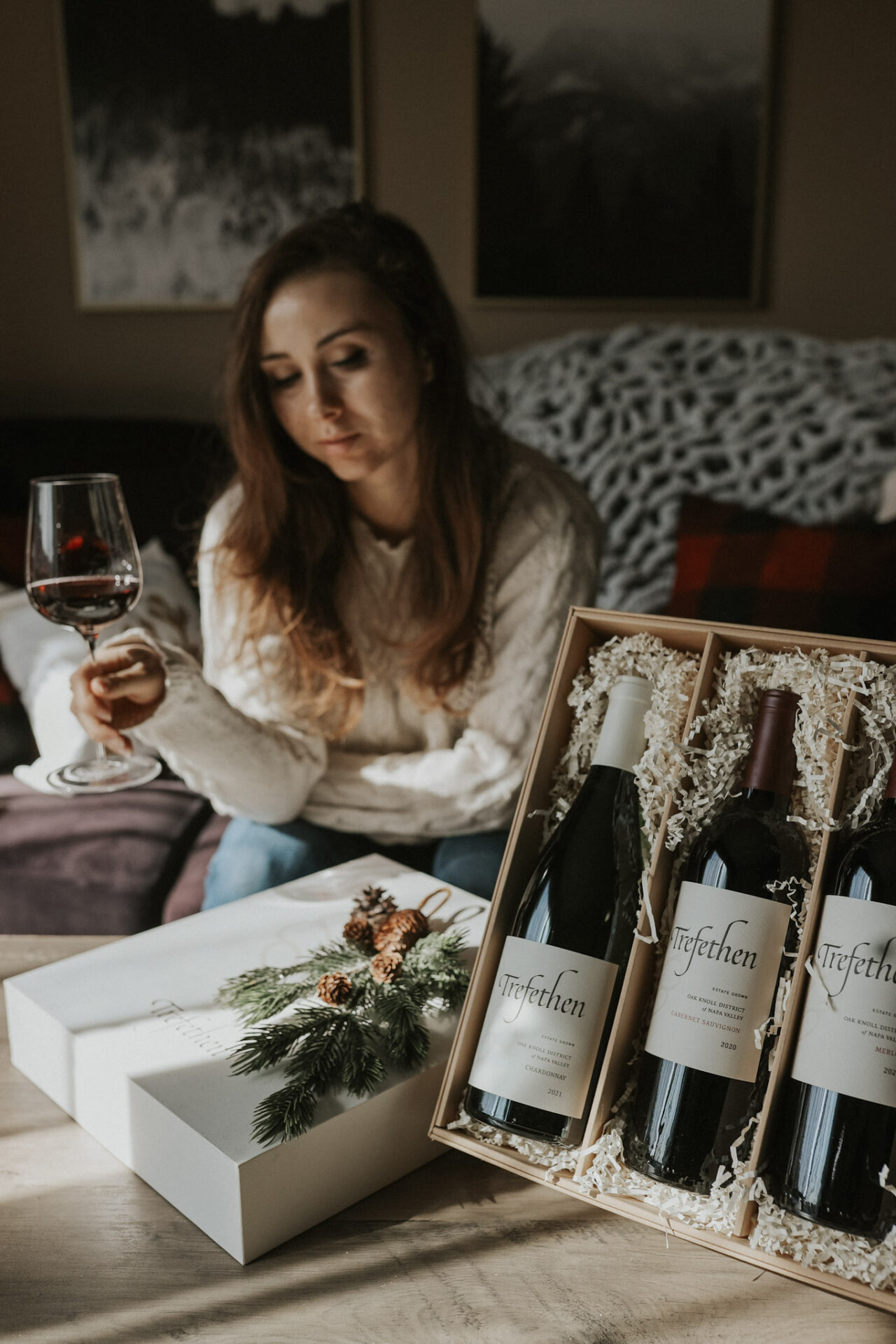 Ah, the holidays, a time of warmth, joy, and the hunt for that perfect gift. Amidst the seasonal bustle, let me share a delightful secret with you: Trefethen has taken the guesswork out of gifting this year. The perfect presents are wrapped and waiting.
Trefethen has put together the perfect Holiday Wine Gift Sets for everyone on your list. The thoughtfulness that has gone into crafting these sets is beyond impressive.
For those in your life who create culinary magic in their kitchens, there's a set with exclusive recipes that promise to fill their homes with the intoxicating scents of holiday feasts. The collectors among us will revel in the unique vintages and limited editions that allow us to explore the rich tapestry of Trefethen's history and craftsmanship. And, of course, there's something for the versatile wine lover in every family. Bright whites, bold reds, and even a charming gift for that perfect host or hostess.
These sets are a celebration of the season, bursting with flavors, stories, and the incredible artistry that Trefethen brings to every bottle. I can't wait to share the joy of these sets with my loved ones and toast to the festivities ahead!
So, read on, dear friends, and discover something for every special person on your list. And while you're at it, consider adding one of these exquisite wine sets to your own holiday wish list. After all, who knows your tastes better than yourself?
Here's to the magical moments of the holiday season and the shared love of Trefethen wines.
This post was sponsored by Trefethen. Although I received compensation for writing this, all thoughts, opinions, and recommendations are my own. I am so grateful for brands I love supporting what I do. Thanks for supporting them back!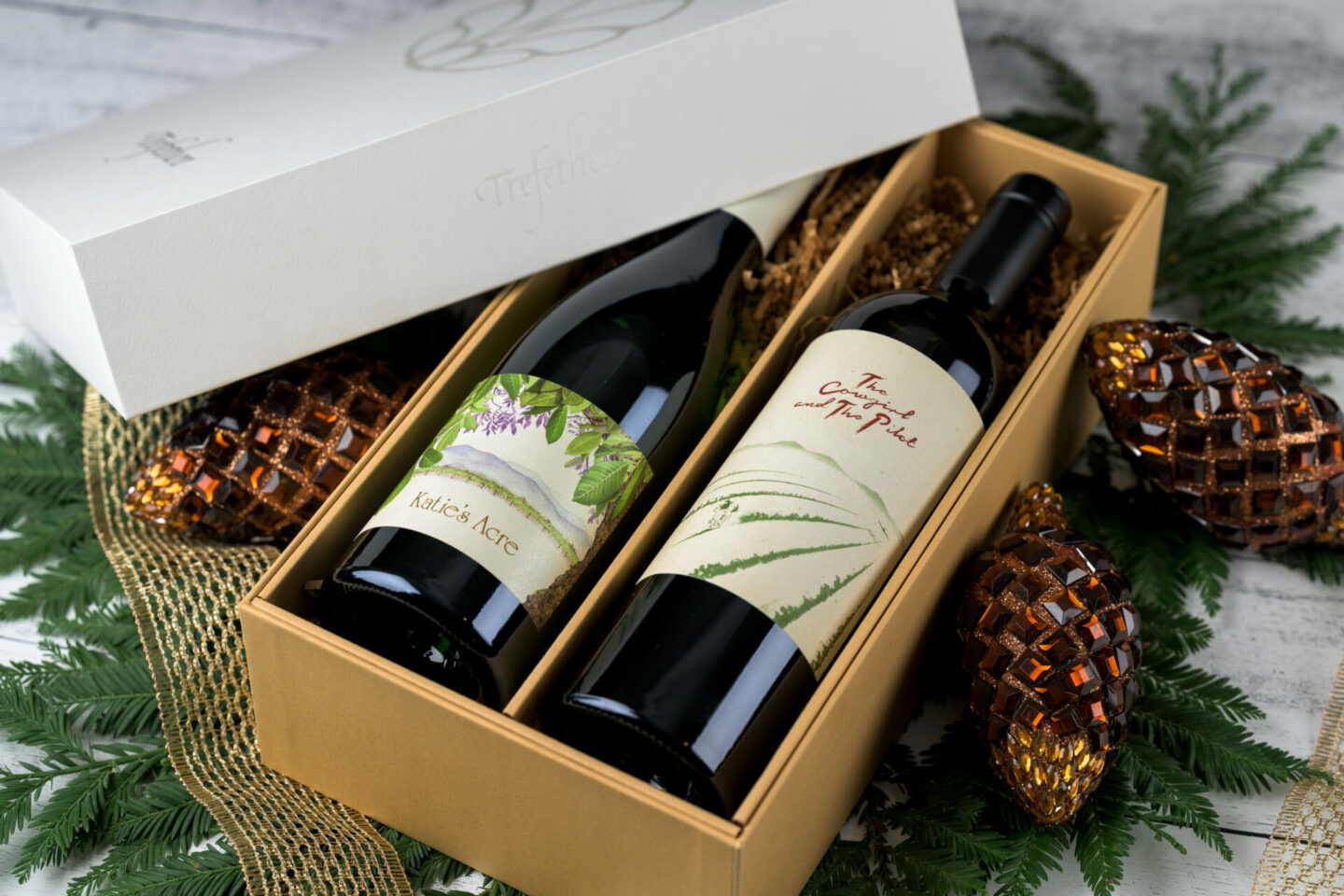 For the Story Lover: Perfect Pair
For the wine lover who's all about the story behind the bottle, this combination of special bottles represents the Trefethen family's long and storied history of winemaking.
Katie's Acre Chardonnay is a wine that embodies the Trefethen family's deep-rooted commitment to their vineyards. Named after Katie, a pivotal figure in the winery's history, this Chardonnay reflects the enduring dedication and love that went into cultivating these Napa Valley vines.
Similarly, The Cowgirl & the Pilot Merlot is a tribute to John & Janet Trefethen and their powerful love story. It tells of how in 1973 a young navy veteran and a former California rodeo queen fell in love over a bottle of wine. Their love blossomed, and while she kept riding and he kept flying, together they built a winery and a family.
With each sip, you're tasting not just the grapes but the rich heritage and passion of the Trefethen family, making it a wine duo that not only tastes good, but also tells a captivating story.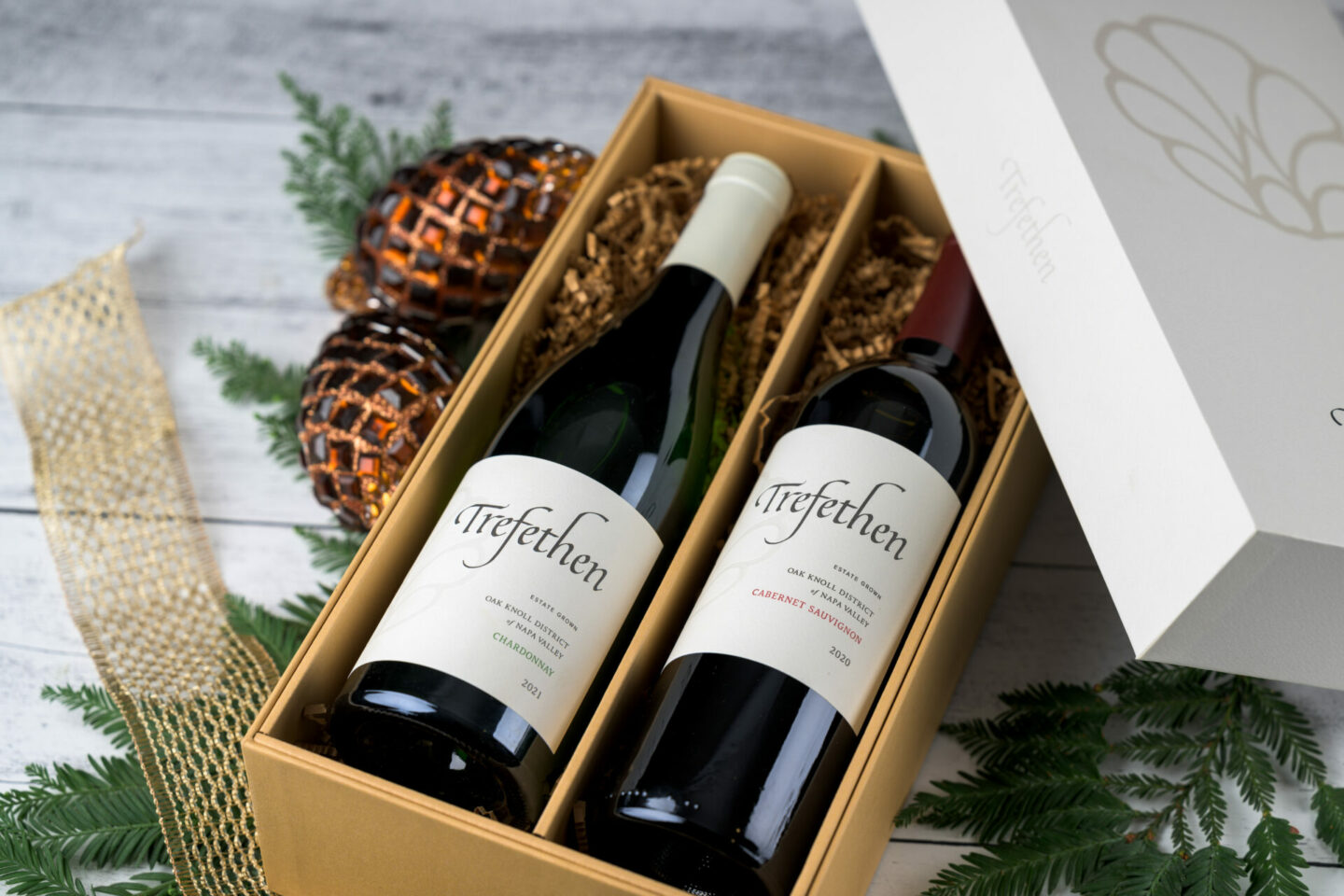 For the Versatile Wine Lover: Elegant Duo
For the wine lover who doesn't discriminate between white and reds – enjoy a duo of refined classics.
Unwrap a gift set that encapsulates the pinnacle of wine excellence. The 2020 Cabernet Sauvignon, awarded a remarkable 96 points, bearing the prestigious title of 'Double Gold' and 'Wine of the Year by Varietal' by the discerning Sommeliers Choice Awards, stands as a testament to its unparalleled quality.
Complementing this gem is the 2021 Chardonnay, an outstanding wine with a score of 93 points from Decanter, adding a touch of elegance to the collection.
It's a gift set designed to delight the palates of connoisseurs and wine enthusiasts alike.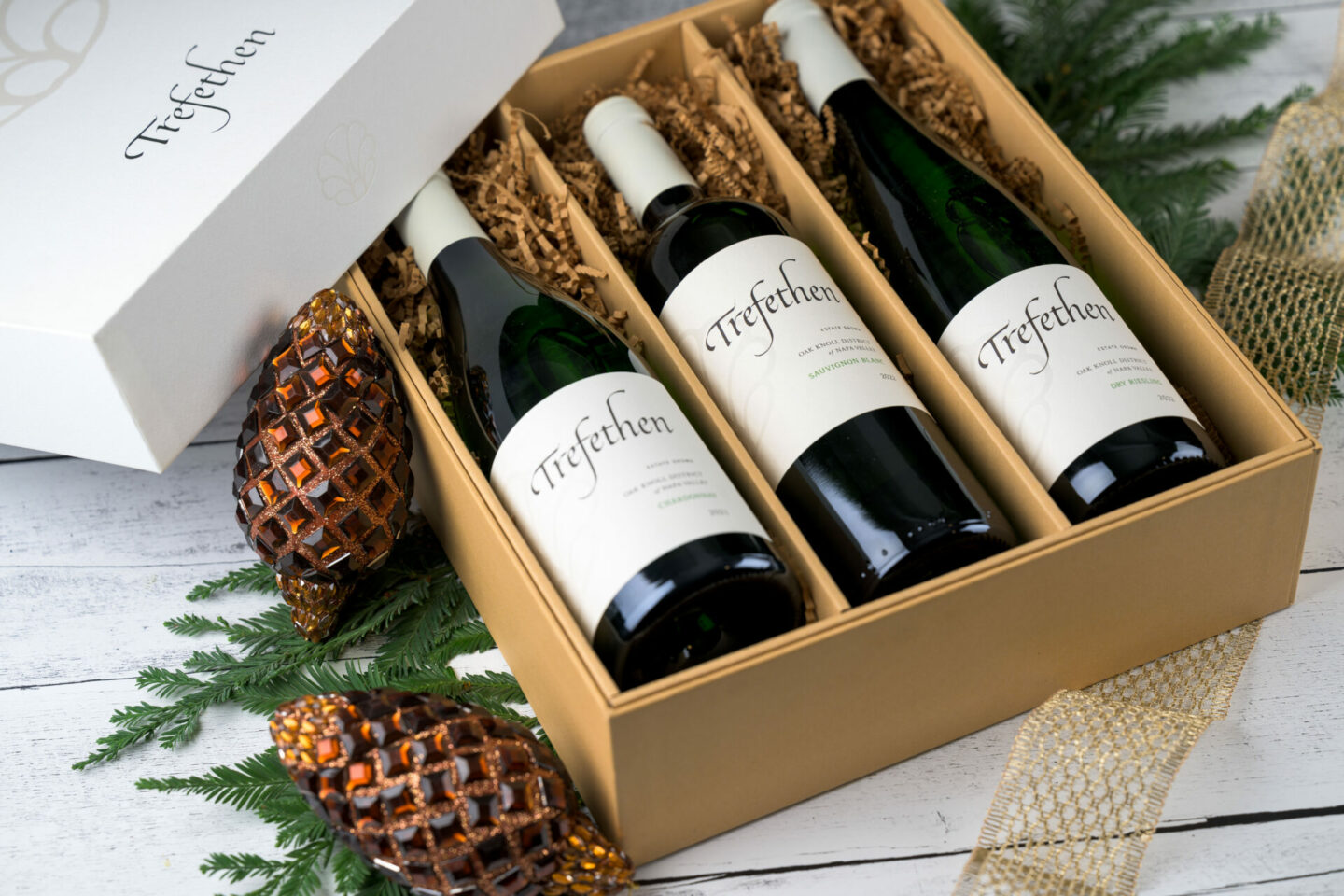 For the Crisp White Wine Lover: Bright Whites
Need some sunshine this winter? Indulge in the radiance of white wines with a Trefethen gift set that's pure sunshine in a box.
The Trefethen family's beloved Dry Riesling takes center stage, with its crisp, lively character that's sure to delight. Accompanying this star, the 2022 Sauvignon Blanc and the 2021 Chardonnay add layers of elegance to create a trio of bright and beautiful wines.
This delightful set includes the 2022 Sauvignon Blanc, 2021 Chardonnay, and 2022 Dry Riesling, elegantly presented in a Trefethen gift box. It's the perfect gift for those who savor the brilliance of white wines, a symphony of flavors that dance like sunlight on the palate.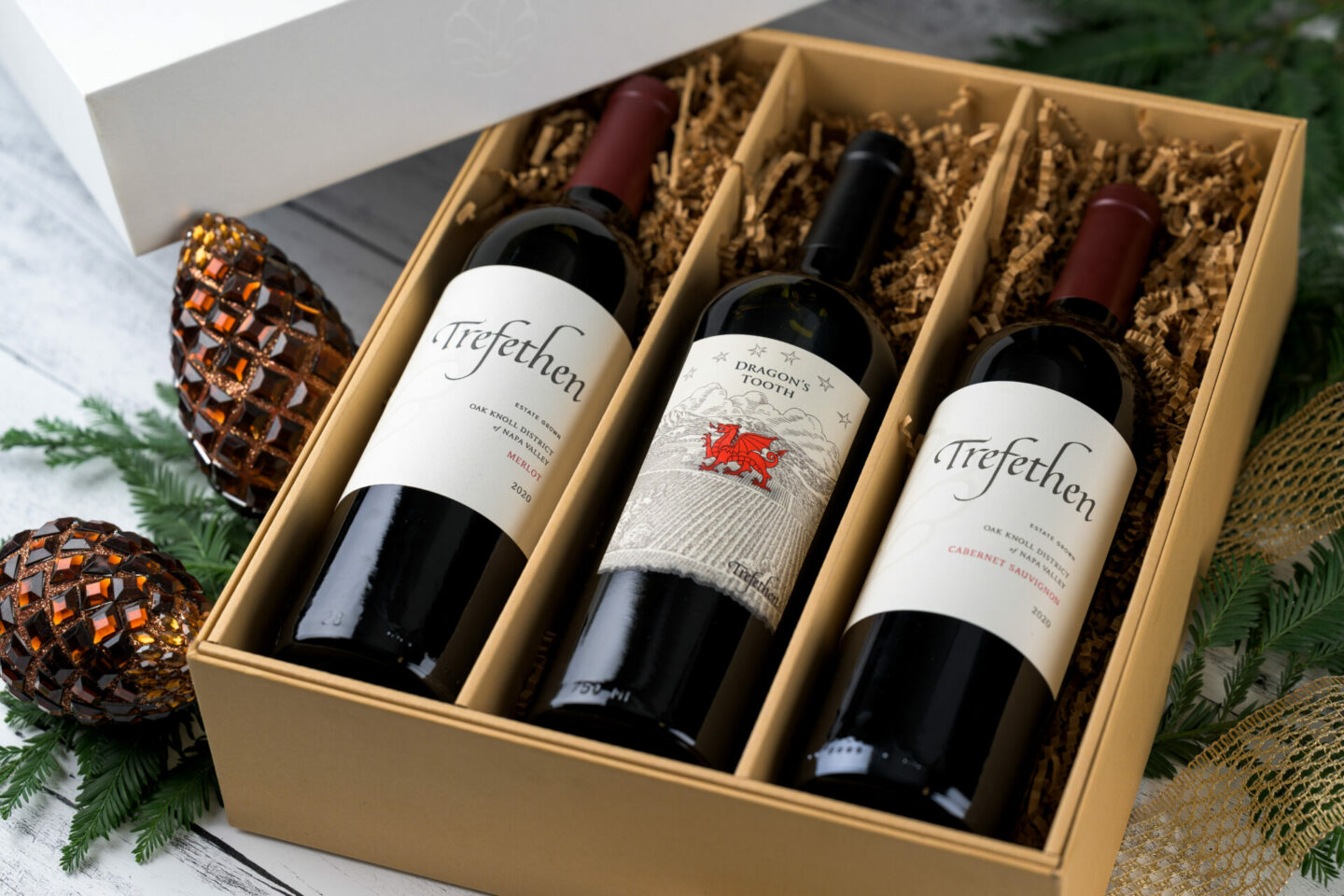 For the Steak Lover: Dreaming in Red
Dream in red with this exquisite Trefethen gift set, tailor-made for those cozy winter evenings by the fireplace.
This collection features two of Trefethen's celebrated classic red varietals, the 2020 Merlot and the 2020 Cabernet Sauvignon, known for their rich, velvety profiles that pair splendidly with a succulent steak or hearty winter dishes.
To add an intriguing twist to the tale, they've included their captivating 2019 Dragon's Tooth Red Blend (one of my favorites!). Its complex character and layers of flavor make it a versatile partner for a variety of red winter cuisine.
All of these vinous treasures are elegantly presented in a Trefethen gift box, ready to bring warmth and delight to your cold, wintry nights.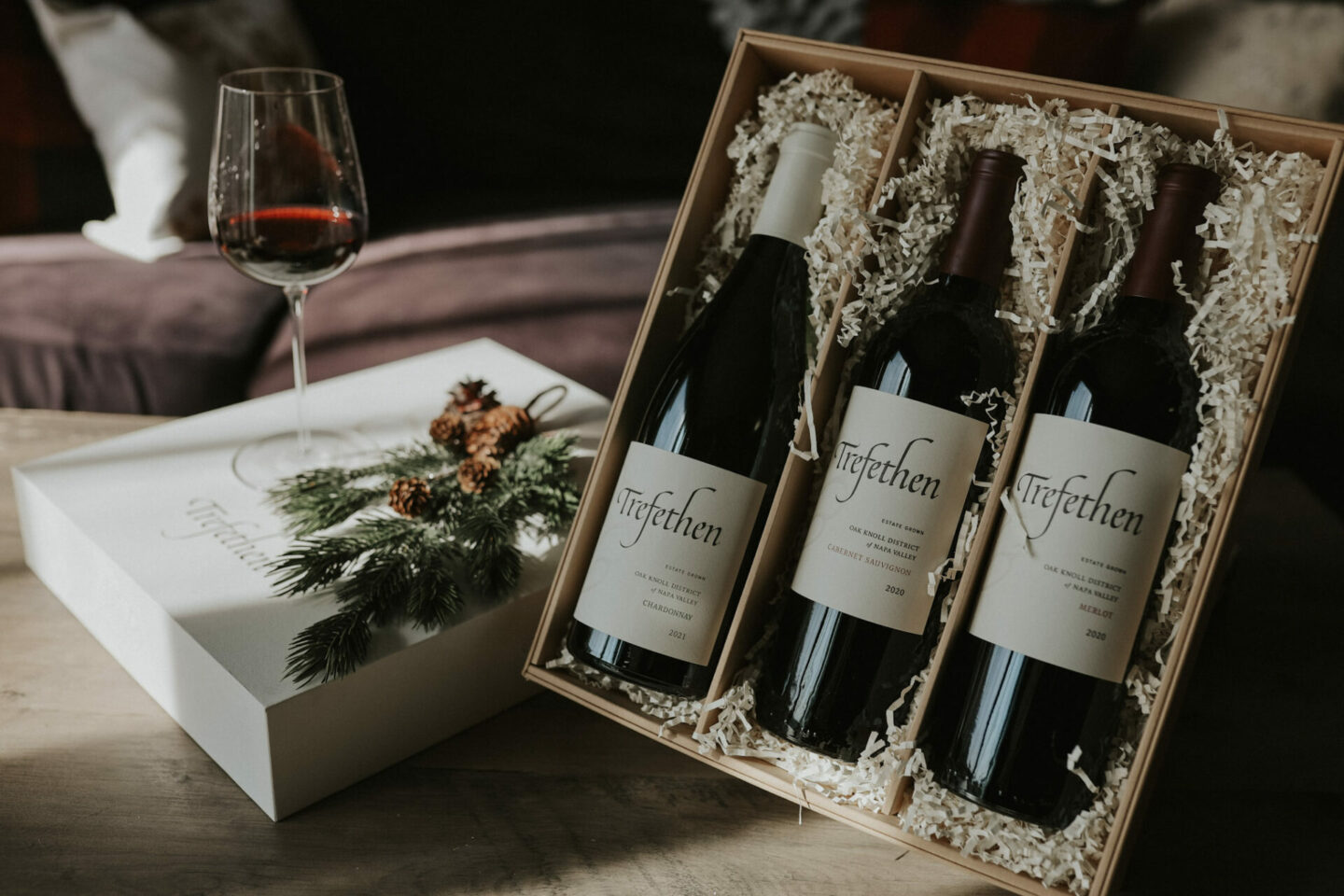 For the Classic Afficionado: Signature Trio
If you want to play it safe and end up with some delicious wine… Discover Trefethen's timeless trio, a collection of their best-sellers that have earned their reputation for excellence.
These three signature wines, the 2021 Chardonnay, the 2020 Merlot, and the 2020 Cabernet Sauvignon, are classic, elegant, and a true reflection of the vineyard's essence.
This set, beautifully presented in a Trefethen gift box, is a testament to the enduring appeal of these remarkable wines. It's a celebration of what Trefethen has to offer, capturing the very heart and soul of their winemaking craftsmanship.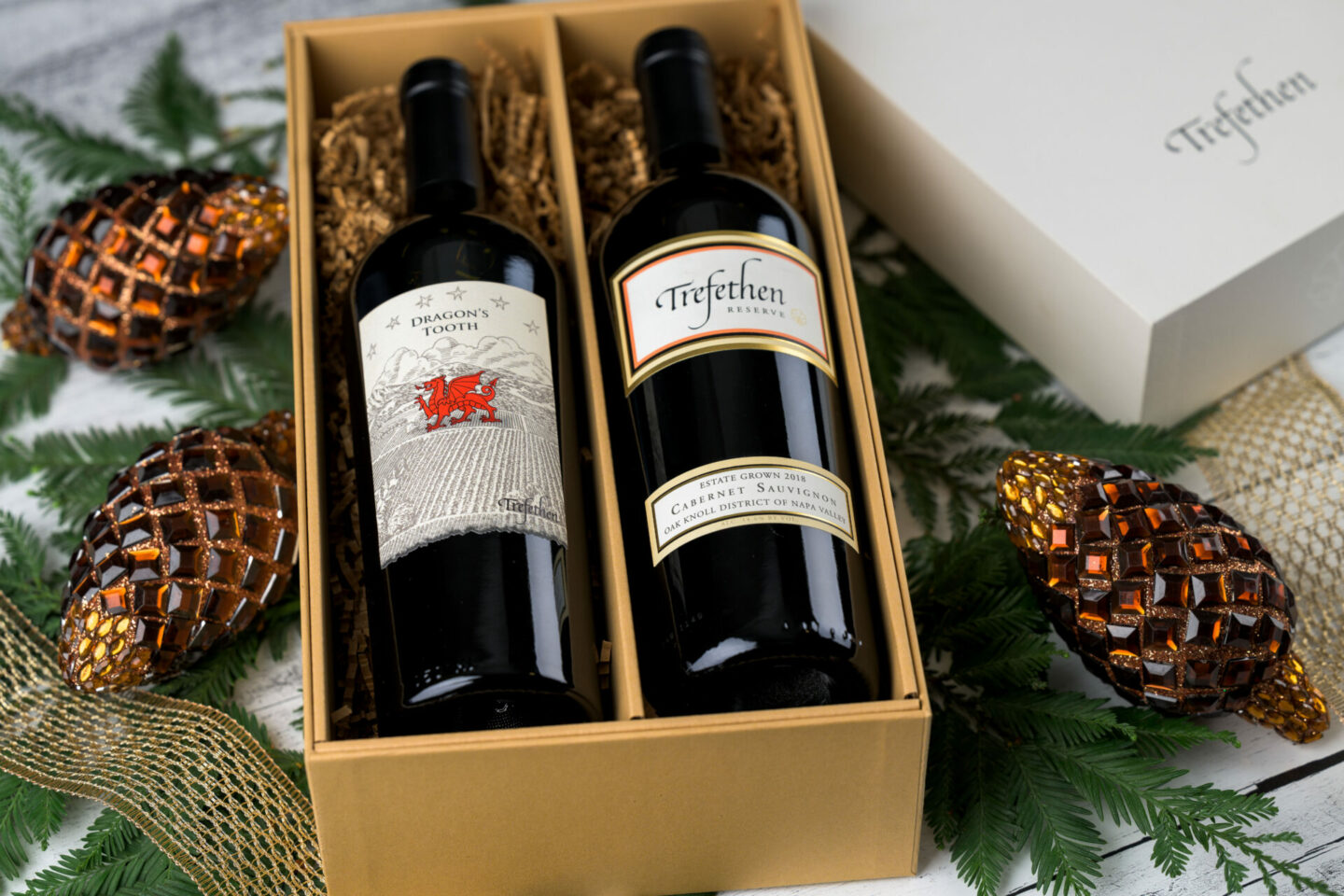 For the Oak Knoll Oenophile: Oak Knoll Reds
For the discerning wine enthusiast who knows their heart belongs to reds, Trefethen presents a gift set that satisfies the craving for robust flavors.
Sourced from the renowned Oak Knoll district in Napa Valley, the 2018 Reserve Cabernet Sauvignon is a rare gem, boasting grapes from both of Trefethen's exceptional vineyards. Complementing this is the 2019 Dragon's Tooth, a proprietary red blend that marries Malbec, Petit Verdot, Cabernet Sauvignon, and Merlot into a harmonious symphony of taste.
Together, these wines create a captivating duet of Oak Knoll reds, elegantly presented in a Trefethen gift box. It's a gift set designed for those who have a clear passion for the richness and depth of red wines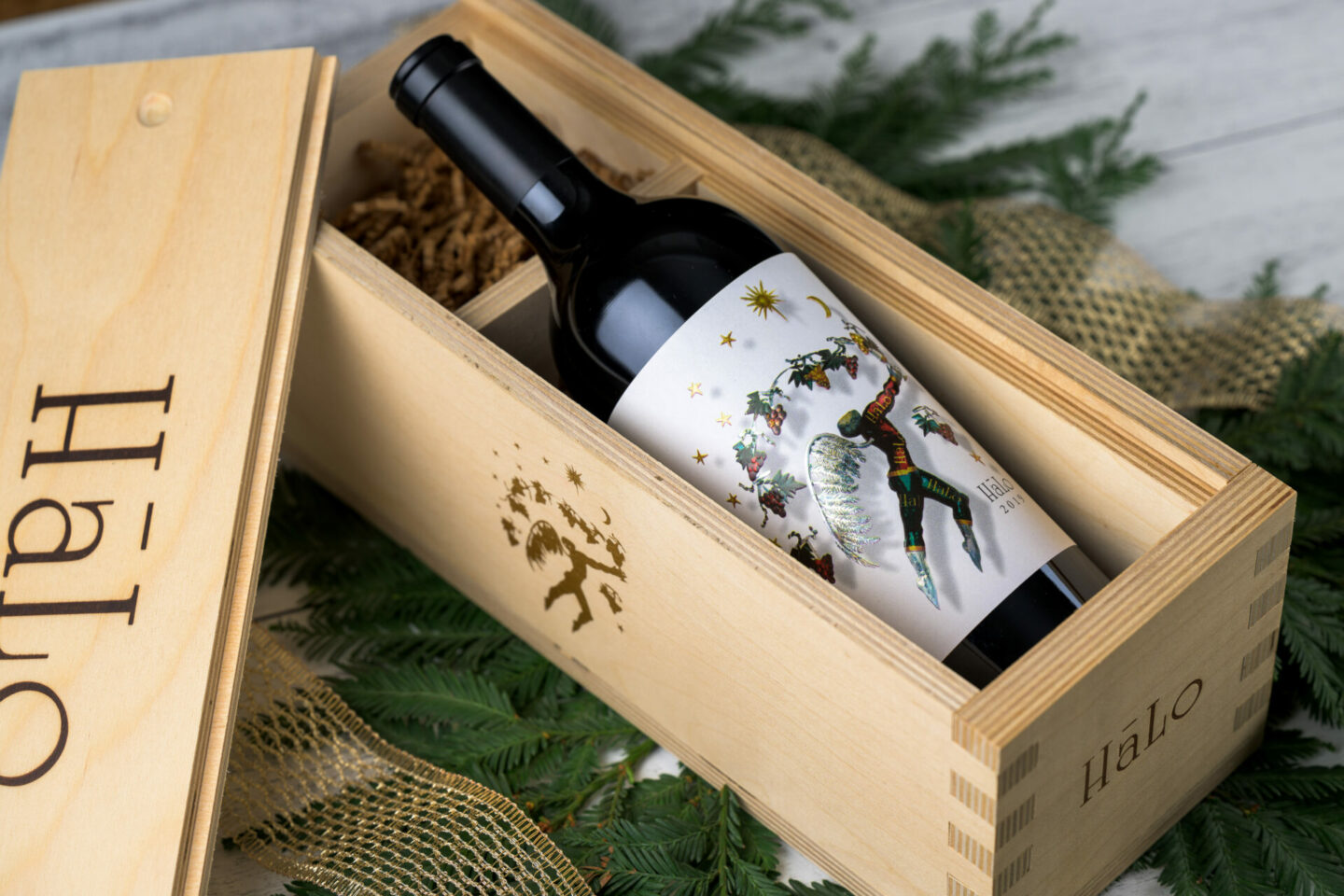 For the Collector: Rarest of Them All
For the true wine connoisseur and collector, Trefethen offers a gift set that's a pinnacle of rarity and sophistication. The 2019 HāLo Cabernet Sauvignon, the crown jewel of this collection, is a wine that demands aging, making it a treasure for those who appreciate the passage of time in a bottle.
Named in honor of third-generation Hailey and Lorenzo Trefethen, it's a beautiful nod to the future of the vineyard and the family's legacy. This expressive wine, a true masterpiece, not only impresses the palate but also brings a touch of elegance to any holiday table. It's the ideal addition for collectors who seek the extraordinary.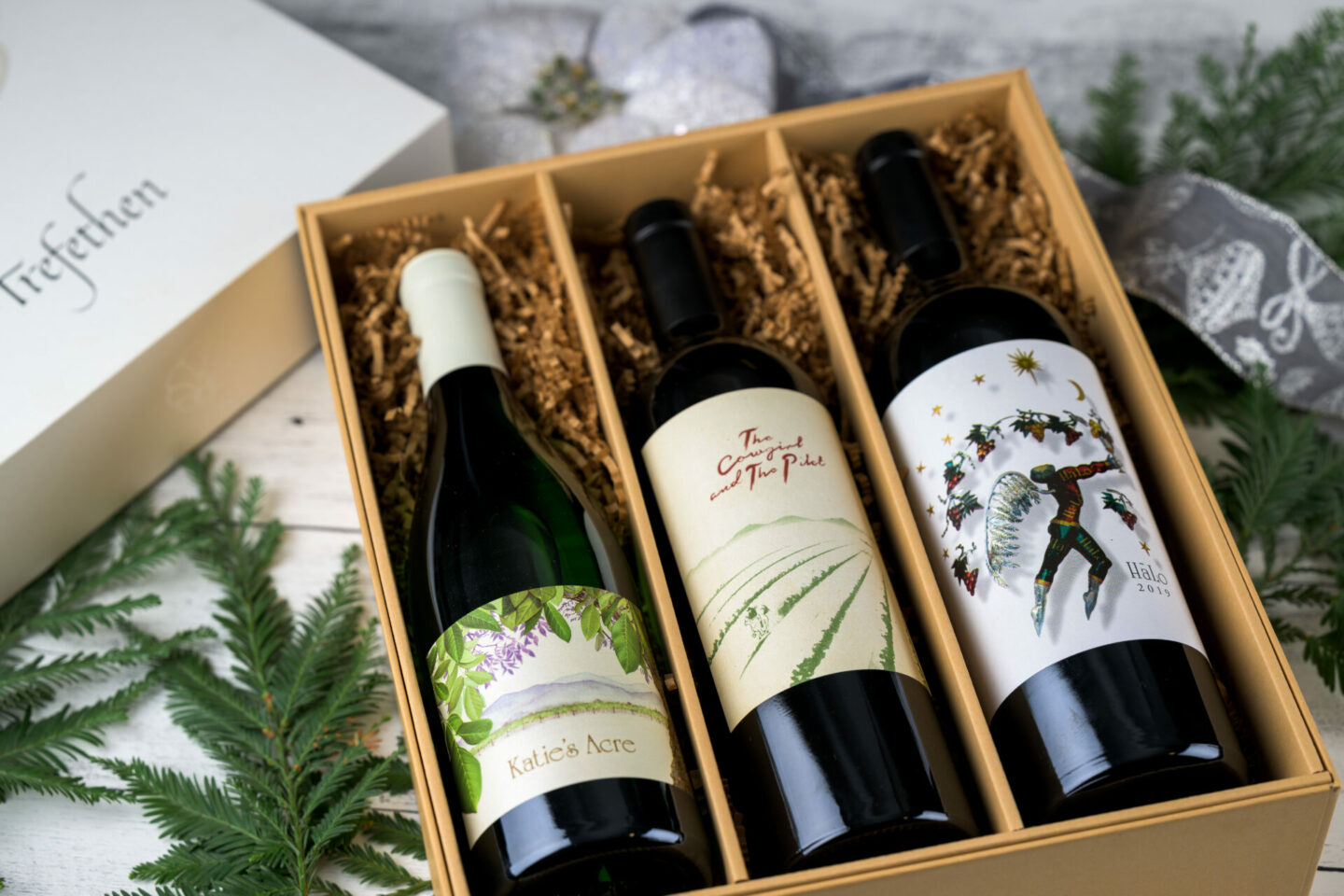 For the History Buff: Legacy Collection
For the history buffs and wine enthusiasts seeking a journey through Trefethen's rich legacy, this collection is a true gem.
It's a sip through time, starting with the 2021 Katie's Acre Chardonnay, a refined and elegant wine dedicated to matriarch Katie Trefethen. Then, there's The Cowgirl & the Pilot Merlot, a testament to the love story of pioneers Janet and John Trefethen. The grand finale is the superlative 2019 HāLo Cabernet Sauvignon, a tribute to Hailey and Lorenzo, the third generation of Trefethens, representing the winery's future.
This set, presented in a Trefethen gift box, is a captivating journey through history, a treasure trove of stories in every bottle, and a true delight for those who relish wine and the tales it tells.
Even More to Love
If these have whet your appetite, but you're still looking for even more incredible holiday wine gift sets, be sure to join the Trefethen newsletter — they'll be releasing even more special sets as the holidays approach!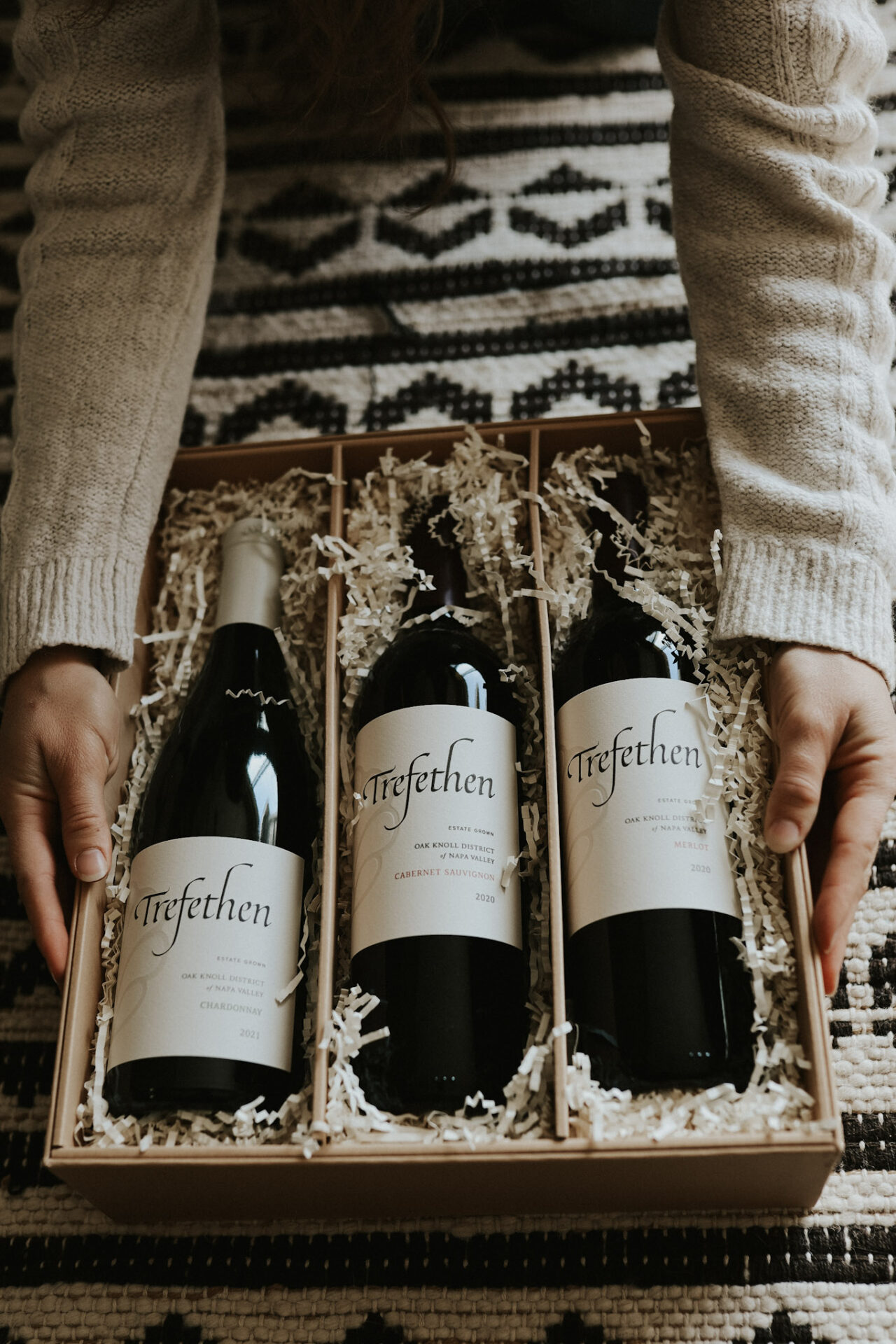 In conclusion, the world of Trefethen's gift sets is an enchanting one, filled with options that cater to a wide array of tastes and preferences.
From the culinary creators to the collectors, the history enthusiasts to those who adore Oak Knoll's treasures, there's a perfect set waiting to bring joy to every wine lover's heart. These sets are more than just wines; they are experiences, stories, and a testament to Trefethen's dedication to their craft.
As we embark on the holiday season, let's celebrate with these exquisite gifts and create lasting memories with our loved ones.
Whether you're sharing these wines or adding them to your own wish list, Trefethen's gift sets are a beautiful way to toast to the magic of the season. Cheers to the holidays and to the joy of giving and savoring life's finest flavors.