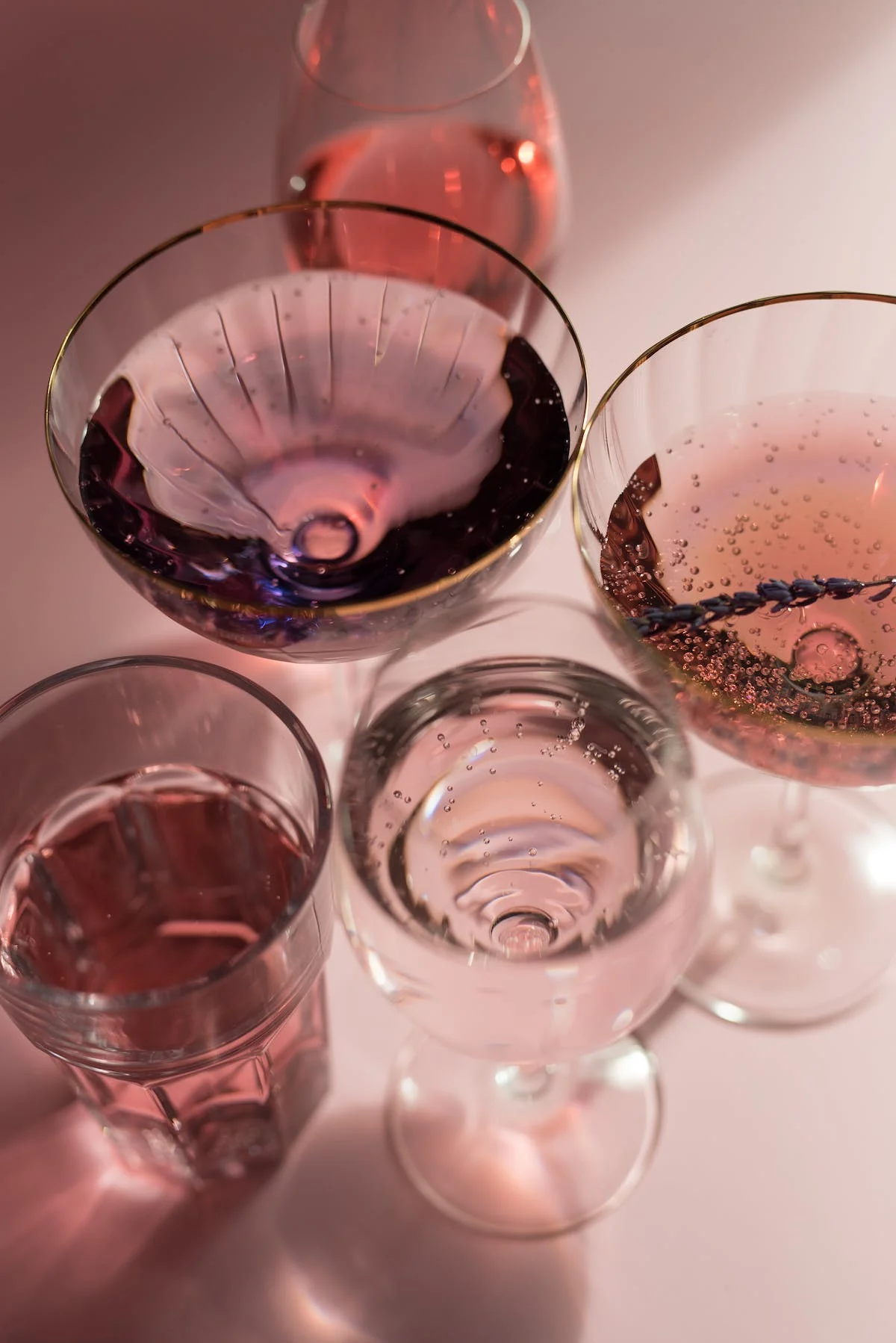 It'll be love from the first sip when these delicious and delicate flavors hit your lips, and the bubbles dance across your tongue. Anytime you pop a bottle of Champagne there's always an air of celebration, but the beautifully striking colors or Rose Champagne and Sparkling Wines bring an added element of romance and enchantment.
Whether you're toasting to Valentine's Day, Galentine's Day, or a Tuesday evening, Pink Champagne helps to bring a little bit of magic to everyday life.
What is Rose Champagne?
Rosé Champagne is a delightful and delicious sparkling wine that features all of the same characteristics of traditional champagne, but with the beautiful added twist of its gorgeous pink color. The process is a bit more involved and labor intensive, and even though the flavors and aromas can vary from one champagne house to the next, the end results are well worth the effort.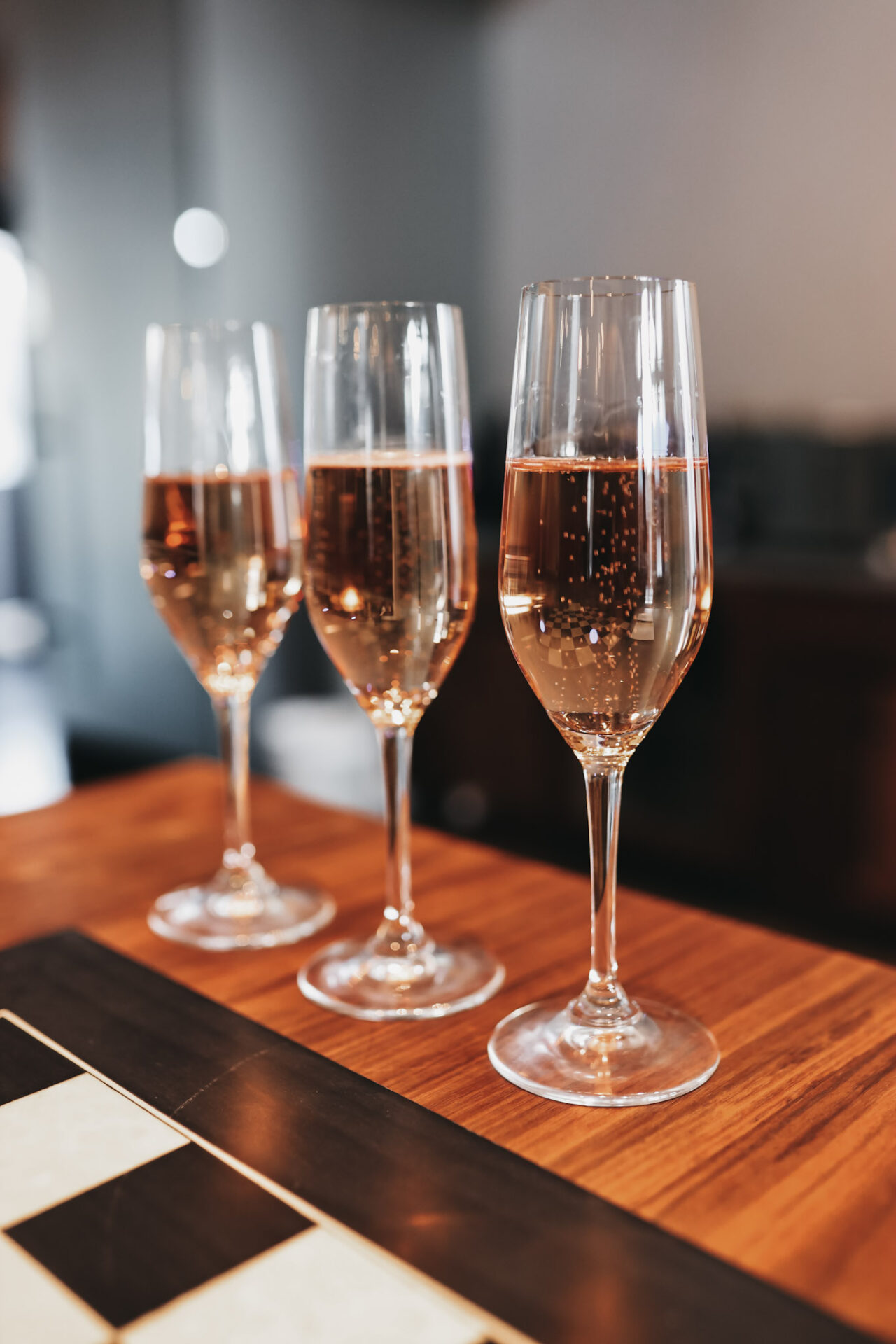 What makes Rose Champagne pink?
Rosé Champagne gets its gorgeous pink color from grape skins used during the winemaking process. Though there are a few other methods that some champagne houses use to help intensify those beautiful colors even further, the blush quality is largely thanks to the skins of Pinot Noir and Pinot Meunier grapes.
What does Rose Champagne taste like?
For those of you already familiar with the taste of regular Champagne, you can expect Rose Champagne to taste much fruitier. This more full-bodied style of Champagne has a lot of versatility.
The notes and aromas may vary from one champagne house to the next, but typically, Pink Champagne features flavors of red berries (like strawberries, raspberries, cherry, and even blackcurrant), melon, citrus, and hints of fresh herbs. In terms of texture, it's often described as soft and velvety, with a strong finish.
Pink Champagne Food Pairings
If you're looking to compliment the delicious red berry flavors at play in a glass of pink sparkling wine, strawberries, raspberries, blueberries, and cherries are all excellent pairings. It's a great option if you're enjoying a fruit salad appetizer or a berry topped dessert.
In terms of contrasting flavors that will help accentuate the flavors of your rose champagne, fish like tuna, smoked salmon, and shrimp are great options.Duck and cold cuts also pair nicely, but you should avoid serving rose sparkling wines with charcuterie boards. Cheese and Rose Champagne do not pair well!
If you're looking for the perfect bottle of blush colored bubbly, here are some delicious options! No matter your palate preferences or budget, there's a perfect Rose Champagne in here for you!
This post contains affiliate links. By purchasing directly through my recommendations, I receive a small commission at no additional cost to you. This helps support Wine with Paige. Thanks for being part of the adventure!
Luscious and fruity, Veuve Clicquot Rose presents notes of raspberry, wild strawberry, cherry, blackberry. Those give way to other biscuity notes of dried fruits and Viennese pastries, like almonds, apricots and brioche.
The balance these flavors strike upon the palate is full of vibrant acidity and deletable, zesty finish.
Typically $70
Summertime flavors of juicy stone fruit, zesty red fruit, citrus notes, and the overall jammy quality of this fine brut rose make it an excellent choice for any special occasion you might have coming up! It has a delightfully long and lightly spiced finish.
Typically $130
With notes of raspberries and strawberries, this medium bodied Rose Champagne lends itself to an elegant finish. Because of its more subtle notes of light spice — hinting at Hawaiian pink ginger, Mandarin orange, and honey with a touch of earthiness — this champagne is best paired with seafood, smoked fish, and fried chicken!
Typically $80
Blended with a higher percentage of Chardonnay than Pinot Noir and Pinot Meunier, Brut Rosé Majeur undergoes a slightly different aging process. The result is unique champagne with remarkable finesse and elegance.
It has a rose-like perfume layered into ripe expressive peaches, strawberries and wild dark cherries. This is a great pick if you're looking for a rose champagne that's a bit more dry and full bodied.
Typically $70
Blended primarily from Pinot Meunier and Pinot Noir grapes, Moet Chandon Rose displays a gorgeous salmon pink color. You'll love its lively and intense bouquet of red fruits, including wild strawberry, fresh raspberry, cherry — and a surprising hint of pepper.
Typically $65
Luc Belaire Luxe Rose features a deliciously long and velvety finish, making it the perfect aperitif! Top notes of rich berry flavors and touches of wood make it a great pairing for spicy and salty appetizers, too!
Typically $40
If you're already planning on splurging, why not spend a little bit more money and go for the 2010 Billecart-Salmon Brut Rose? It's an exceptional bottle and the champagne house's first ever Brut Rose Vintage!
You'll be able to taste Billecart Salmon Brut Rosé Champagne's burnished coppery tint, and delicious aromas of wild strawberry, melon, citrus, and fresh herbs. You'll also detect flavors of red berry and a touch of burnt sugar and tart pomegranate.
Typically $130
There's a good reason for Laurent-Perrier Cuvee being so expensive. The fruit that goes into making this Rose Champagne is methodically chosen from 10 different villages in the North and South areas of the Montagne de Reims, including the famous village of Bouzy.
When you sip this luxurious Pink Champagne, you'll notice fresh fruity flavors, and clean, round bodied finish.
Typically $100
If you're looking for an affordable award-winning pink champagne, though, my top pick is La Baume Brut Rose of Pinot Noir. It features delicious notes of strawberry, raspberry, and blackcurrant, and all the signature aromatics of a classic Pinot Noir.
You'll love its coral rose color, creamy texture, pillowy bubbles, and of course, the price tag!
Typically $20
Frequently Asked Questions
Is Rose champagne any good?
If you have something of a sweet tooth, and enjoy bold, fruity flavors, and the sensation of bubbles dancing across your tongue, then there's a very good chance that you'll love Rosé Champagne!
How much alcohol is in rose champagne?
Rosé Champagne typically has around 11-14% ABV.
What is pink Champagne called?
Pink Champagne is also known as Rosé Champagne.
Why is pink Champagne so expensive?
When it comes to making Champagne, it's already a complex and labor intensive process. Producing Rose Champagne is even more so, which is why you'll notice a bit of price difference.
What Flavour is pink Champagne?
The notes and aromas may vary from one champagne house to the next, but typically, pink champagne features flavors of red berries (like strawberries, raspberries, cherry, and even blackcurrant), melon, citrus, and hints of fresh herbs. In terms of texture, it's often described as soft and velvety, with a strong finish.
Is pink Champagne sweet or dry?
While rose wines tend to be a bit dry, Pink Champagne is known for being sweet!
Other Blog Posts You'll Love
Best Champagne & Sparkling Wine: Your Complete Guide
The Ultimate Guide to Expensive Champagnes
How Many Glasses of Champagne In a Bottle?