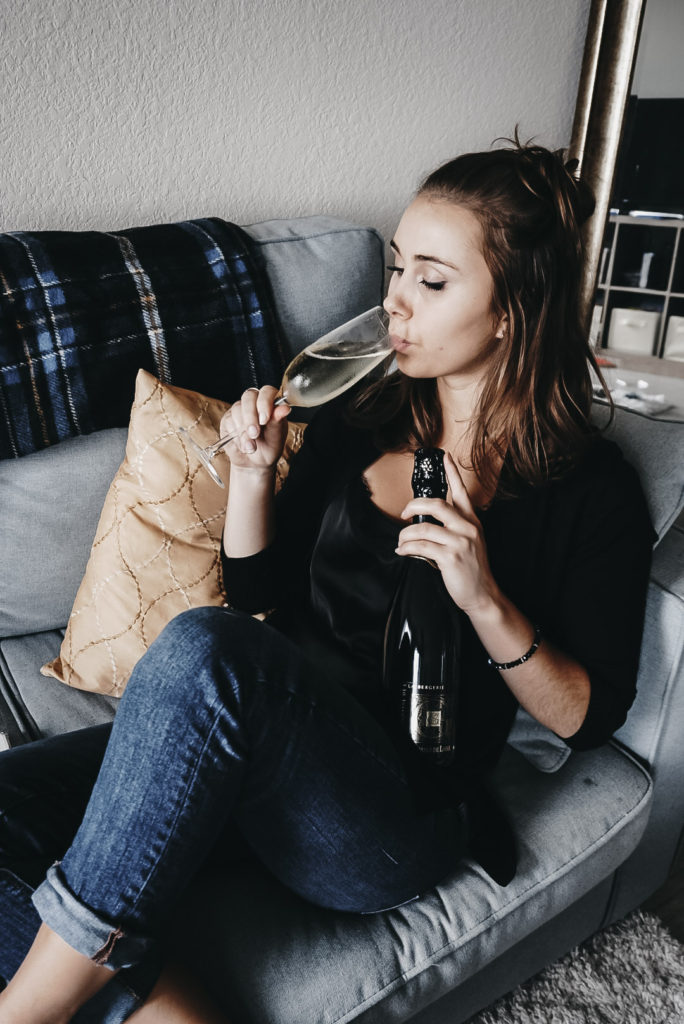 I'm a firm believer that sparkling wine is a year-round refreshment– perfect as an aperitif to cleanse the palate and awaken the taste buds, ideal for weekend brunch mimosas, wonderful paired with popcorn and a good movie on Friday night, heck, sometimes even just great for a random Tuesday evening when I need a pick-me-up. For a long time, Champagne was synonymous with celebration, New Year's eve, something really great or special happening. But I think sparkling wine, including Champagne, is too great on its own to be isolated to those select moments in our lives. Let's drink more bubbles!

As it is, the holiday season is a great time to incorporate more of this fizzy drink. It's probably something you were already planning on having for NYE or holiday parties, but I'd challenge you to incorporate it in even more ways, and continue to do so throughout the year. Have it with that lazy late night Netflix binge, pair it with appetizers and hors d'oeuvres (it goes with pretty much everything), bring it to casual Girl's Night In to elevate the night, give it as gifts! Below you'll find some of my favorite sparkling wine picks, perfect for everything and anything this holiday season and beyond. All are easily accessible, either in local stores or by purchasing through the links included.

Ferrari Brut, Trento DOC
Ferrari is a historically-known label that produces high-quality sparkling wine in the mountains of Trentino. Although crafted in Italy, they use the highly-regarded "methodo classico" to produce a glimmering straw-colored wine with bubbles that are soft but pleasantly persistent. In the glass, this wine highlights beautiful notes of green apple, wildflowers, honey, brioche, and ripe fruit. They offer the bottle individually, as well as a gift box that doubles as an insulator to keep your sparkling wine the perfect temperature.
You can purchase from wine.com or read more about the producer here.
Pere Ventura Tresor Rosé, Cava DO
Cava is admittedly my all-time favorite type of sparkling wine. It's Spain's premier sparkling wine, produced using the high-quality champagne method and typically crafted from the three native grapes: Macabeo, Parallada, and Xarell. This particular example, however, is a rosé made from a completely different indigenous varietal, Trepat, making it an interesting addition to any wine lover's collection, while also being incredibly approachable for just about anyone. The beautiful salmon-pink wine emits lovely aromatics of strawberry, raspberry, and floral notes.
You can purchase from wine.com or read more about the producer here.



Bottega Liquid Metals Venetian Gold, Prosecco DOC
This bottle is incredibly stunning and sure to make an impression on anyone. Produced in Prosecco DOC, this sparkling wine's luxurious packaging was inspired by the gold tiles that decorate the St. Mark's Basilica in Venice, Italy. The Prosecco within the bottle is just as vibrant, offering lovely notes of golden apple, white blossom, and melon, it finishes with persistent long lasting bubbles. Definitely a show-stopper!

You can purchase from wine.com.


Lunetta Prosecco, Prosecco DOC
In Italian, Lunetta means "Little Moon", which I think is a perfect descriptor for this soft, delicate Prosecco. All grapes are hand-harvested and vinified at Cavit's state-of-the-art sparkling wine facility in the northern Italian region of Trentino. Cavit believes in celebrating life's small pleasures, and so do I, making it a match-made-in-heaven for every day. This Prosecco boasts a refreshingly crisp mouth-feel, with bright notes of green apple and peach and a clean, dry finish.

You can purchase from wine.com or read more about the producer here.


OneHope California Brut Sparkling Wine, Gold Shimmer Edition


Rounding out my collection of current faves is the OneHope California Brut, which features a beautiful, sparkling glitter bottle. In addition to being a great wine with a magnificent bottle (that's perfect for holidays!), every purchase of this wine supports an initiative to provide meals to children in need. It has a beautiful pale lemon color with aromas of fresh green apple and nectarine with a hint of fresh baked bread. Crisp, intriguing fresh fruit reminiscent of succulent peach, sweet berries and pear linger on the palate, finishing with creamy and refreshing bubbles. Support my friend and fellow entrepreneur, Tosja Goodnight, as well as children in need by purchasing here.