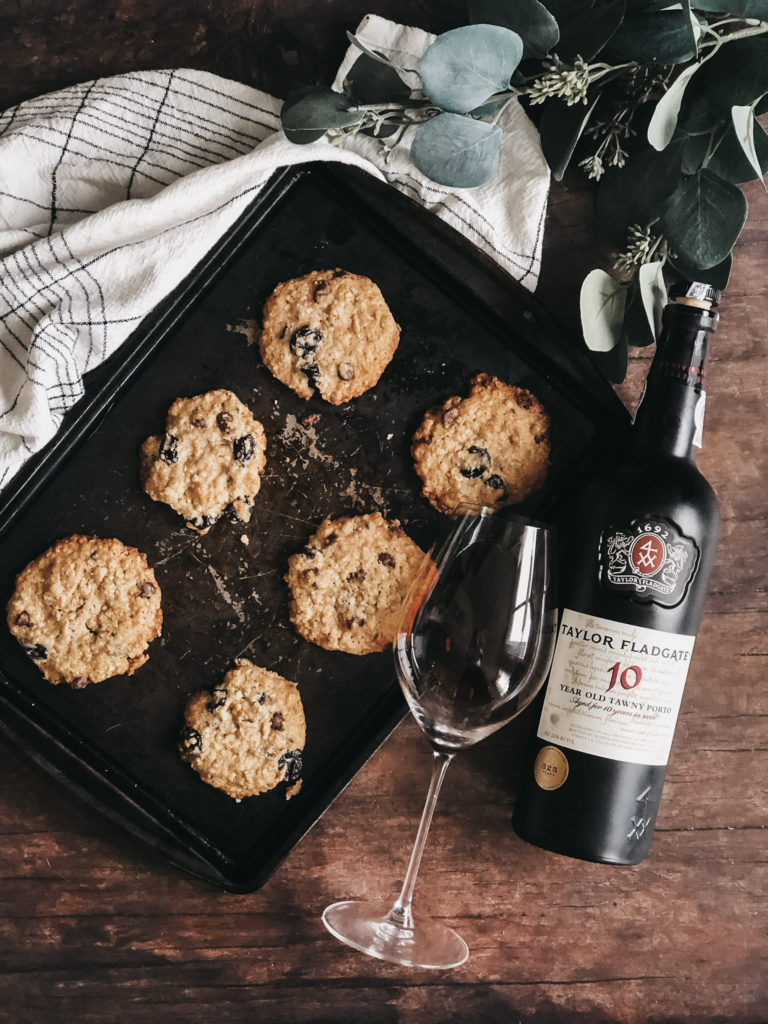 A Match Made in Heaven
These overloaded oatmeal cookies are inspired by the delicious oatmeal chocolate chip cookies my mom always makes. We've had an incredibly rainy spring here in the Bay, so the moment I sampled Taylor Fladgate's Tawny Port, I knew I wanted to pair it with something comforting and homey—cue these chewy, rich, and flavorful oatmeal/chocolate chip/dried cherry/toffee overloaded cookies. It's everything you could want in a dessert. Couple it back with the Port and it's a match made in heaven. Every aspect of the cookie brings out something already present in the Tawny Port: vanilla, baking spices, cherry, toffee, dark chocolate… Even the oatmeal is somehow the perfect texture to go with the full mouth-feel of the Tawny Port. The cookies are great on their own. The Port is great on its own. But put them together, and WHOA! It's an orgasmic combination. Whether you're a Port-drinking regular or it's something completely new to you, you're going to want to give this one a try!
Port is a must in any wine drinker's collection. It's a great way to unwind at the end of the day with something a bit "sturdier" than a regular glass of wine. It has a heavier mouthfeel and is full of rich and complex flavors of ripe berry fruit, delicate nuttiness, and subtle mellow notes of chocolate and butterscotch. Personally, Taylor Fladgate's Tawny Port is one of my absolute favorites. It's the perfect crown for a relaxing evening. Pair it with the cookies, and O-M-G.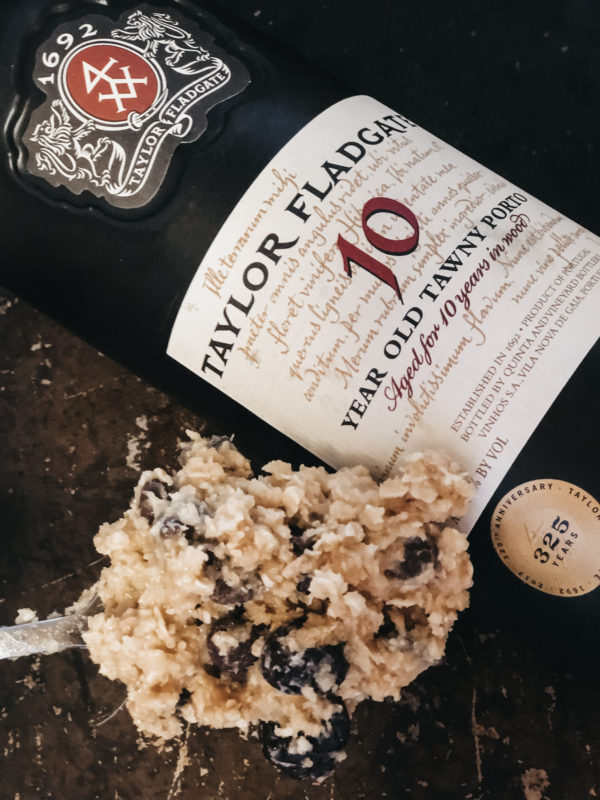 Overloaded Oatmeal Cookie Recipe
Ingredients

2 Sticks margarine or butter, softened

1 Cup firmly packed brown sugar
1/2 Cup granulated sugar
2 Tablespoons milk
2 Teaspoon vanilla
1 3/4 Cup all-purpose flour
1 teaspoon baking soda
2 1/2 Cups Old-Fashioned Oats (uncooked)
2 Cups (12 ounces) semi-sweet or dark chocolate chips
1 Cup toffee chips
1 Cup dried cherries
2 Eggs
Cooking Instructions
Heat oven to 375°F. In a large bowl, beat butter and sugars until creamy. Add eggs, milk, and vanilla; beat well. Add combined flour, baking soda, and salt; mix well. Add oats, chocolate chips, dried cherries, and toffee chips; mix well. Drop dough by rounded tablespoonfuls onto ungreased cookie sheets. Bake 9 to 10 minutes for a chewy cookie or 12 to 13 minutes for a crisp cookie. Cool 1 minute on cookie sheets.
Serving Instructions
Serve warm paired with Taylor Fladgate's Tawny Port. Have a magical evening.
Are you usually a fan of Port? What's your favorite pairing? Tell me below!
This is a sponsored post, but all views and opinions expressed are my own. <3