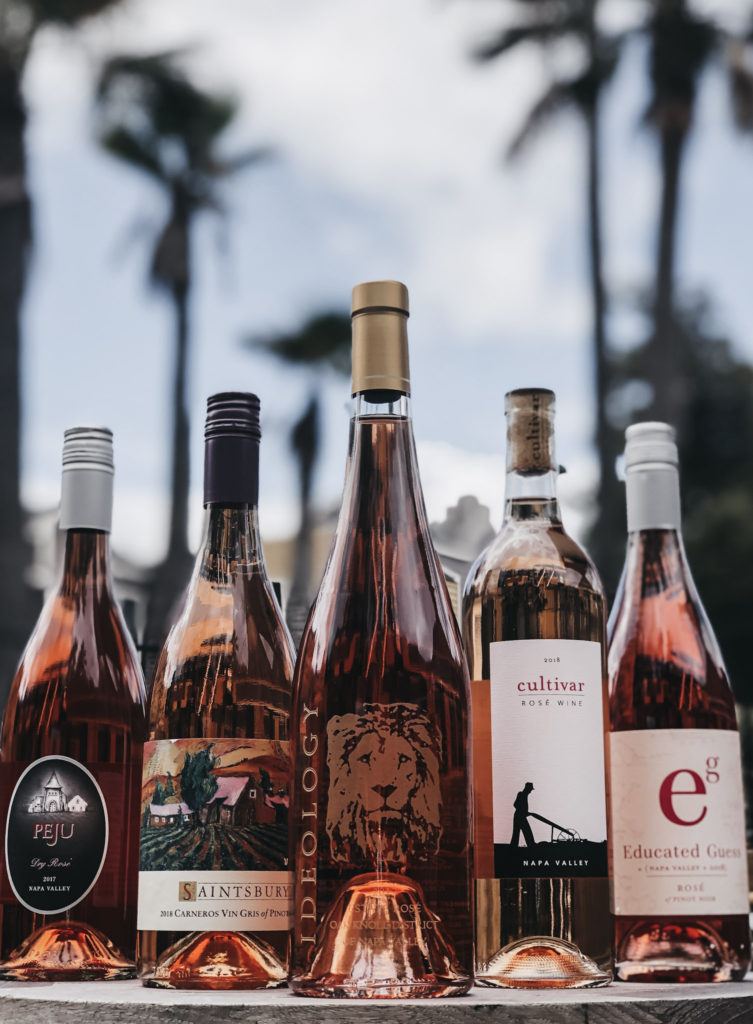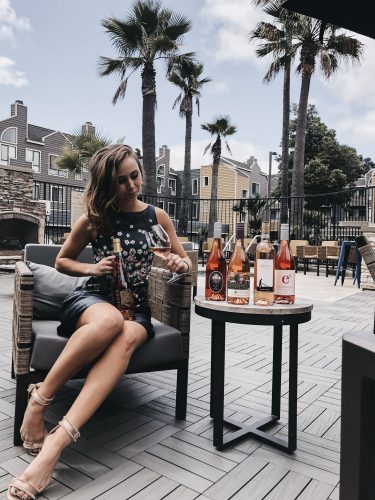 Five Napa Rosés Perfect for any Taste
Knowing that National Rosé Day was coming up this month, I tasted through rosé after rosé scouring up my faves. I then took the lineup of my top 5 Napa Rosés to my latest "Girls Night" to see what my girlfriends had to say. What we came up with is a rosé for every taste! Here's what we found out!

Saintsbury Vin Gris of Pinot Noir (Vincent) 2018
Price: $22
Appellation: Carneros
Varietals: Pinot Noir
More details here.
This rosé from Pinot Noir is a great example of a pretty standard rosé. Well-balanced, nice aromas of lemon peel, a little lime, strawberry, and watermelon. It has medium acidity with a slight effervescent mouth-feel. Lots of fruit flavor and perfect for easy sipping out on the patio or by the pool this summer.
The verdict: This was Taylor & Jenny's favorite of the lineup. They loved the fruit-forwardness and the balanced acidity.
Cultivar Rosé 2018
Price: $27
Appellation: Napa Valley
Varietals: Pinot Noir
More details here.
Also crafted from 100% Pinot Noir, the Cultivar Pinot Rosé is a beautiful ballet-slipper pink and has a brightly apparent bouquet. Immediately upon opening, I caught aromas of raspberry, watermelon, cranberry, roses, and lemon. There's a bit of chalky flavor on the pallet, with a nice acidity to balance it out. Overall, it's very elegant and clean.
The verdict: This one ended up the middle of the lineup for most of us at the tasting. It would be the easiest in the lineup to pair with food.


Ideology Estate Rosé 2017
Price: $28
Appellation: Oak Knoll
Varietals: Cabernet Sauvignon
More details here.
If you're not typically a rosé drinker, this is the perfect bottle for you. My immediate notes on this was that it's "a rosé that drinks like a red". With a bold, hearty mouth-feel and a dynamic list of flavors (notes of chocolate, baking spices, maraschino cherry, green pepper, sour pomegranate, lemon, bitter red currant, and lavender), this wine has a lot of well-integrated flavors to keep your rosé lineup interesting.
The verdict: I'm a HUGE fan of this one. It's my favorite of the lineup, but can also be isolating for people who want a more standard rosé or don't like dry reds.
Peju Dry Rosé 2017
Price: $25
Appellation: Napa Valley
Varietals: Proprietary Blend (Syrah, Grenache, Mourvedre)
More details here.
I love this rosé's interesting guava color. It has intense flavors of pomegranate, lime, and tangerine, that mingle well with some jasmine and white floral notes. It's a crisp and refreshing wine with bright acidity and a medium-long finish.
The verdict: For people who like unexpected notes in their rosé (tropical fruits, pomegranate, guava) while still maintaining a fruit-forward profile, the Peju Dry Rosé is an excellent choice.


Educated Guess Rosé of Pinot Noir 2018
MSRP: $20
Appellation: Napa Valley
Varietals: Pinot Noir
More details here.

An elegant Provence-style rosé, Educated Guess displays aromas of cotton candy and guava. On the palate, you quickly are engulfed in bright flavors of candied almonds, green apple, and wild strawberries, transporting you to summer. Overall, it has a great mouth-feel and well-balanced acidity.
The verdict: This was an overall crowd-pleaser. It was Mckenzie's #1 fave, and the rest of us all put it somewhere towards the top of the lineup.
Napa Valley is producing some amazing wines, including a great lineup of rosés! What I loved about trying through the lineup was that everyone had something different they got out of the wines, and different taste profiles preferred different wines. Funny enough, Taylor & Jenny had the same preferences, but Mckenzie and I were more different than I expected.
I love that so many different styles of rosé can all come out of the same region, and I'm excited to see producers crafting styles all over the board. Whether rosé is one of your go-to styles, or you consider yourself not a fan, there's something in this lineup for everyone.
Cheers!