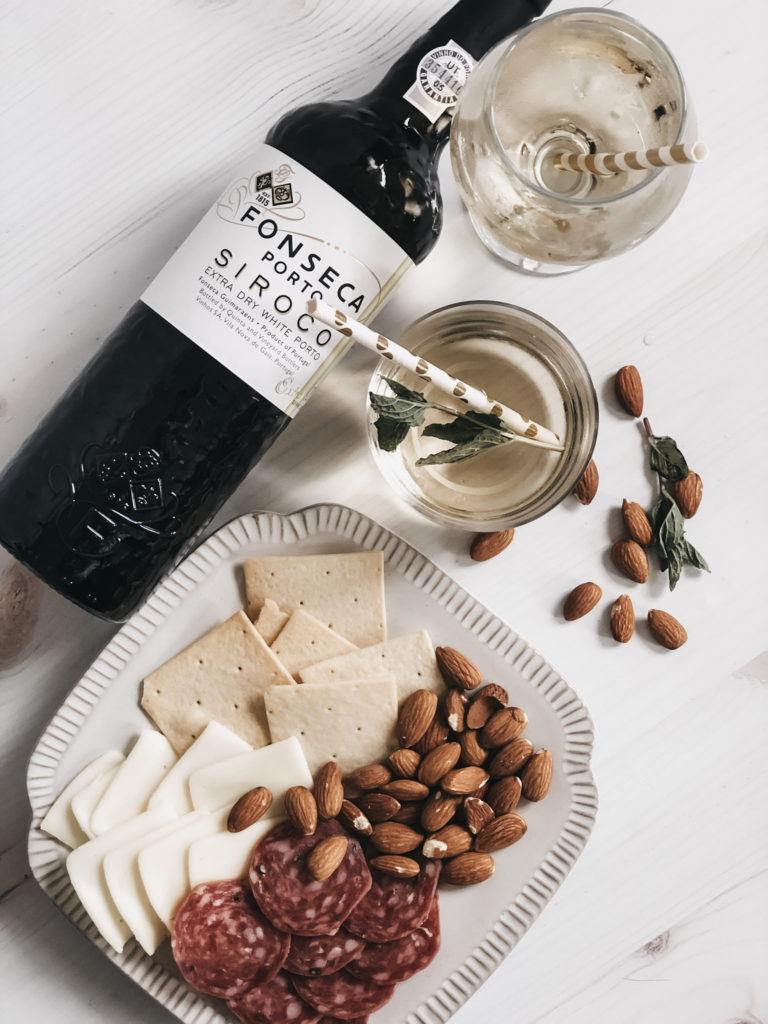 White Port is the ultimate mixer for hot summer days. With an interestingly complex but refreshing taste, there's a lot of flavor opportunities to play with. For a simple and refreshing mix drink, swap out the gin in a gin and tonic with a white Port, like Fonseca Siroco; the tonic helps bring out the nutty, complex flavors of the fortified wine. Throw in some mint or a slice of lemon, and you've got an easy summer drink with nice presentation possibilities. For something more complex, but still simple enough to pull together on a lazy Sunday by the pool, check out the below recipe for a cool cucumber Port & tonic.
But first, some background on Port
Port is traditionally thought of as the luscious red fortified wine from Portugal's Douro Valley. It's often categorized as a dessert wine, but actually comes in an interesting range of styles, including a range of dry to tawny sweet, white Port and even rose Port. It's a whole world of often overlooked possibilities! White Port is traditionally served chilled on its own, but it's starting to be recognized as an interesting choice for mixed drinks. White Port is produced similarly to that of red, with a key distinction being a shorter or non-existent maceration period (time spent with the juice in contact with the skin). In both cases, the alcoholic fermentation in Port is stopped by the introduction of a neutral grape spirit that is about 77% abv, killing off the yeast before it's had time to complete alcoholic fermentation (before all the grape's sugars are fully converted into alcohol). Thus, this process produces a fortified wine that is high in sugar and alcohol. White Port is typically somewhere between 16.5-20% abv.
My Favorite White Port
My personal choice for white Port is Fonseca Siroco. It's elegant in style, complex and interesting on its own, versatile in mixed drinks, and perfectly stylish. On its own it displays strong nutty notes, followed by elegant ripe fruit— especially tropical notes. It has a lingering finish with a refreshing crispness. I chose to pair it with cucumber juice to provide something unexpected; the nuttiness adds depth while the cucumber and tropical fruit make this the perfect crisp aperitif or pool-side sip. This recipe is complex enough to be interesting, but simple enough to throw together before heading out to the pool or patio to relax.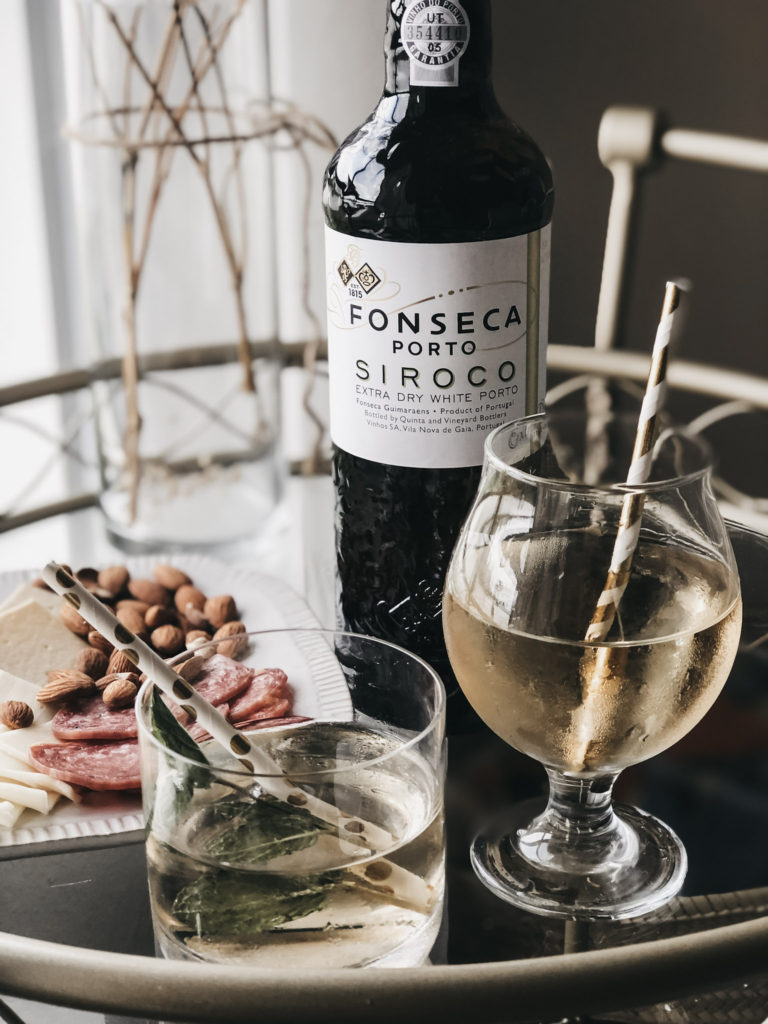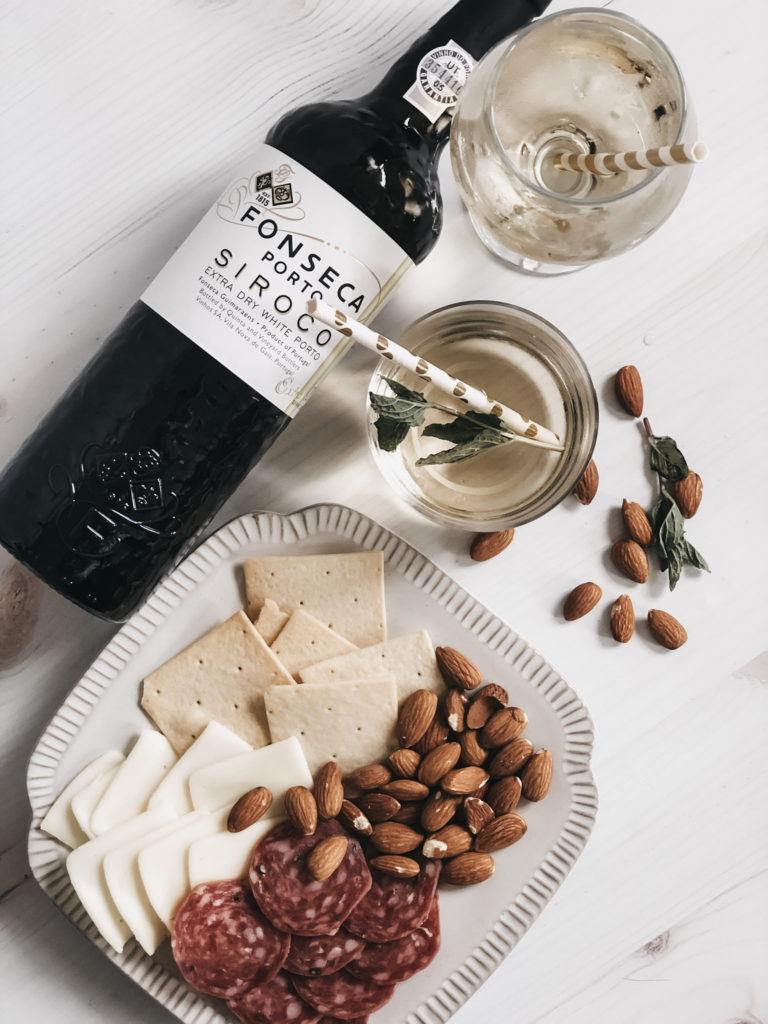 Cool Cucumber Port & Tonic Recipe
1 oz Fonseca Siroco
1 oz Cucumber Juice (or KettleOne Cucumber & Mint Botanicals for added depth)
4 oz Tonic Water
Mint Leaves (for garnish)
Directions: Pack glass with ice. Pour in tonic, then pour Port and cucumber juice over. Stir lightly. Add mint leaves to garnish.
Sip & enjoy!
Pairings
Port is great served with blanched salted almonds to play up its nutty characteristic, and is also very food-friendly and shines paired with everything from smoked salmon, sushi, olives, and charcuterie. Here I've paired my mix drink with a simple cheese and charcuterie plate that features gouda (I recommend hard cheese with this), almonds, salami, and olive oil crackers.
Do you have a favorite mixed drink with Port in it? Tell me below!
Cheers!