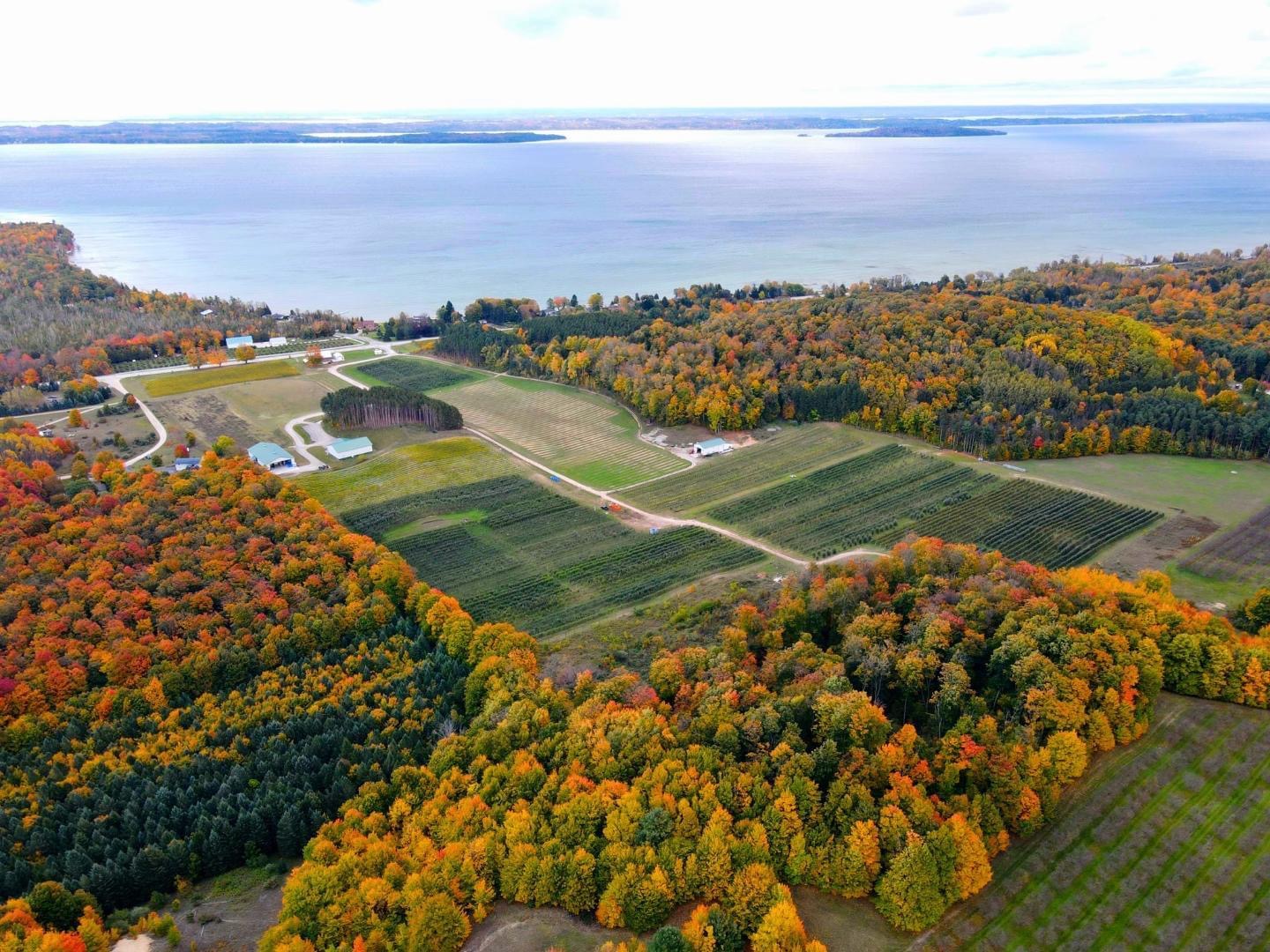 The Leelanau Peninsula offers cinematic views at every turn and miles upon miles of breathtaking trails along the coast! Maybe you're planning a trip to Northwest Michigan to take in the sights at Sleeping Bear National Lakeshore or drive along one of the most scenic roadways in America, but while you're here, you should absolutely spend some time exploring the Leelanau Peninsula Wine Trail!
If you're coming to this part of Northern Michigan for a long weekend getaway, or even just a day trip, you should absolutely check out this guide to some of the very best Leelanau Peninsula wineries!
Best Leelanau Peninsula Wineries
When you think of award-winning wine destinations, Michigan might not jump to the top of the list, but this growing region touts some of the world's best cool climate wines. The Leelanau Peninsula enjoys more moderate weather than most of the state — thanks to the "lake effect" — which help varietals like Riesling, Pinot Noir, and Chardonnay to thrive in these complex, nutrient rich soils. If you're looking for an unexpected and unforgettable wine destination, check out this guide to some of the best Leelanau wineries!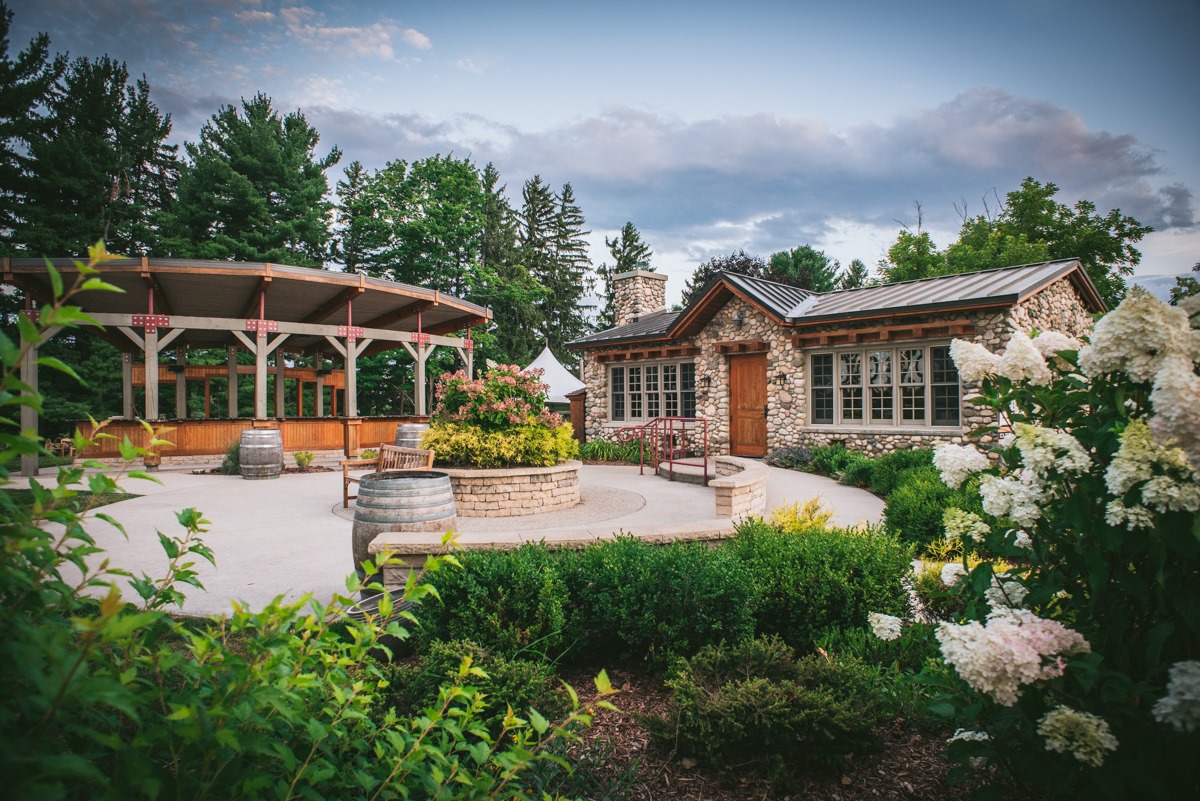 Shady Lane Cellars
If this one sounds familiar, you might've already seen my interview with Kasey Wierzba – the incredibly wonderful and talented executive winemaker and general manager of Shady Lane Cellars!
Apart from the wonderful wine and the wonderful people who work here, this is a great option if you're looking to really soak everything in and take your time while exploring the Leelanau Peninsula Wine Trail. Shady Lane Cellars is one of several stops you can choose from with Grand Traverse Bike Tours. If you're planning to visit during the winter season and won't be able to pedal from one winery to the next, why not explore the estate on skis? Shady Lane Cellars has a number of cross country skiing trails that zig-zag through the vineyards, allowing you to gain an even deeper appreciation for the land that grows their many delicious varietals.
Learn more about Shady Lane Cellars
Leelanau Cellars
If you're looking for a wine tasting with fantastic views, check out Leelanau Cellars! They have lots of fantastic offerings to choose from, including a delicious cherry wine that you can sip while taking in the views of Grand Traverse Bay.
Leelanau Cellars has been family owned and operated for more than 40 years, and what started from simple beginnings in cherry orchards has grown into one of the most successful and widely recognizable labels in the region!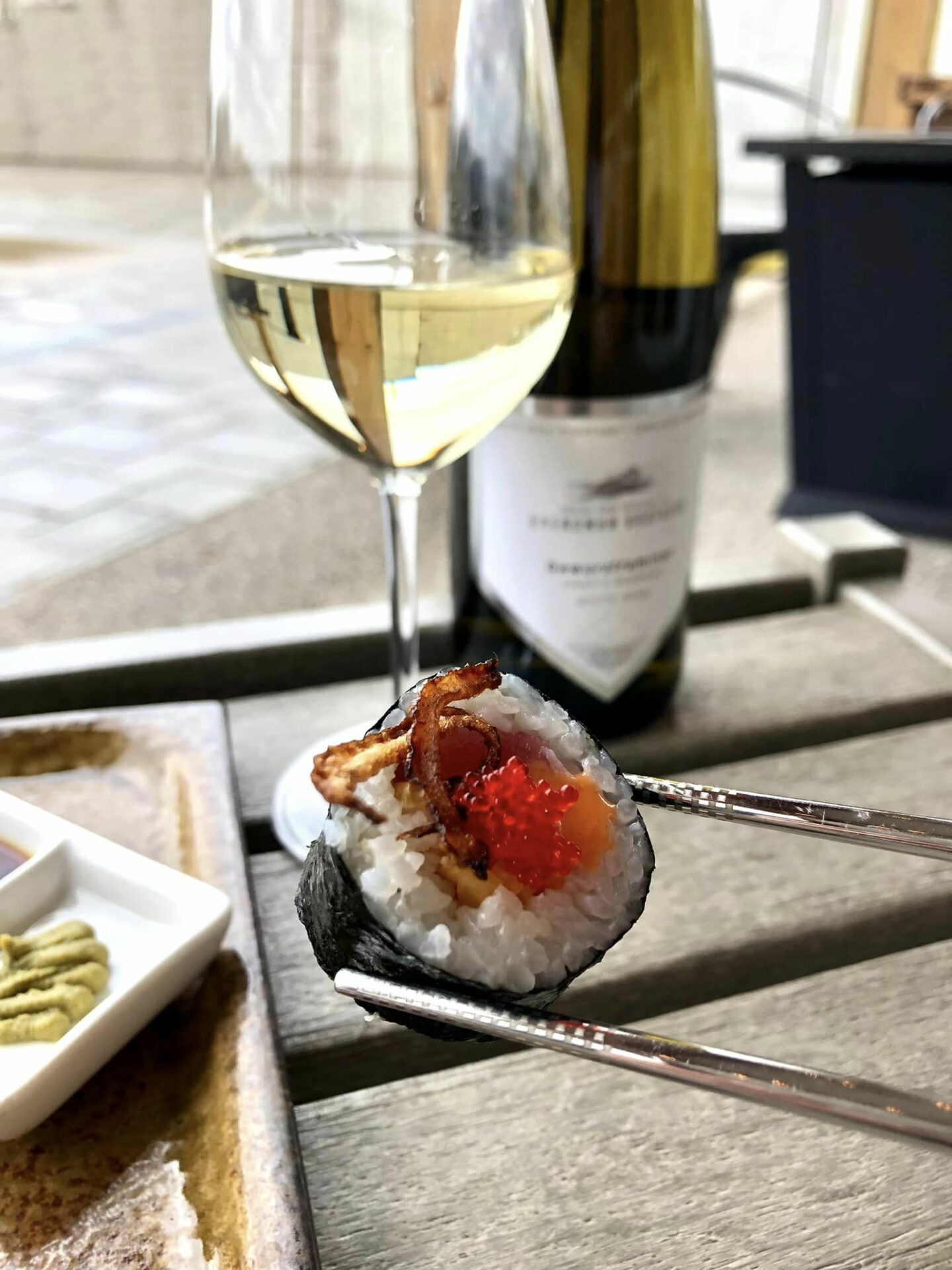 Brengman Brothers Winery
This sibling duo serves up delicious wines and delectable eats! You should absolutely pair your tasting experience with some Northern Michigan Pull Apart Bread or one of the house made pizzas! You'll want to call ahead for a reservation at The Eatery at Bergman Brothers so you don't miss out on all the tasty local offerings.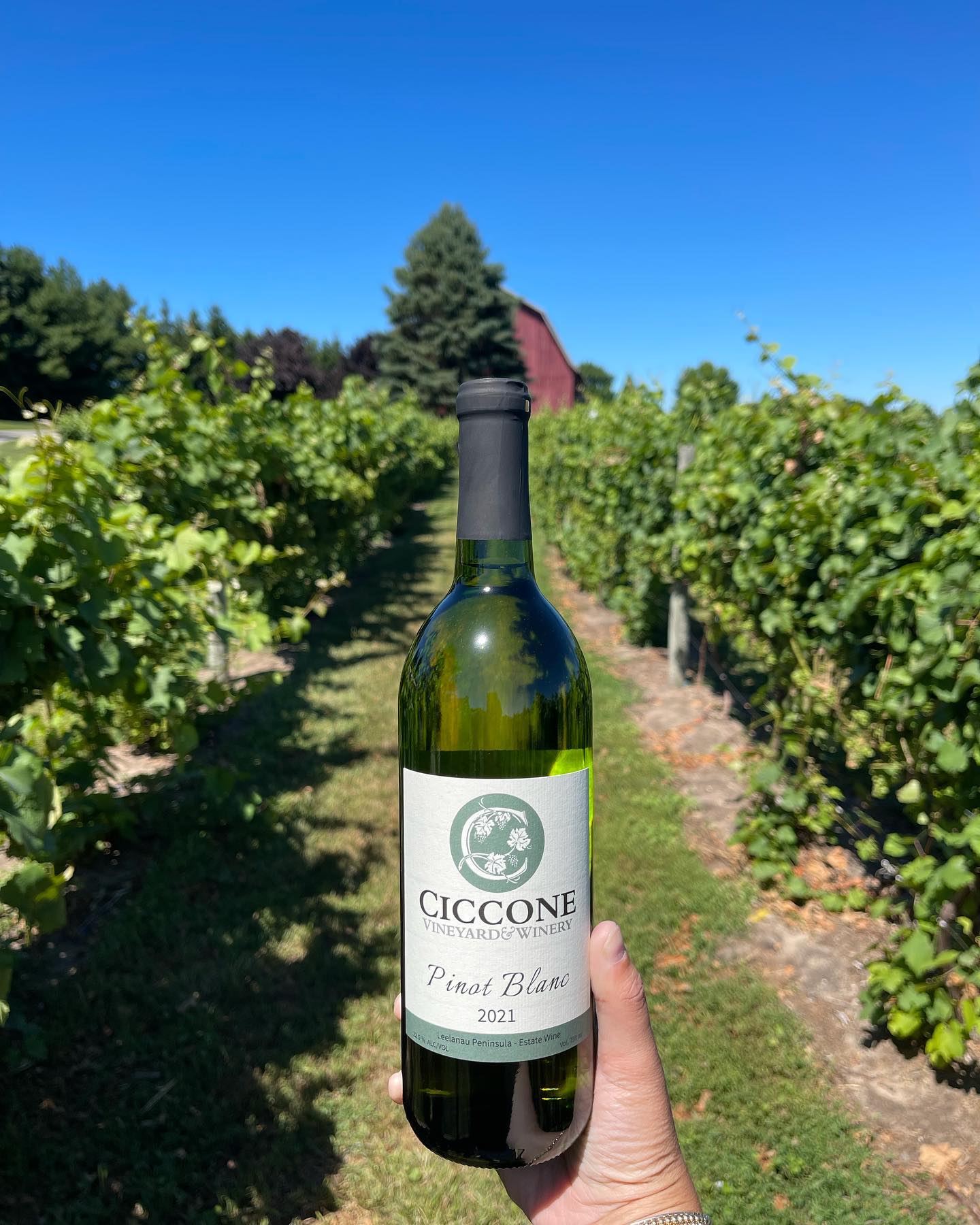 Ciccone Vineyard & Winery
For those of you who enjoy a little live music with your tastings, Ciccone Winery hosts lots of great events that spotlight local musicians! You'll be blown away by the talent of the musicians and the winemakers! This family-run winery – one of the first in the region – proudly serves estate wines!
Learn more about Ciccone Winery
Two K Farms
If you're coming in the summer months, you should absolutely check out Two K Farms. This brother duo serves up delicious wines and panoramic views. Come enjoy a tasting at their outdoor patio, nestled among rows of pine trees, with sweeping views of vineyards, apple trees, and best of all, West Grand Traverse Bay.
If you're coming during the winter months, they also have a rustic chic tasting room with gorgeous vaulted ceilings. The tasting room menu has a lot of great offerings too – like dessert hard ciders!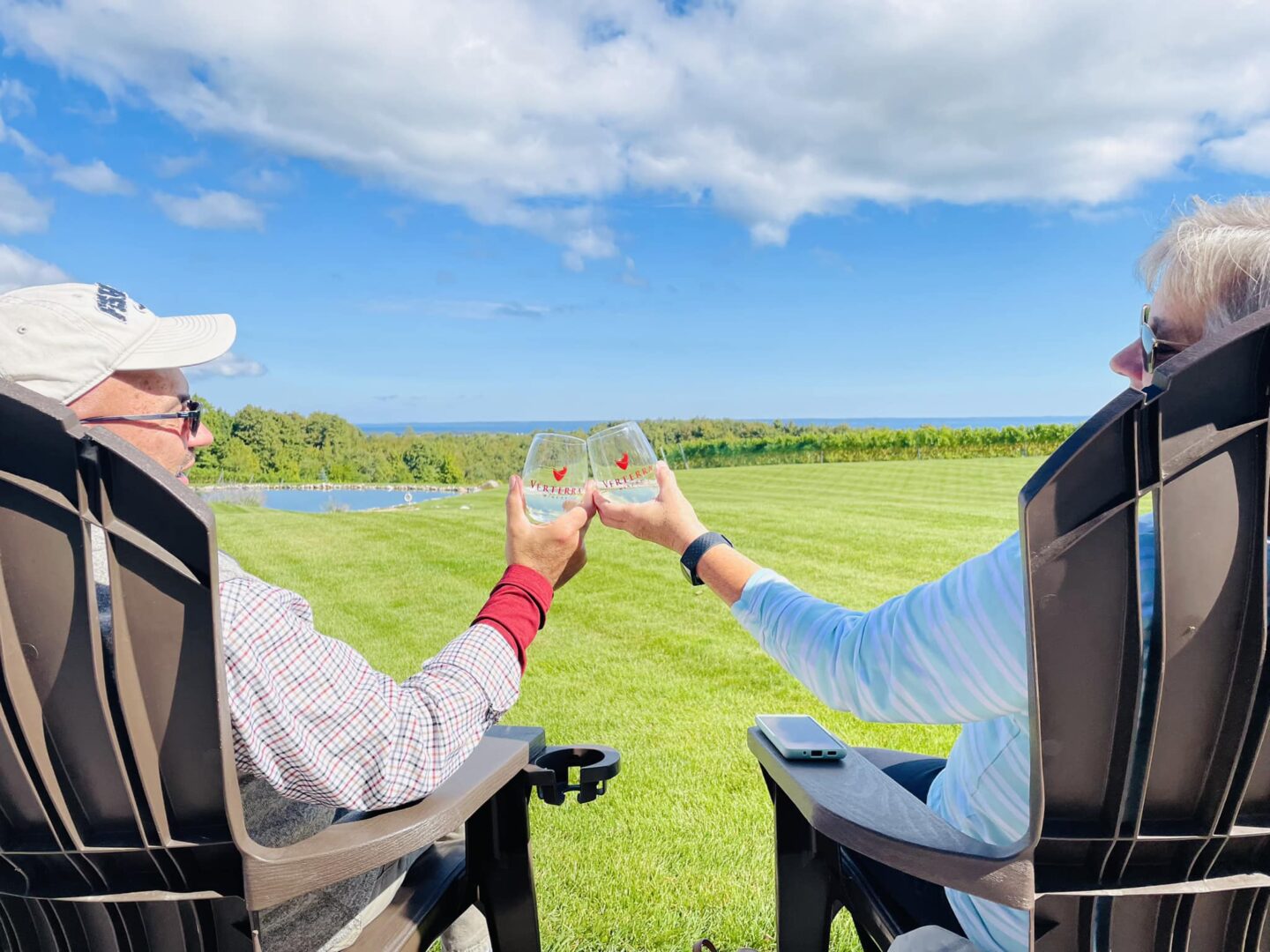 The Ridge at Verterra
From white and red wines, rosé and sparkling, to even port and hard ciders, Verterra Winery has a little bit of everything. Verterra literally means "true to the land," and the estate grown fruits are meant to embody the essence of Leelanau Peninsula.
This family winery came from modest beginnings, and was born from a passion for great wines. Over time, one acre grew to more than 40 acres. In recent years, Verterra Winery has been the recipient of numerous awards – including Best Dry Wine in Michigan, three years running!
The Ridge at Verterra provides its guests with postcard-worthy views, and is one of the most idyllic spots to sit and enjoy a glass of wine, but you can also grab a glass of Michigan's Best Dry Wine in their downtown tasting room – just one block away from the shores of Lake Michigan.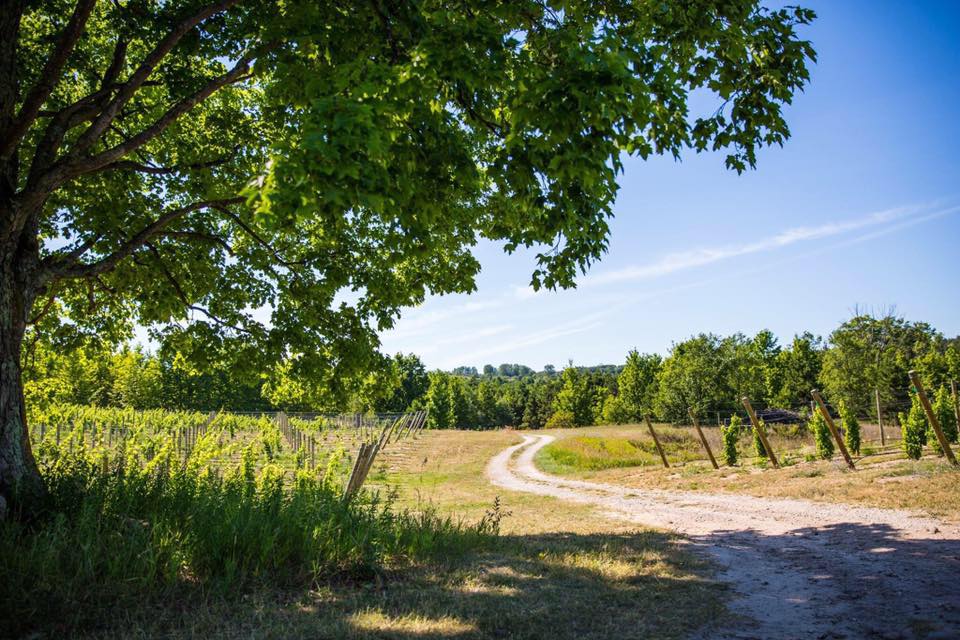 Amoritas Vineyards
If you love white wines, you definitely need to visit Amoritas Cellar! They grow Riesling, Chardonnay, Pinot Gris, Pinot Blanc, Auxerrois, and Muscat Ottonel – all fruity, clean, acid driven wines that are full of complexity!
The tasting room is warm and inviting, but if you're interested in a private tasting, I recommend strolling through the vineyard. There's something magical about sipping wines in the exact same spot they were grown.
Another reason this vineyard needs to be one of your stops along the Leelanau Peninsula Wine Trail? Samping these delicious wines means you'll be supporting women in wine! Emily Goodell and her family had a dream of opening their own vineyard – and as viticulturist and part owner she wears many hats! The wines grown here come from a labor of love, though, which you'll be able to taste for yourself in every glass!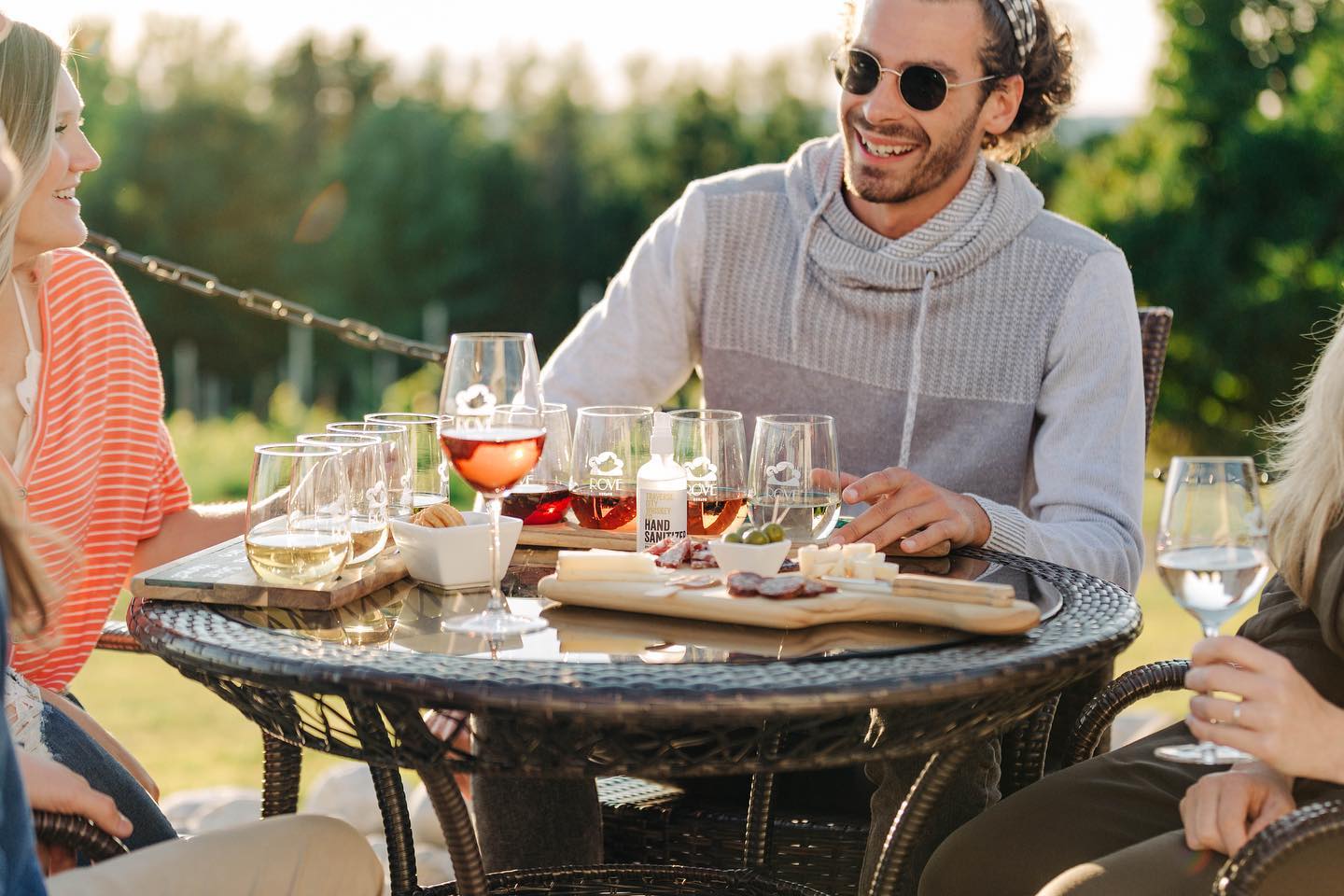 Rove Estate Vineyard & Winery
You'll find this tasting room at the highest point on Leelanau Peninsula and along the way to Sleeping Bear Dunes. If you're already headed that way to enjoy the park and soak in the epic views, why not soak in a little wine along the way, too?
They offer wine tastings, wine by the glass, live music and locally sourced small-bites, making it the perfect stop to fit into a full day of sightseeing.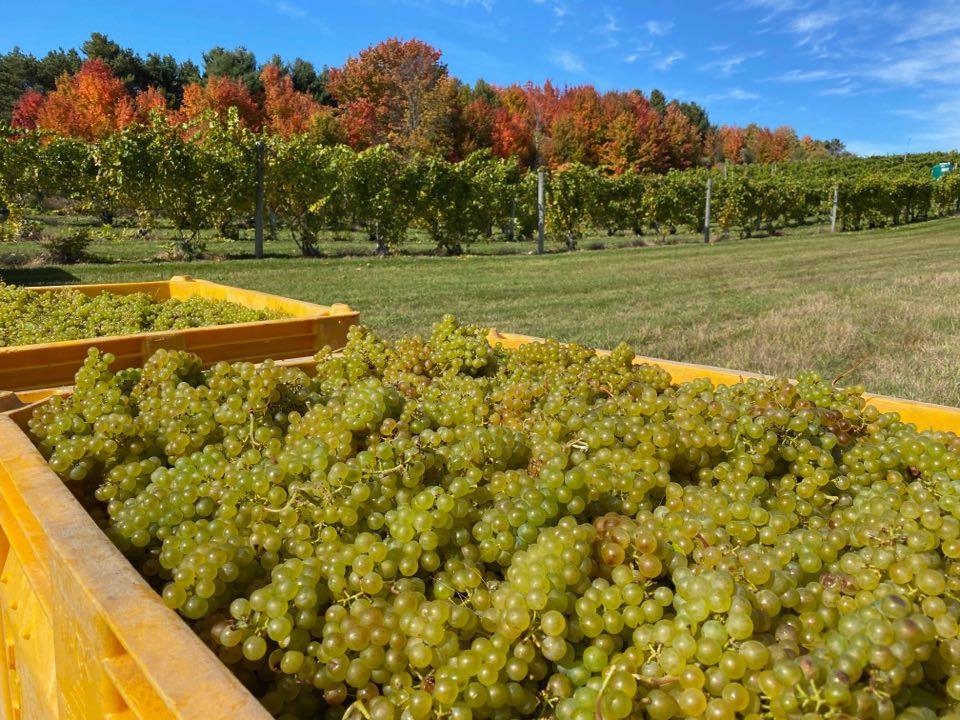 Chateau Fontaine Vineyard & Winery
You'll only be able to visit this family-run winery on the weekends, but if you're a fan of white wines, you won't want to miss out on a visit to Chateau Fontaine. Like many of the other family-run wineries on the peninsula, they come from humble beginnings, and were planting some of the very first vines on their hands and knees. Today, Chateau Fontaine is know for its award winning wines – recognized both regionally and abroad!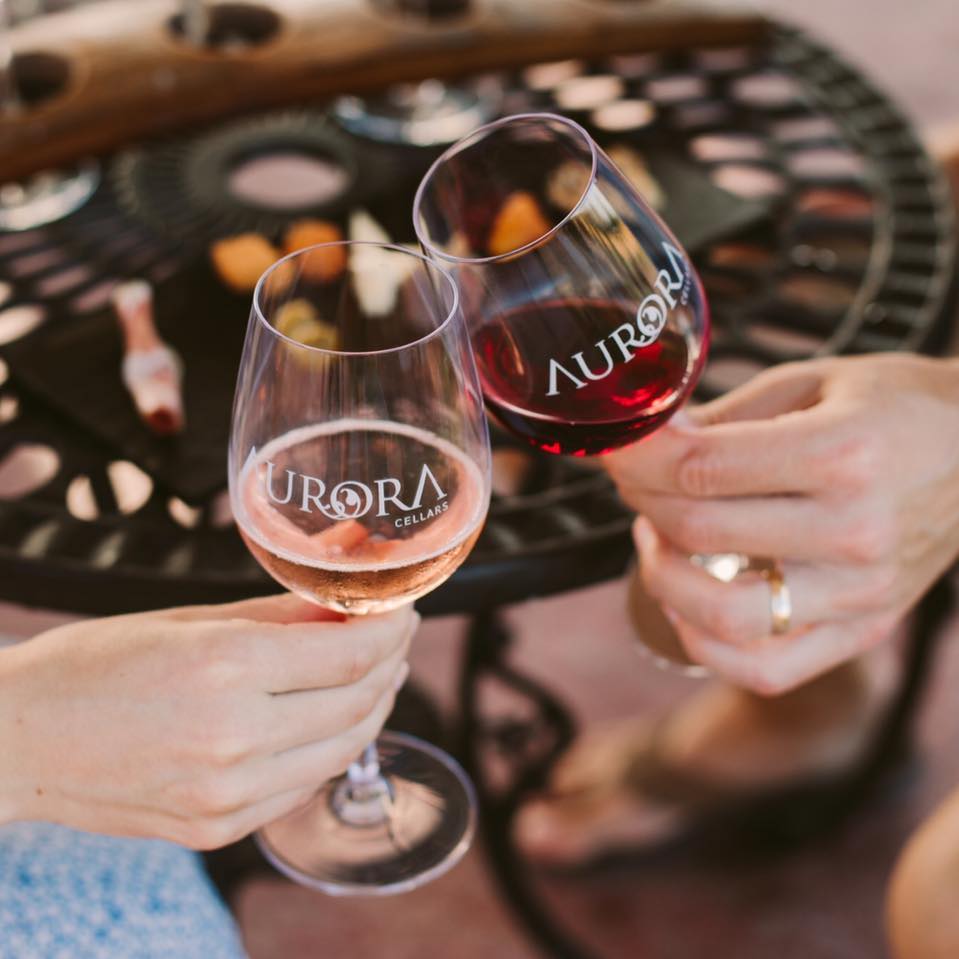 Aurora Cellars
You'll absolutely fall in love with the charming tasting room and idyllic grounds at Aurora Cellars. There's a few great tasting options to choose from, from a small bites pairing to even a chocolate pairing. If you're brave enough to visit Michigan in the winter months, Aurora Cellars should definitely be on your itinerary! They have some adorable little igloos for you to sit in while enjoying your wine tasting. Spend your morning snowshoeing the groomed trails, and then warm up in your own little private bubble with a glass of wine in hand!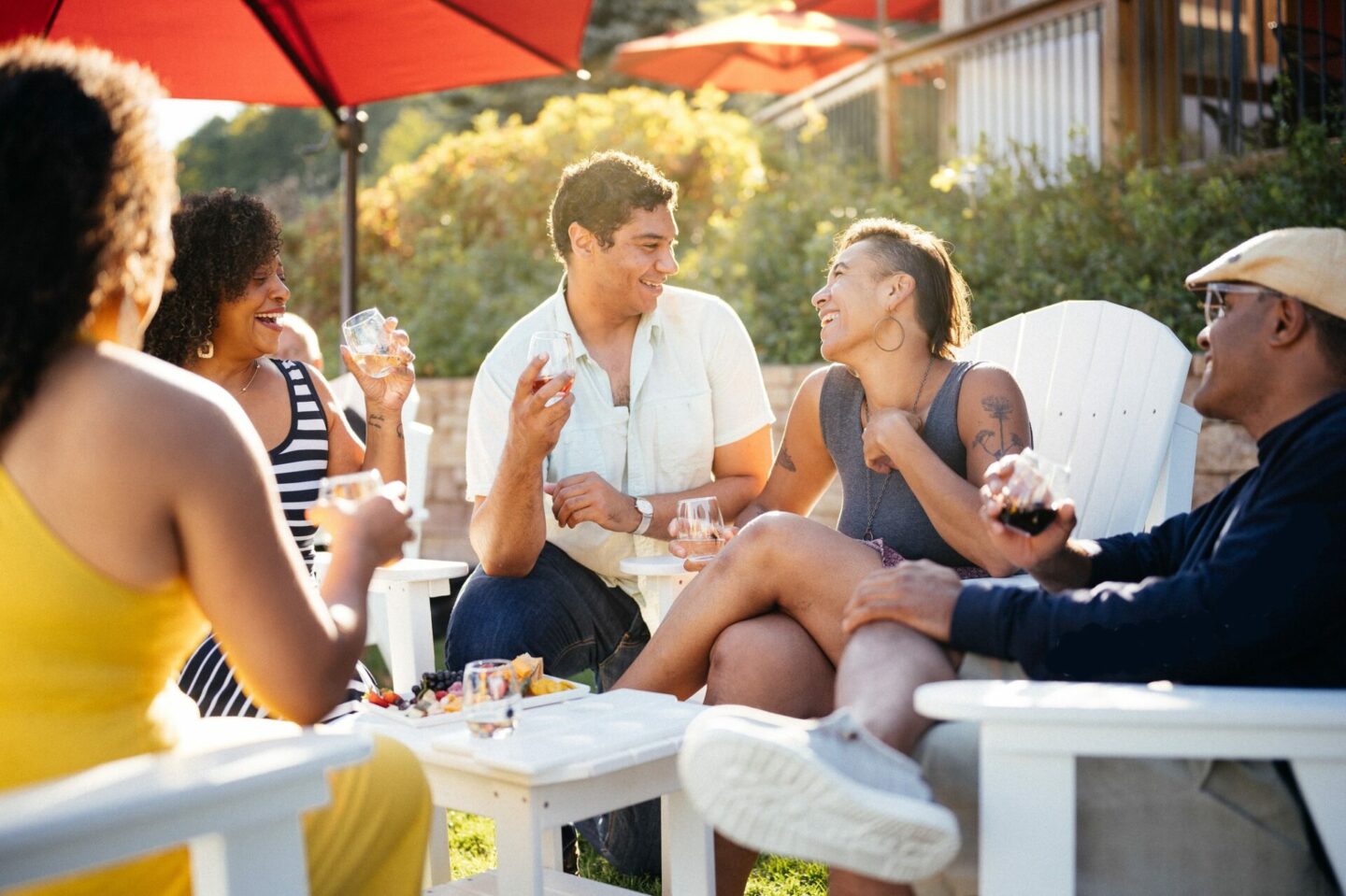 Black Stars Farm
From the vine to the bottle, Black Star Farms is fully committed to crafting some of the very best wines from Leelanau and Old Mission Peninsulas. If you come visit Black Stars Farm in Sutton Bay, you'll absolutely want to take some time to explore their 160 acres estate — that is while you're not busy lounging in their gorgeous tasting room, soaking in summer rays on the outdoor patio, or grabbing a treat from their cafe!
Learn more about Black Stars Farm
Frequently Asked Questions
What wineries are on the Leelanau Peninsula?
There are over two dozen wineries on Leelanau Peninsula! This guide includes some of my personal favorites, along with some of the most frequented stops along the wine trail, but this list definitely isn't exhaustive! Check out some of the other recommendations and suggested roots along the Leelanau Peninsula Wine Trail, and if you happen to strike up a friendly conversation with a local, don't hesitate to ask for a suggestion!
What is the oldest winery on the Leelanau Peninsula?
Up until December 2018, Boskydel Vineyard was one of the oldest and longest running wineries in Northern Michigan. Founder and Owner Bernie Rink opened his doors in 1976, didn't decide to close up shop until after his 91st birthday.
How many wineries are in Leelanau?
According to the Leelanau Peninsula Wine Trail, you'll find 27 wineries in Leelanau County.
Other Blog Posts You'll Love
Women in Wine: Kasey Wierzba of Shady Lane Cellars
Women in Wine: Emily Goodell of Amoritas Vineyards