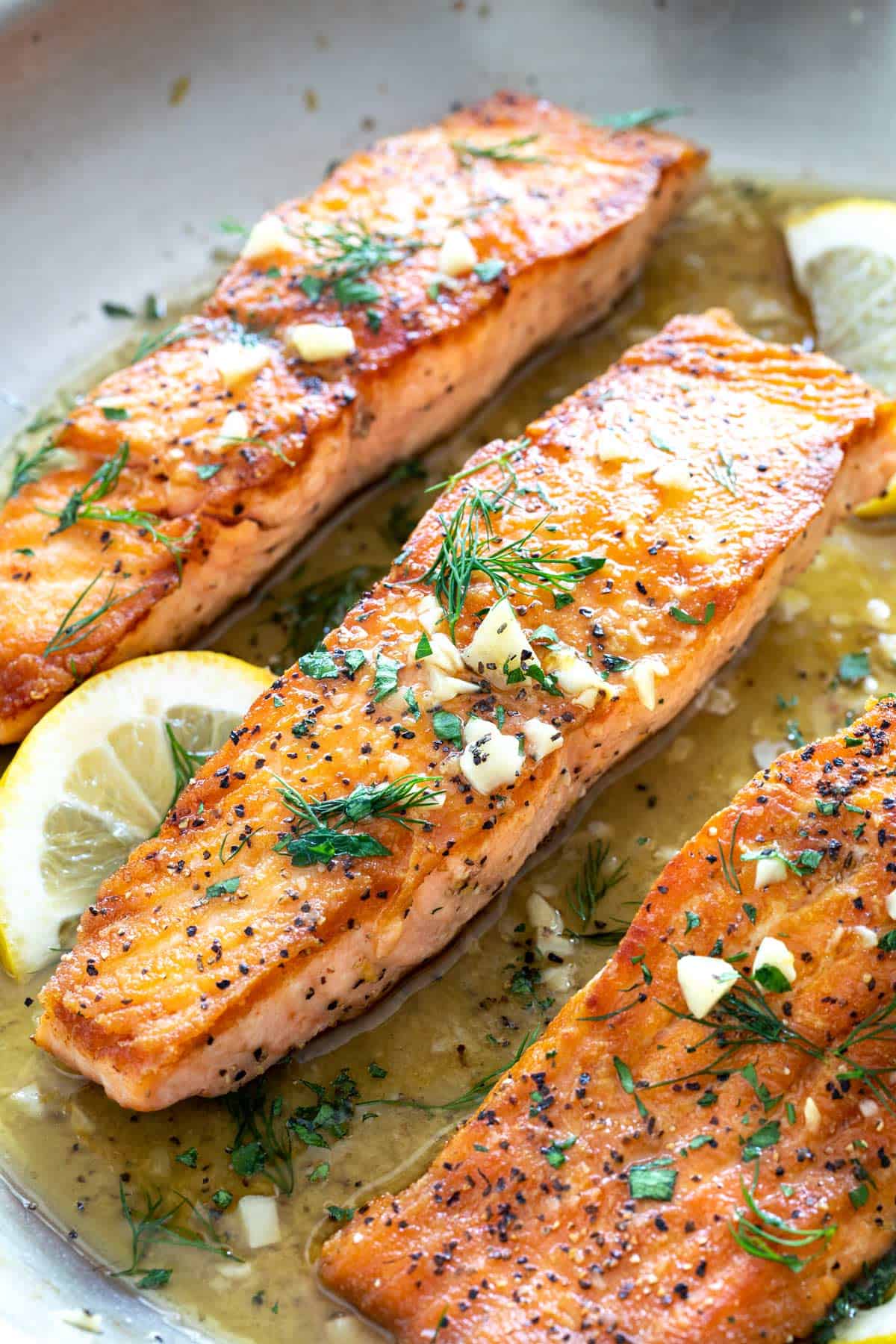 If you've ever found yourself wondering what wine goes with salmon, wonder no more! No matter what kind of salmon dish you're looking to make for dinner, or treat yourself to at a nice restaurant, this quick and simple guide has you covered!
The great thing about this light, delicate fish is there's so many wines that pair nicely – but it's all going to come down to how the dish is prepared! You might also consider the side dishes too, but let's be real, the salmon is going to be the start of the show on any plate. If you want to know all about the best wine with salmon, keep reading!
How to Pair Wine with Salmon
If you're somewhat new to the world of wine, you may be familiar with the general rule of thumb that meats pair nicely with red wines, and fish should be enjoyed with white wines. And while that's not bad advice, wine pairing options are a bit more nuanced. Will your salmon be prepared in a cream sauce? What side dish will you be enjoying alongside it? Is it being baked to perfection in the oven, or will it be getting nice and crispy on the grill?
Ultimately, all of your selections are going to come down to how your dish is prepared, and of course, your personal preferences.
Red Wine Paired with Salmon
By and large, you'll always be serving salmon with a white wine – but Pinot Noir is the one shining exception to this rule. If you've been following me for a while, you probably already know how much I love Pinot Noir! This light to medium body red wine has a fruit-forward flavor profile and a moderate level of tannins – making it an amazing compliment to so many dishes. If you're making a simple pan-seared salmon, like this amazing option from Jessica Gavin, Pinot Noir is a fantastic option!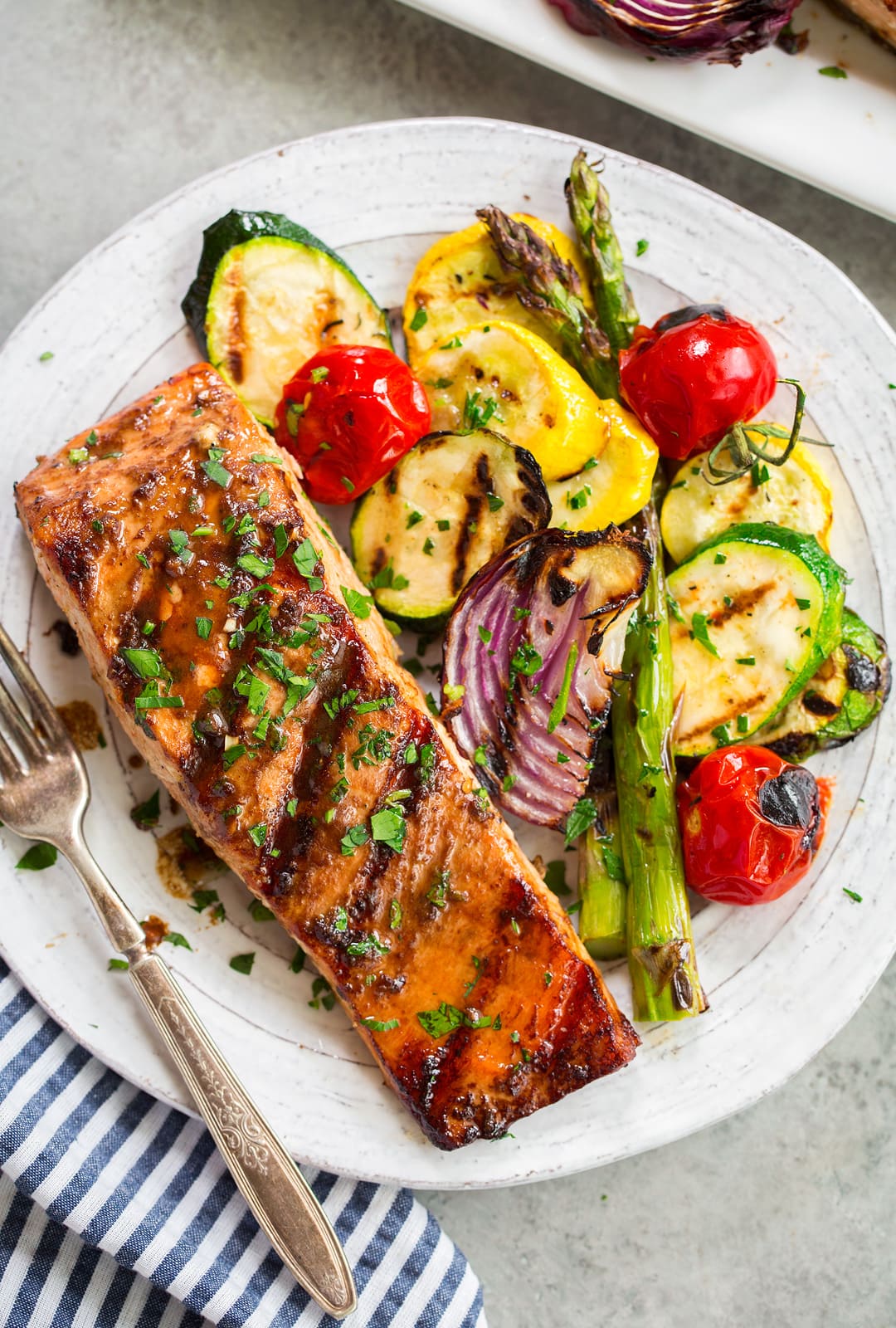 White Wine Paired with Salmon
You'll have a handful of options when it comes to pairing white wines with salmon, but Chardonnay and Sauvignon Blanc are two of the most popular options. If the only thing you know about these two wines is they're both white, I have a great guide to help break down all the little nuances between the two!
Chardonnay is an excellent option if you'll be enjoying a salmon prepared in any kind of creamy sauce. You'll want to make sure you pick an oaked Chardonnay, which will give you that wonderful buttery mouthfeel! The buttery quality of the Chardonnay is also a delicious contrast to the oily quality of the fish.
If you'll be enjoying grilled or roasted salmon, like this great recipe from Classy Cooking, I highly recommend going with a Sauvignon Blanc. This light bodied white wine packs in bold, powerful flavors like gooseberry, freshly cut grass, fresh herbs, grapefruit, green melon, and lime. It's known for being very fruity (not to be confused with sweet), and having a high acidity. This gives it a crisper, tart flavor. It's these characteristics that help to cut through the richness of the salmon.
Rose Paired with Salmon
Many salmon recipes you'll come across actually pair quite nicely with dry rosé wines! That's because the acidity and refreshing taste helps to compliment the delicate flavors of the fish. It's a particularly good option with grilled salmon dishes, salmon tartare, or even smoked salmon.
Pairings for Smoked Salmon
Normally, I enjoy my smoked salmon over an everything bagel with some cream cheese, onions, and capers, but I'm personally not too big on "rise and wine." Instead, when I think of wine pairing options for smoked salmon, I think of this delicious smoked salmon sushi roll recipe from Kalefornia Kravings! It's got a really nice lemony cream cheese, avocado and fresh cucumber, topped off with everything seasoning.
For this recipe, my top recommendation would be a lightly oak aged Chardonnay. This full bodied white wine can help compliment the richness of the smoked salmon, and because of that buttery feel, it also offers a nice additional touch of creamness. Plus, you don't have to spend an arm and a leg to get a great bottle!
If you're not big on Chardonnay, you could also opt for some champagne or sparkling wine. The bubbles can help to cut through the rich flavor, whereas the minerals and acidity can help complement the smokey flavor.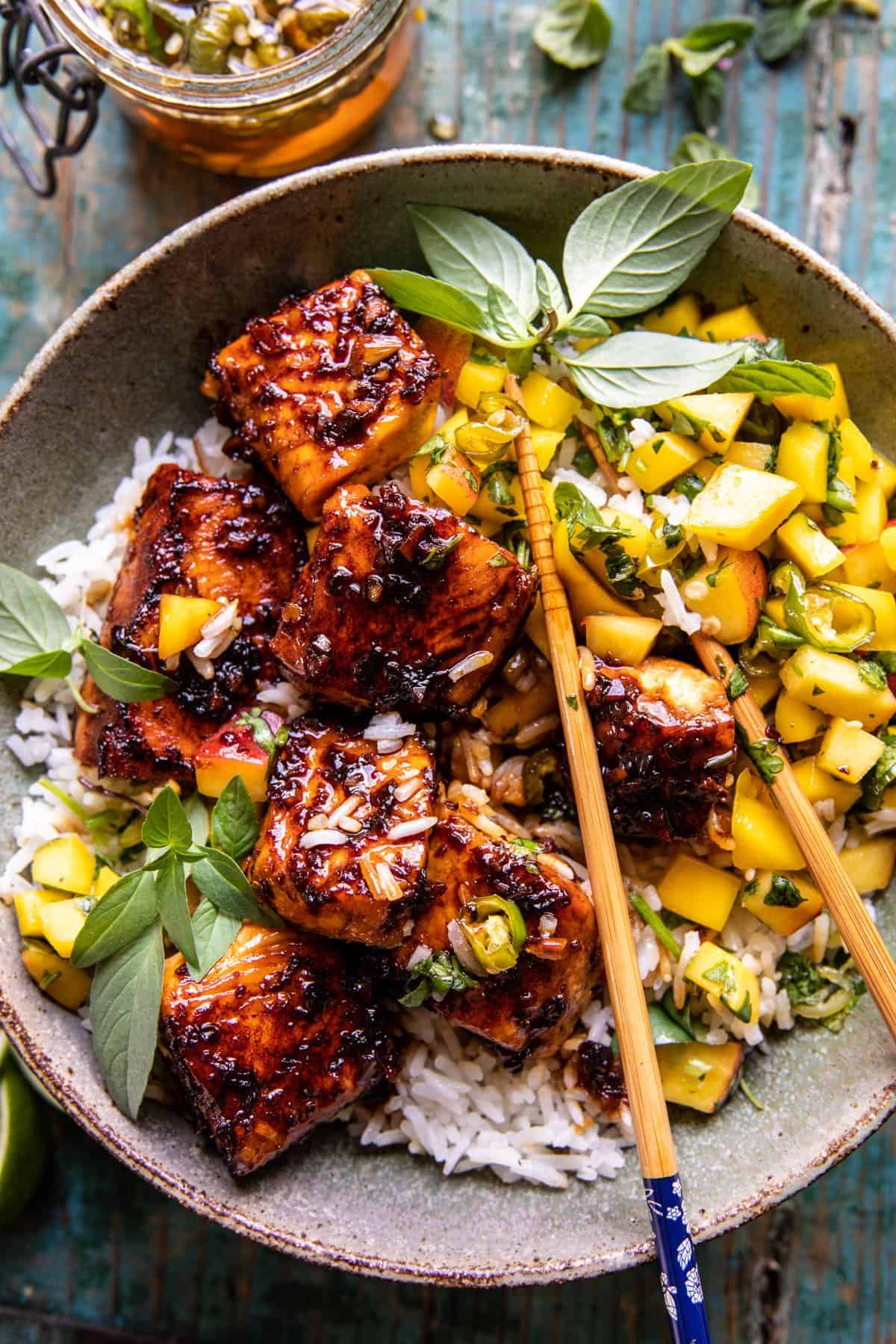 Pairings for Glazed Salmon
If you're eyeing the glazed salmon on your menu right now, or you're thinking of making something similar to this absolutely mouth-watering Crispy Honey Ginger Salmon Bowl from Half-Baked Harvest, try pairing it with a glass of Gewürztraminer! This aromatic, sweet wine is a perfect compliment to the honey and ginger, and its low acidity will bring a nice balance.
If you're looking for something with a somewhat similar favor profile, an off-dry Riesling is another great option. It's still aromatic and fruity, but it's known for being lighter bodied and its high acidity.
If fruity, aromatic white wines aren't for you, then I'd suggest enjoying a glazed salmon with a glass of Pinot Gris! It's light bodied, crisp, and adds a little kiss of acidity.
Frequently Asked Questions
What kind of wine goes good with salmon?
The answer really depends on how you'll be preparing your salmon dish! If you're enjoying grilled or smoked salmon, for example, Chardonnay or Sauvignon Blanc would be excellent options. Reigsling is a good go-to for glazed salmon dishes, whether they're sweet or spicy, and Pinot Noir is great for all simple, lighterfare dishes.
Is red or white wine better with salmon?
The short answer? It depends! While white wine is often touted as the best to pair with fish, if you're enjoying a simply prepared cut of salmon, Pinot Noir can be an excellent option to help bring out the delicate flavors of the fish.
What is the best red wine with salmon?
If you're going to do a red wine with salmon, you should absolutely opt for Pinot Noir! Make sure that you're enjoying a simply prepared salmon dish, though, and not something grilled or glazed! The fruity notes in the Pinot Noir will help bring out the delicate flavors of the fish!
Should you drink red wine with salmon?
You can enjoy salmon with red wine! You should avoid red wine with salmon that's been grilled, smoked, glazed, or prepared in a lemony butter sauce!
Does Chardonnay or Sauvignon Blanc go with salmon?
Yes! Chardonnay and Sauvignon Blanc are excellent options for smoked or grilled salmon dishes!
Does Pinot Grigio or Sauvignon Blanc go with salmon?
Yes, both Pinot Grigio and Sauvignon Blanc are great compliments with salmon!
Other Blog Posts You'll Love
Best Wine with Sushi: The Complete Guide to Pairing
Best Wine for Mexican Food: Wine & Food Pairings You Need to Try!