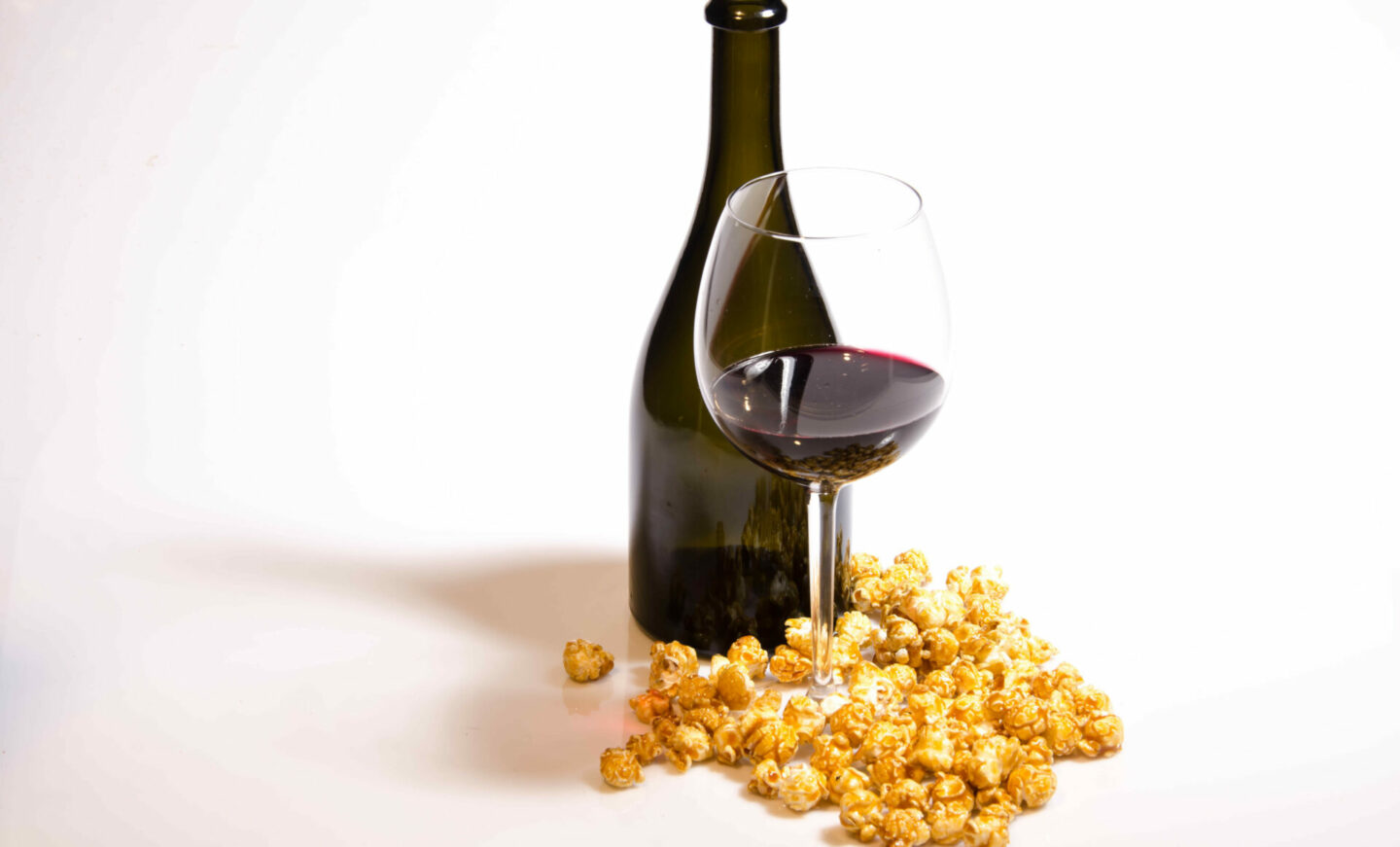 If you're a lover of all things wine, here are some great wine movies and wine documentary recommendations to enjoy during a quiet night in or while hosting girls night! No matter what you're looking for – drama, comedy, thriller or romance – this list has something for everyone! These films are so good, you don't even need to like wine to fall in love with them. But why not break out a bottle to really submerge yourself in the experience?
Bottle Shock
The next time you sit down to enjoy a glass or two of Napa Valley wine, I highly recommend you pair it with the incredible true story of "Bottle Shock." In 1976, a selection of California wines from Napa and Sonoma Valleys took on the best of the best French wines in a blind taste test – and won. You'll feel inspired and uplifted by this incredible tale featuring Chris Pine and the late Alan Rickman, and feel really good about your wine selections too!
Where to Stream: Amazon Prime Video
Somm 3
If you've already seen "Bottle Shock," you'll be able to appreciate this fun wine documentary on a whole new level. This film takes a look at some of the biggest and most influential names in the wine industry, and it shows us how incredibly difficult it is to blind taste test – even for some of the most seasoned of experts. In a secret tasting similar to the Judgement of Paris, you'll see if any of the world's Pinot Noirs can stand up to the greatest Burgundies of France.
Where to Stream: Amazon Prime Video
Uncorked
There's a lot of wine movies on Netflix, but if you're looking for something poignant and heart-felt, look no further than "Uncorked." You'll see a young sommelier-hopeful struggle in pursuing his own dreams, even when that means disappointing his loved ones who want to see him take over the family's BBQ business.
Where to Stream: Netflix
Blind Ambition
At first glance, this documentary film gives the same energy as "Cool Runnings," except this unlikely underdog story tells the tale of four men from Zimbabwe competing in olympics of wine tastings. Up against all odds, these men, who had never even tasted wine up until a few years ago, take on some of the most refined pallets in the world. It's a can't miss!
Where to Stream: YouTube from $3.99
Wine Country
How could this list be complete without this recommendation? If you've come across this blog post, I'm willing to bet there's a strong chance you've already seen "Wine Country," but in the unlikely chance that you haven't, you need to check out this hilarious, all-star cast. You'll laugh, you'll cry, you'll cry so hard from laughing, and maybe even see a lot of yourself and your friends along the ride. Maybe it's a little too on-the-nose, but this could also be the perfect film to watch during a girls trip.
Where to Stream: Netflix
A Good Year (2006)
This heartfelt film will stay with you long after the final credits have rolled. When a highly successful stock broker, played by Russell Crowe, unexpectedly inherits his uncle's vineyard, the practical thing for him to do would be to sell to the highest bidder and get back to his high paying job. But coming back to the vineyard brings up a lot of old memories, and choosing between making money and his own happiness isn't so simple.
Where to Stream: YouTube Premium
Sour Grapes
If you've seen "Inventing Anna" on Netflix, you'll know what I mean when I say this documentary features the Anna Delvey of the wine industry. Against all odds, this master counterfeiter befriended the rich and powerful and sold millions of dollars of fake wine in some of the top auction houses in the world. You don't even need to like wine to be blown away by this story!
Where to Stream: YouTube
Somm
If you've ever wondered what it takes to become a master sommelier, this documentary film is a deep dive into one of the most difficult exams in the world. You'll follow the efforts of four men studying for the exam, and get an up close look at the amount of time and dedication it takes to become a true master.
Where to Stream: YouTube
Year of the Comet
This adventurous love story is full of laughs and good wine. When one of the world's most expensive bottles of wine is discovered in the Scottish Highlands, an unlikely duo is tasked with getting the wine to London. Nothing goes to plan, of course, and they'll have a hell of a time keeping the bottle out of the wrong hands.
Where to Stream: AppleTV from $3.99
A Walk In the Clouds (1995)
This World War II Period Piece is an unforgettable love story, starring Keanu Reeves, about family and tradition. When a soldier returning home comes across an unwed woman afraid of returning home to her family's vineyard for the harvest season, he volunteers to pose as her husband. A family of rich traditions and lineage doesn't approve of someone with "no past and no future," however, and winning their approval isn't an easy feat.
Where to Stream: YouTube from $3.99
Harvest Season
If you've ever wanted to get a behind the scenes look at how your favorite wines are made, this documentary follows the harvesting season in Northern California during a particularly difficult year.
Where to Stream: Amazon Premium Subscription
You Will Be My Son (2011)
If you're a wine lover who also enjoys a good thriller, this movie recommendation will have you on the edge of your seat. Paul has little to no faith in his son, who's set to inherit the family's successful wine estate – but he finds the son he's always wanted in Philippe – the son of his dying estate manager.
Where to Stream: Amazon Premium Subscription
The Secret of Santa Vittoria
This is the incredible true story of a small wine-producing village in Italy, and the extraordinary efforts they undertook during World War II to keep their wines out of the hands of the Germans.
Where to Stream: Amazon Premium Video
Our Blood Is Our Wine
This documentary takes an in-depth look at the history and traditions of wine making – going back 8,000 years to the Republic of Georgia. You'll have intimate access to a family in the region still practicing and holding on to these rich traditions after they were nearly lost during the period of Soviet rule.
Where to Stream: Amazon Premium Subscription
Sideways
Just like "Wine Country," no compilation of wine movies would be complete without the mention of the 2004 hit, "Sideways." Two middle-age men take on a week-long vacation through Wine Country before one of them is set to walk down the aisle the following week. And while one friend is just trying to relax and enjoy some good wine, the other is looking for one last "fling" before he gets hitched. What could possibly go wrong?
Where to Stream: HBOMax
A Perfect Pairing
If your mom likes to watch Hallmark Movies all year long, she'll probably be a huge fan of this sweet, fun-loving movie on Netflix. It's a light-hearted, feel good romcom about a hard-driving wine sales executive looking to score a major client when she strikes out on her own. She flys all the way to Australia to "go the extra mile," and even helps out as a ranch hand to win the owners over, but of course, she'll fall in love along the way too!
Where to Stream: Netflix
Frequently Asked Questions
What should I watch with a bottle of wine?
Any of these films are great, but I personally recommend one of the love stories! If you're looking for something light and feel-good, "A Perfect Pairing" is a great go-to, but even though it's a little heavier, "A Good Year" is another fantastic recommendation.
What should I watch after "Wine Country?"
There's no film quite like "Wine Country" – I mean, where else are you going to get such an amazing all-star cast and hilarious comedy? It's a fan favorite for good reason, but one film on this list I believe to be criminally underrated is "Bottle Shock." It also takes place in Napa Valley, but it's got a little bit of everything. It's also a true story!
Other Blog Posts You'll Love
11 Wine Candles That Smell Just Like Your Favorite Glass
The Ultimate Guide To Relaxing In The Tub With Wine
8 Wines to Drink While Smashing the Patriarchy