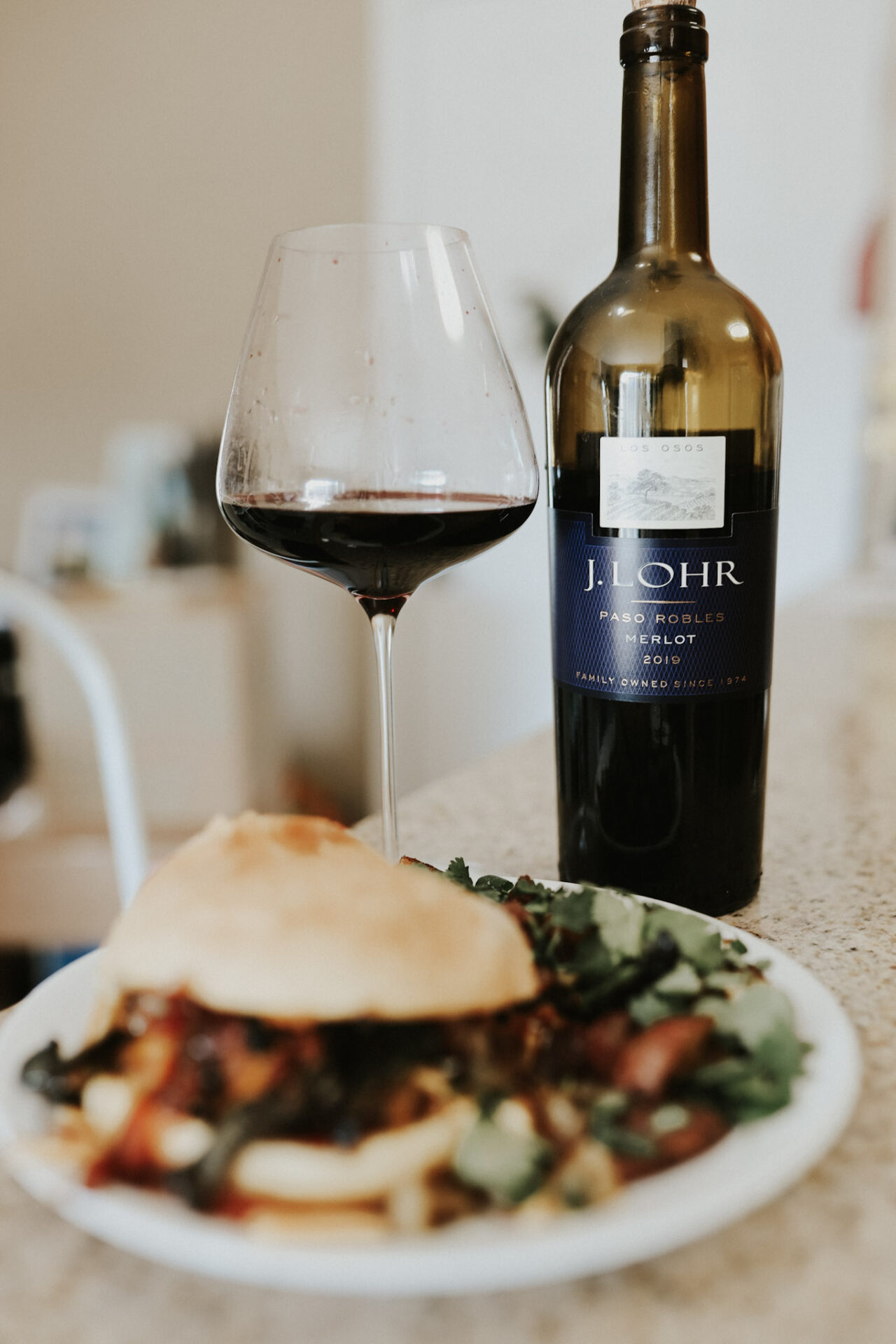 About J. Lohr: A World of Pairings
The best wine and food pairings enhance one another. While each may be great on its own, together they come together to form an other-worldly experience and subtle nuances appear that may not have been noticed before.
Flavors are heightened and there is a sense that both the wine and the food were created specifically for the other. I like to look at food and wine pairing in this way: first for the individual taste experiences, and then also for the interaction between them.
J. Lohr recently launched "A World of Pairings", a concept that is designed to inspire wine lovers to cook and travel the world while at home, through fresh, easy recipes and adventurous pairings with their wines.
The campaign includes a free eBook with new, creative pairings from five world cuisines: Mexican/South American, India, Asian-Fusion, North African, and regional United States.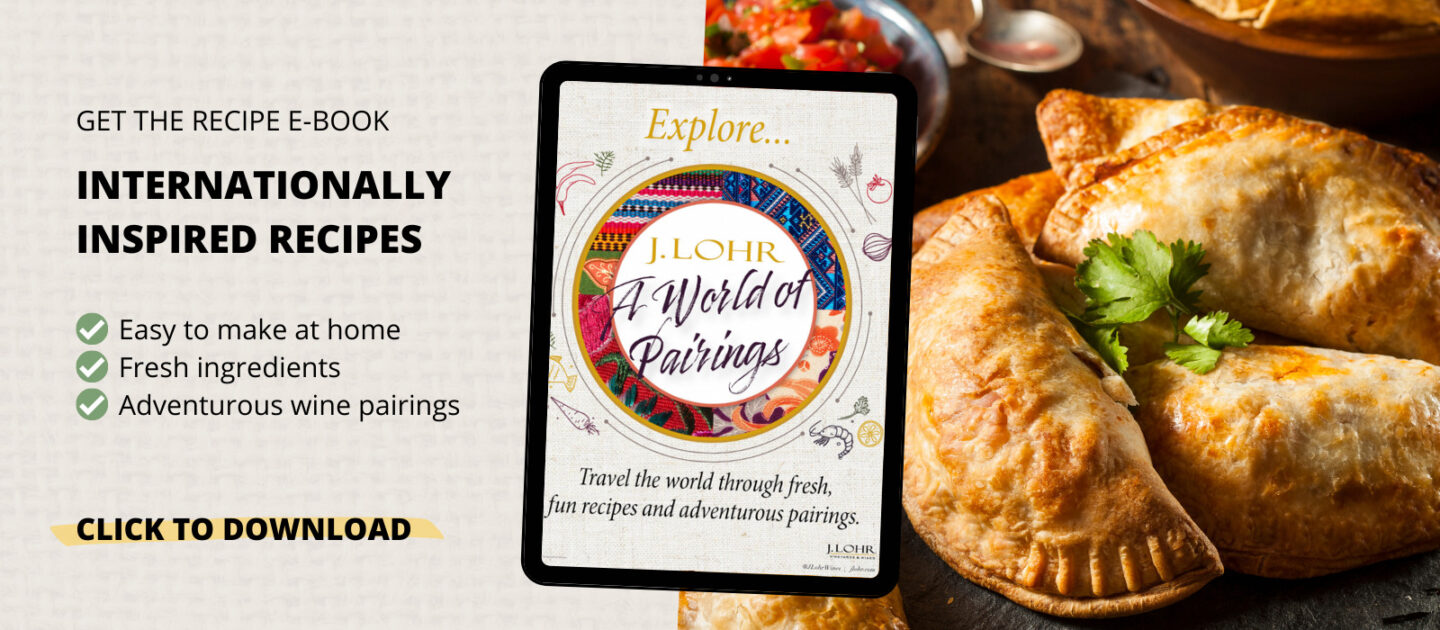 J. Lohr Estates Los Osos Merlot
The J. Lohr Los Osos Merlot from is an easy-drinking, everyday red wine that's full of flavor. The fruit is grown in the Estrella District of Paso Robles and gets its unique name from the soils they use here. Ready to get nerdy? The vineyards are planted on Nacimiento-Los Osos, Arbuckle-San Ysidro, and Arbuckle-Positas complex soils; these well-drained but relatively poor soils limit vine vigor and support wine quality.
J. Lohr
Estates
Los Osos Merlot Tasting Notes
The 2019 J. Lohr Los Osos Merlot is a beautiful and complex red wine composed of 85% Merlot, 14% Malbec, and just 1% Cabernet Sauvignon.
Dark, ripe fruit wafts from the glass, followed by aromas of violet and hibiscus. On the palate, I discovered juicy pomegranate, baking spices and a dash of toasted pastry. Great acid (which makes it perfect for food pairing!) and a beautiful medium-full body.
About J. Lohr
J. Lohr has been family-owned for 47 years. Today, founder Jerry Lohr and his three children, Steve, Cynthia, and Lawrence, oversee the brand, crafting delicious wines from their own vineyards.
Because the family owns their own vineyards across Monterey, Paso Robles, and Napa Valley, they are able to produce consistently high-quality wines "soil to bottle". The team consistently works to improve the vineyards through research and replanting, understanding the terroir better & better each vintage.
Merlot Food Pairings
About Merlot
Wine connoisseurs, casual sippers and wine newbies all love Merlot. The silky softness of this variety makes it an easy drinking wine, yet there are still plenty of rich red fruit flavors and delicious complexity.
Merlot Food Pairings
Merlot pairs well with a number of foods. Its medium-full body and medium acidity and tannin makes it quite versatile with food. It pairs well with beef, pork, poultry, pasta, and heartier salads. It's also a great cheese pairing!
Merlot Food Pairing Examples: Beef stew, BBQ'd Ribs, Meatloaf, BBQ Chicken, Cheeseburgers, Spaghetti & Meatballs, and Cheddar cheese.
Check out more delicious food pairings and recipes in J. Lohr's A World of Pairings cookbook, or scroll below for my take on pairing the J. Lohr Los Osos Merlot with BBQ Cheeseburgers. Yum!
BBQ Cheeseburger Recipe
This BBQ Bacon Cheeseburger is the perfect pairing for the J. Lohr Los Osos Merlot. Definitely an other-worldly pairing where every bite is pure bliss and an explosion of flavors!
What you find underneath the initial flavors in the J. Lohr Merlot are generous dark fruit, spicy/savory notes, Provençal herbs, and smoked meat (Hello, bacon!). Yeah, those flavors are in the wine. And they're in the burger too. Together, they create a heightened experience where it feels like each bite and sip were meant for each other.
You're going to love this BBQ Cheeseburger Recipe!
BBQ Cheeseburger Ingredients (serves 2)
BBQ Sauce – 2.5 tbsp
Bacon Bits – 2 tbsps
Cilantro – 3 tbsp
Fajita Seasoning – 2 tsp.
Ground Beef – 10 oz.
Poblano Pepper – 1
Potato Rolls – 2
Red Potatoes – 6
Shallot – 1
Sliced Cheddar Cheese – 2 slices
Prepare the Ingredients
Cut potatoes into 1″ dice.

Coarsely chop cilantro (no need to stem).

Peel and halve shallot. Slice thinly.

Halve poblano pepper lengthwise, seed, and slice into 1/2" strips. Poblano peppers can vary in spice level; most are mild, but a few can be quite hot. Wash hands and cutting board after prepping.
Roast the Vegetables
Place potatoes on a prepared baking sheet and toss with 1 tsp. olive oil. Spread into a single layer on one side.

Place poblano on an empty half and toss with 1 tsp. olive oil and a pinch of salt. Massage oil and salt into poblano. Spread into a single layer on their side. Roast in hot oven until starting to brown, 10-12 minutes.

Carefully remove from the oven and gently toss both vegetables. Sheet will be hot! Use a utensil. Roast again until browned and tender, 15-18 minutes.

T

oss or gently combine roasted potatoes with seasoning blend until coated.
Cook the Burgers
Form ground beef into two evenly-sized 4″-diameter patties. Season both sides with ¼ tsp. salt and a pinch of pepper.

Place a large non-stick pan over medium-high heat. Add 2 tsp. olive oil and patties to hot pan. Cook until browned, 4-6 minutes on one side.

Flip patties, and top with cheese. Cook until cheese is melted and patties reach a minimum internal temperature of 160 degrees, 4-6 minutes.

Remove from burner. Remove burgers to a plate. Wipe pan clean and reserve.
Cook the Shallot
Return pan used to cook burgers to medium-high heat.

Add 1 tsp. olive oil and shallot to hot pan. Stir occasionally until tender, 3-4 minutes.

Remove from burner.
Toast Rolls and Finish Dish
Place rolls directly on the oven rack in the hot oven and toast until lightly browned, 3-4 minutes.

T

op bottom roll with burger, shallot, poblano, bacon, BBQ sauce, and top roll. Top potatoes with cilantro.

Pair with a glass of J. Lohr Los Osos Merlot, and enjoy!
Cheers!