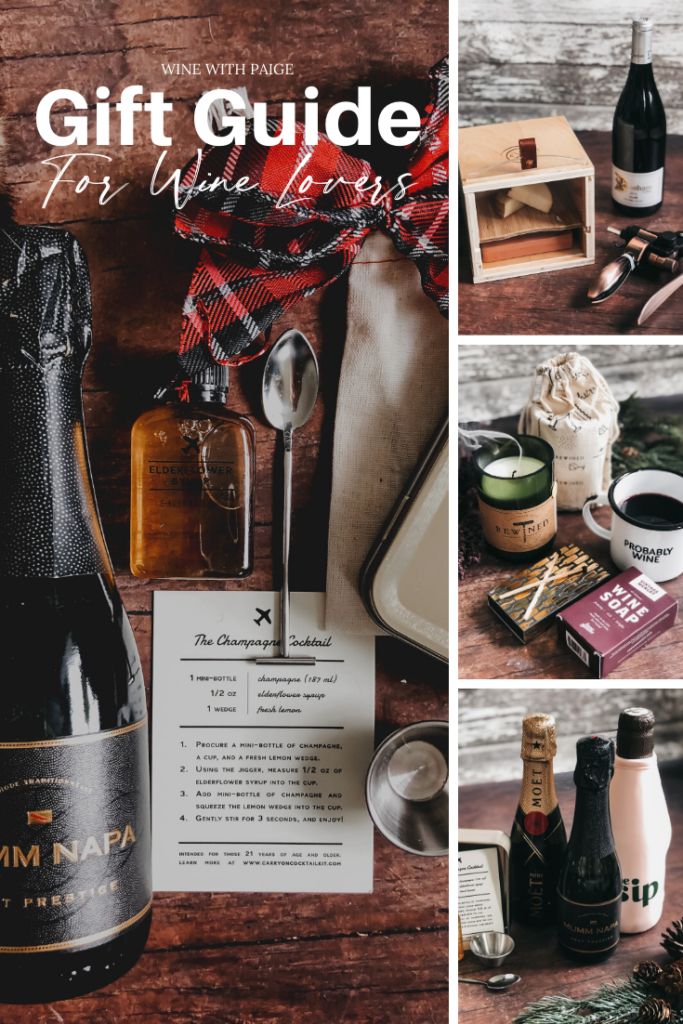 Holiday Gift Guide for Wine Lovers 2019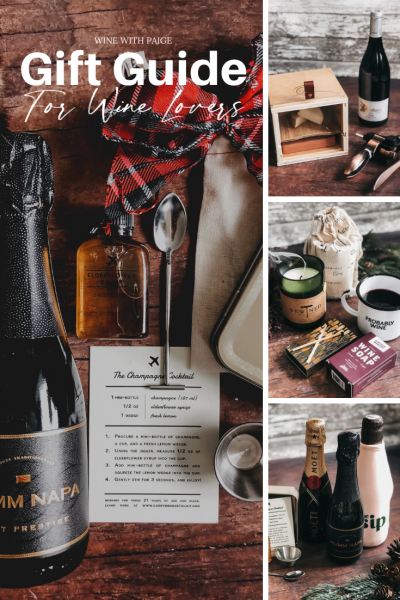 Note… some (but not all) of the links below are affiliate links and provide revenue for me to continue operating Wine with Paige. I appreciate your continued support!

1) Vinely Wine Club – A monthly subscription that delivers local, family-owned California wineries direct to your door each month! It's a great way to support local winemakers and discover new wineries in your area. For California residents only at this time. Use code DRINKLOCAL for 50% off.
2) Wine Suit – Keep your wine safe in transport! Whether you're taking wine home for holiday dinner, giving it as a gift, or spending your vacation traversing around wine country, these cute bubble wrap packages will keep your wine safe and stylish in your luggage until you get to wherever your destination may be. I use these all the time when I go on wine trips and want to bring a bottle (or four) home in my suitcase!

3) Find Your Wine: A fun and easy guide to selecting the right wine, every time – This cute little book is a perfect stocking stuffer and easy to keep on hand for easy reference. It's a quick read but oh-so informative!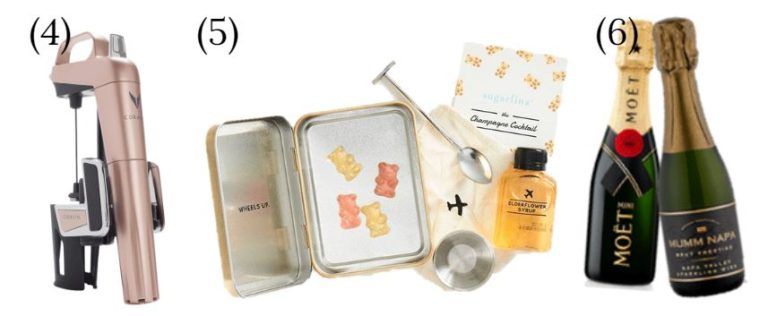 4) Coravin Model II – The Coravin is my all-time favorite wine tool. I use it all. the. frickin. time. I'm beyond obsessed and recommend it to everyone I know. I personally have the Model II Elite in pink, but if you're looking for price to functionality ratio, just go with the regular Model II. After upgrading from the Model I, I can speak personally to the difference this makes. It's a true necessity as a wine blogger and also as the only wine-drinker in my household.
5) Champagne Mix Kit – This cute little kit makes any flight feel luxurious! The perfect size to slide into your carry-on, it comes with everything you need to make a delicious champagne-based cocktail. Just order yourself a glass of something bubbly and mix away! I'm personally a huge fan of using plane rides as "me time", so this adds to the sky-high fun.
6) The Sip Society – Perfect for the Champagne lover in your life, this monthly subscription comes with two single-serving bottles of luxury sparkling wine such as Moet, Mumm, or Vueve Cliquot. The packaging is perfectly gift-worthy and includes an at-home tasting guide to walk you through the tasting notes.Use code PAIGESIP for $10 off your first order!

7) Cheese Grotto – Created by female cheesemonger, Jessica Sennett, the Cheese Grotto is designed to keep your cheese fresh longer. It stores your cheese in the perfect temperature and humidity to keep it tasty and fresh longer than traditional methods. Beyond just being simply effective, Jessica also hopes its beautiful design will feel inspirational and bring the romance of cheese-making home. All of the Cheese Grotto products are crafted and produced in the United States and are eco-friendly.
8) Probably Wine Mug – At just $14.99 this cute little mug is the perfect gift add-on or stocking stuffer. It's absolutely adorable and crafted of high-quality enamel-coated cold-rolled steel. I've already slipped some wine into this. 😉
9) Big Betty Wine Glass – This wine glass holds an entire bottle of wine. Yup. You read that right. An entire bottle of wine. The best part is, it looks about the same size as some of my regular red wine glasses, so you could easily pour yourself a nice big glug to help you through the holidays with your family. You're welcome. It's also perfect as a white elephant gift, gag gift, or for the more fun-loving wino in your life. Also be sure to check out their Pinot Protectors for a perfect humorous stocking stuffer.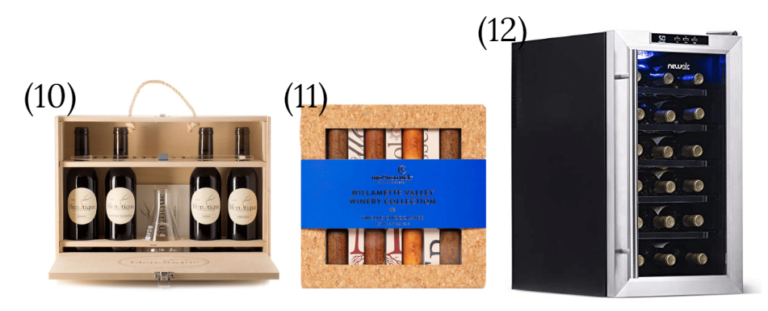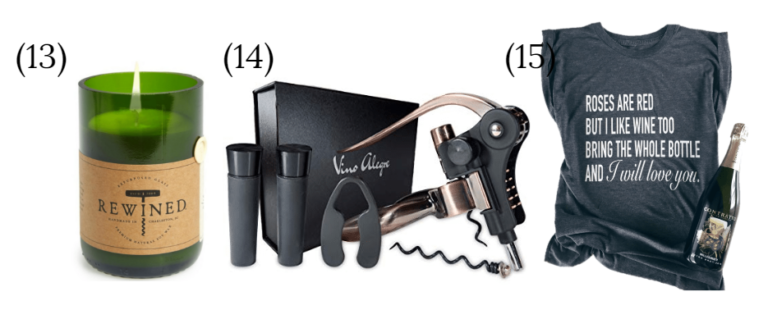 10) Blendtique Wine – A one-of-a-kind gift! Blendtique allows you to craft your own custom wine blend at home, the perfect gift for the future winemaker in your life or a fun activity for friends & family. I highly recommend the Blendtique Wooden Kit, which comes in a beautiful wooden crate, contains four single-varietal wines, and comes with everything you need to get blending. Use code MYBLEND10 for 10% off.
11) Moonstruck Wine-Infused Chocolates – These hand-crafted chocolates are produced in Portland, Oregon and infused with four different varietals from Willamette Valley (Stoller Chardonnay, Sokol Blosser Rose, Erath Pinot Noir and Montinore Gewurztraminer). They're absolutely delicious!
12) NewAir Wine Fridge – If you're anything like me, then wine just seems to multiply. I was quickly running out of storage space, but NewAir saved me! With a beautiful sleek appearance, I'm able to keep 29 bottles in my wine fridge without taking up much space at all. They have a wide assortment to fit any need. Use code WINEWITHPAIGE for 15% off all black stainless steel units and the NewAir 24" Built-in Dual Zone 20 Bottle and 70 Can Wine and Beverage Fridge.
13) ReWined Candles – I've been obsessed with ReWined Candles for years. If you remember, last year they also made an appearance in my gift guide, and I just had to bring them back again! They're just too good. I'm now an ambassador for the brand and couldn't be more excited about this partnership. With numerous wine-inspired scents and premium natural soy wax, you couldn't ask for a better candle. They're also all hand-crafted in the U.S. and many use repurposed wine bottles. I burn the Chardonnay candle regularly but switch to Wine Under the Tree during the holidays. Use code WINEWITHPAIGE for 10% off the entire site.
14) Luxury Rabbit Wine Bottle Opener – This luxury rabbit opener makes popping open your favorite bottle an absolute breeze! While I usually stick to my waiter's corkscrew, sometimes during the winter month my hands get too cold/stiff to operate it (while I may only be 26, my joints think I'm much, much older). For anyone else who suffers from arthritis or just doesn't want to finagle with a complicated tool, this wine opener is the perfect option! Packed in a beautiful black gift box and paired with a foil-cutter and 2 vacuum stoppers, this is a beautiful luxurious and high-quality set. Use code WWITHPAIGE19 for 10% off.
15) Women Who Love Wine Shirt – WWLW has an amazing assortment of quirky wine-inspired clothing and home-goods. I'm personally obsessed with the "Getting Drunk" leggings and "Motivation" wine & pizza tee. Use code PAIGE for 20% off the whole site.

16) WSET Wine & Spirit Education Trust classes – with loads of options to learn about wine in person or online at any level, the WSET is an amazing gift idea! Not to mention, education is the gift that just keeps giving and enhances everyday experiences. Check out their website to find a class near you! (If you're in the Bay Area, I highly recommend Grape Experience). So far I've worked my way up through Level 3, so if you're curious what level you or someone else might be, feel free to reach out and we can discuss!
Happy Shopping!