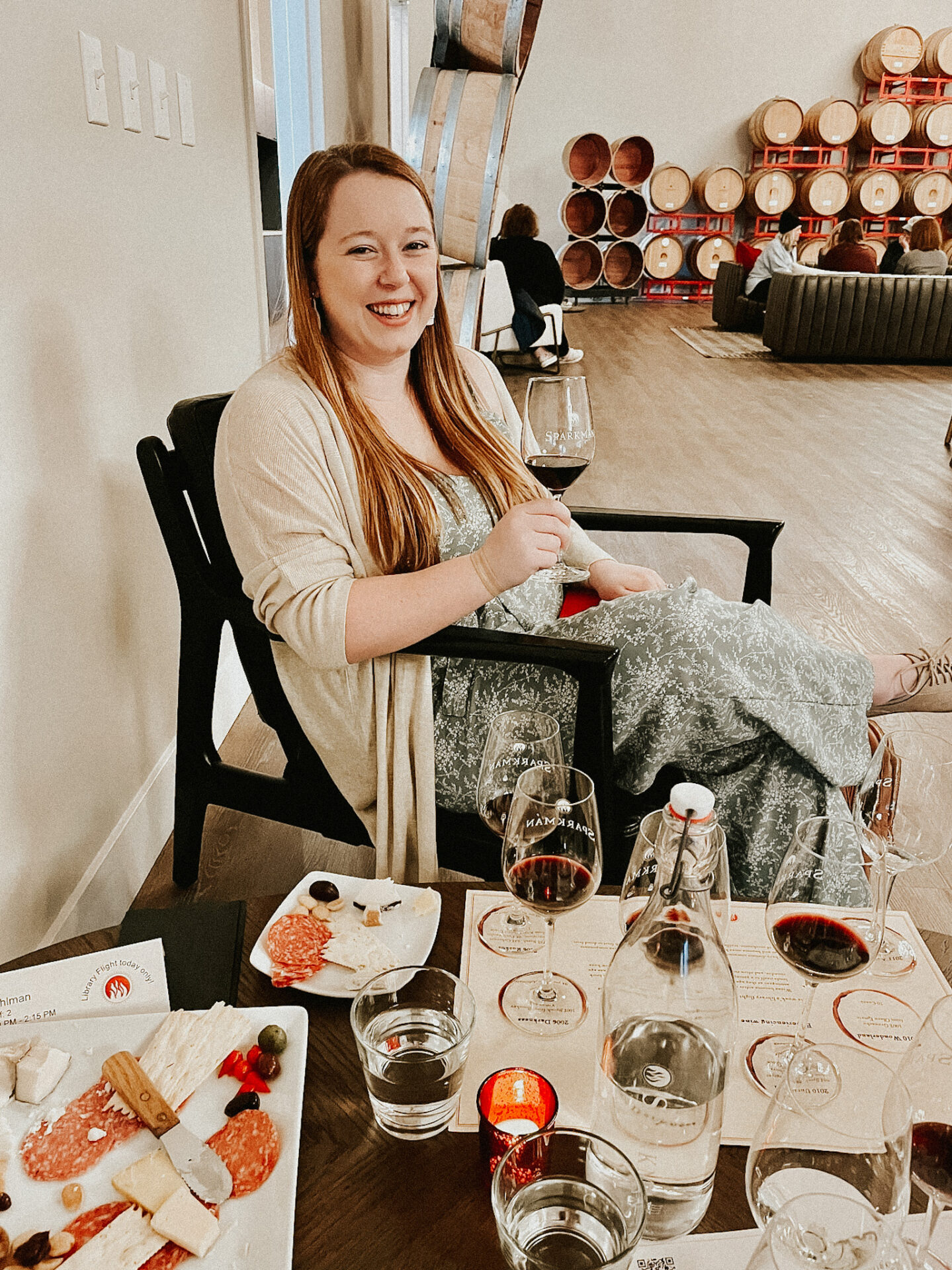 Woodinville wine country is located just outside Seattle and offers a wide range of winery tasting experiences, including wine tours, beautiful tasting rooms with outdoor seating, and more! I reached out to local Seattle wine expert, Hailey Bohlman to get the inside scoop on the best wineries in Woodinville that you need to know about! Check out her guest post below, and be sure to let us know in the comments who your favorite Woodinville winery is! Cheers!
>> This is a guest post by Hailey Bohlman, the founder of Cork & Fizz, a wine tasting business all about having fun and learning new things while enjoying a glass of wine! Check her out on Instagram @CorkAndFizz <<
5 Best Wineries in Woodinville
Did you know there exists a treasure trove of wineries and tasting rooms just a short 30 minute drive from Seattle? Wine tasting in Woodinville is one of my favorite weekend activities, either with a group of friends or as a fun date with my husband.
But with so many options, how do you choose where to go? That's where I'm here to help! I've spent a good amount of time researching (aka: wine tasting) for you and have found five of the best wineries in Woodinville that you won't want to miss!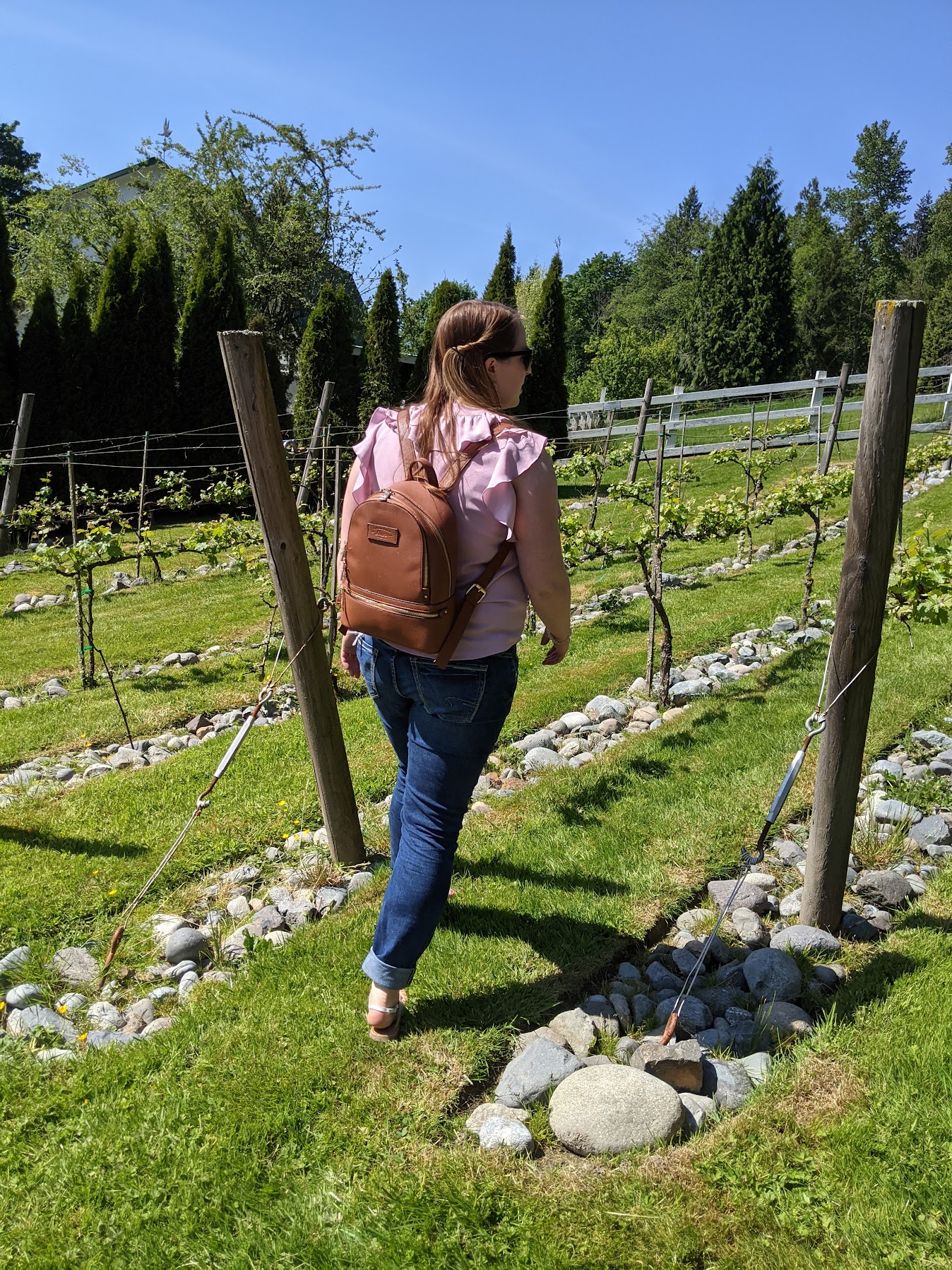 Chateau Lill
Once only open for events, Chateau Lill is a must visit tasting room when wine tasting in Woodinville. Located just outside the Hollywood District on Woodinville-Redmond Rd, this tasting room is a true getaway from the hustle and bustle of Downtown Seattle. Trust me, you won't believe a space this beautiful and magical exists in such an urban area. Oh, and did I mention they often have live music on Sundays?
Previously owned by DeLille Cellars (another winery on this list), Chateau Lill is now back in the Lill family thanks to Greg Lill who purchased it a few years ago. Greg then decided to create the Lill Family label, but rather than start in the basement producing wine himself – he reached out to connections he'd made over many years in the industry.
The focus of the new label is on relationships, which really speaks to the love and support the Woodinville community has for each other. Thus, each wine is made by an incredibly talented winemaker from the community.
Partner winemakers include Chris Gorman of Gorman Winery, Chris Sparkman of Sparkman Cellars (another winery on this list), and Matthew Loso of Woodinville Custom Crush.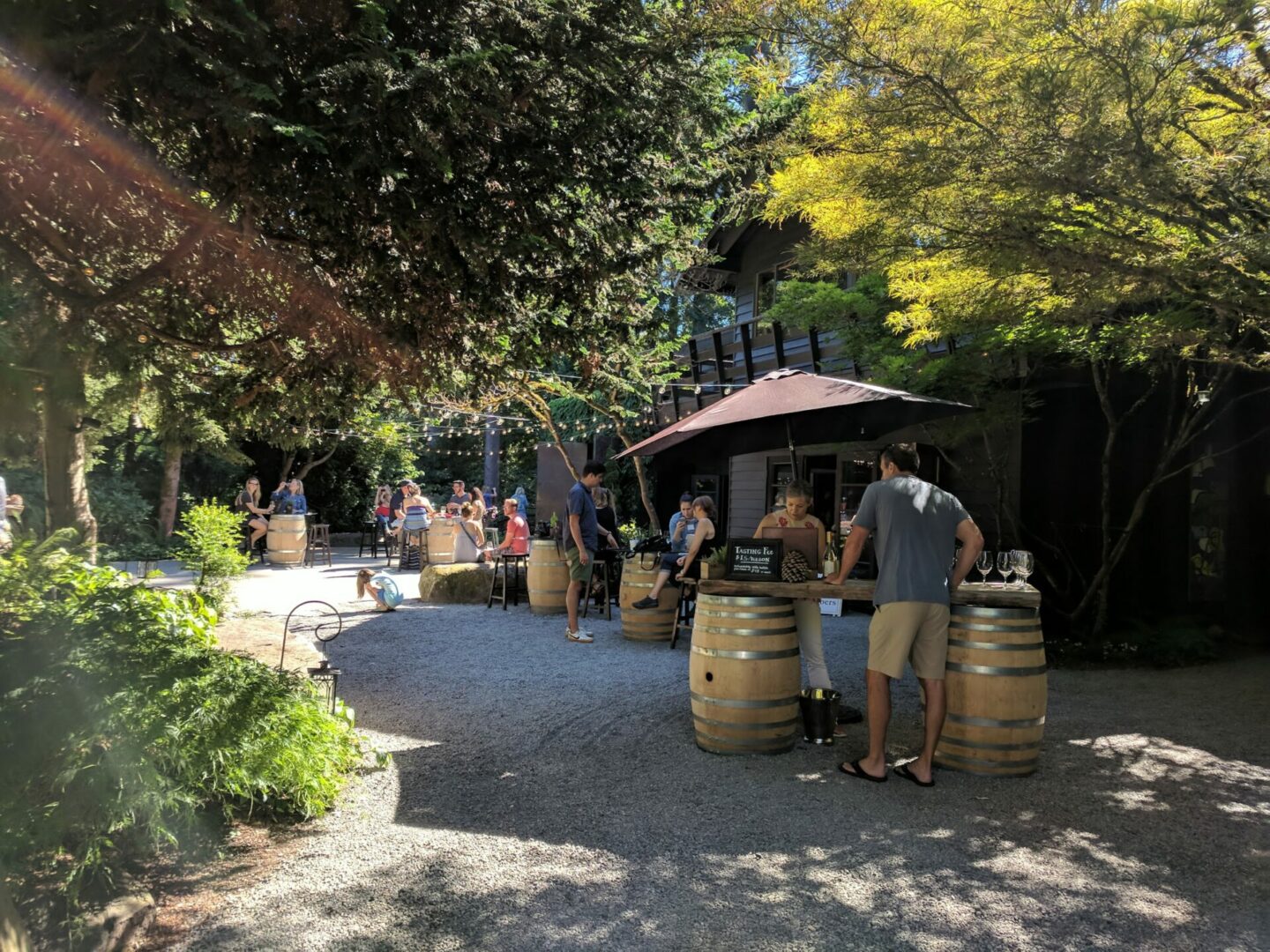 JM Cellars
Located on the southern edge of the Hollywood District, JM Cellars is yet another magical spot for wine tasting in Woodinville. JM's original Woodinville property, known as "Bramble Bump", is a hidden gem located approximately 15 miles northeast of Seattle. Be sure to get reservations at least a week in advance as this tasting room fills up quickly!
If you're lucky enough to make it on a sunny day, be sure to enjoy a small walk around the beautiful landscape surrounding the winery which is full of rare conifers including a Chilean Fire Tree, a huge Himalayan Zebra Pine, and what is now one of the largest Cherry trees in the United States. Oh and did I mention there's a bocce ball court for some friendly competition while you enjoy a glass of wine?
JM Cellars was started by ​​John and Peggy Bigelow in 1998 after they transformed their basement into a small production facility. Now they produce over 8,000 cases of hand-crafted wine. Drawing inspiration from many different regions across the world, John uses his curiosity and expertise to keep the wine at JM Cellars exciting and delicious.
If they have it on the tasting menu, I can't recommend their Cabernet Franc enough. I also particularly enjoyed their Viognier if you're a white wine fan!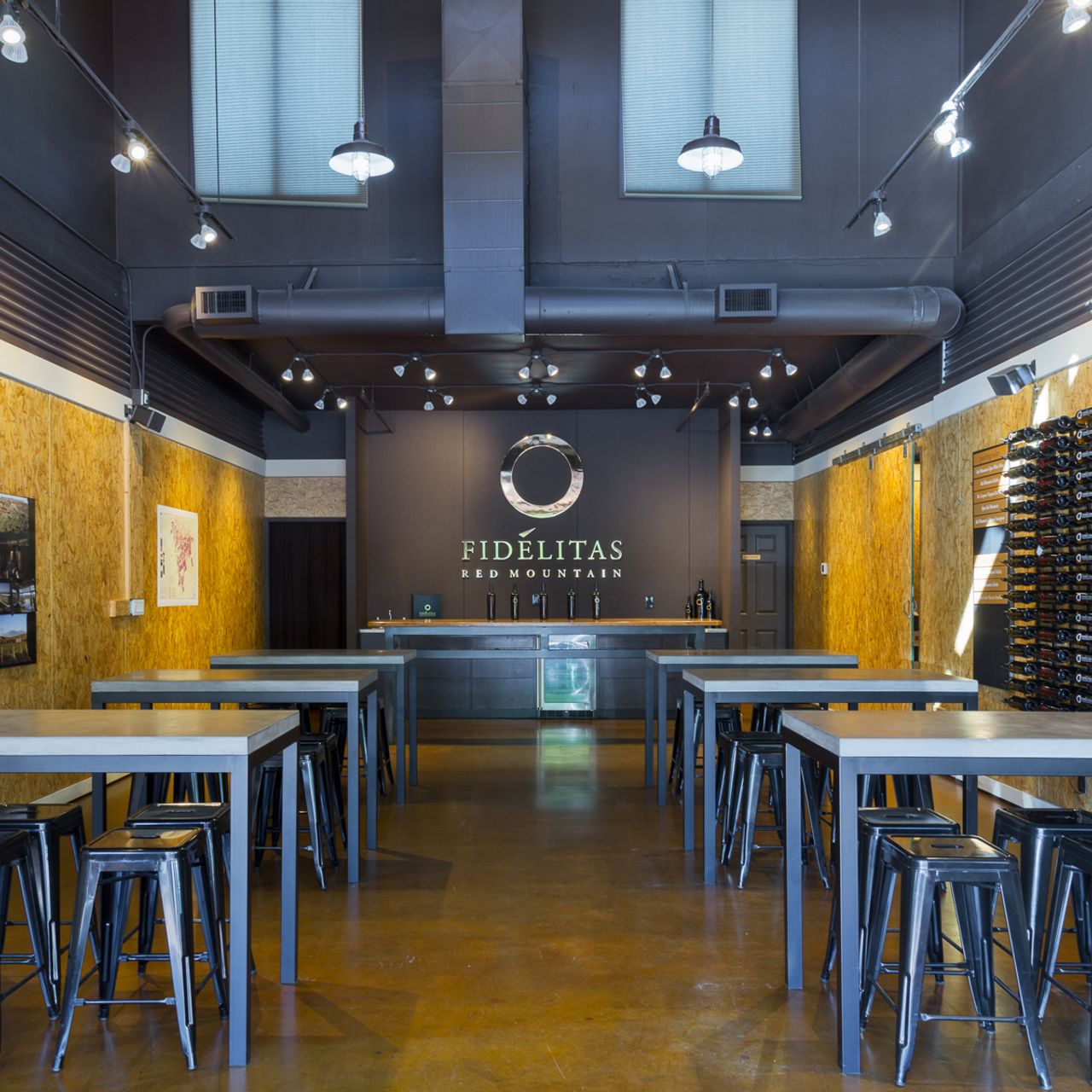 Fidélitas
You can't go wine tasting in Woodinville without trying wine made from grapes from the Red Mountain AVA. There are quite a few options, but I'd recommend Fidélitas as the best winery in Woodinville for Red Mountain wine.
Fidèlitas was founded by winemaker Charlie Hoppes, a man who considers himself lucky enough to be a part of introducing Washington Reds into the world-wide scene. Before opening Fidèlitas, Charlie worked at Chateau Ste. Michelle and also helped start Three Rivers Winery in Walla Walla.
Charlie knew he wanted to make wine with grapes from Red Mountain after tasting one of Kiona's Cabernets out of the barrel. He'd discovered what we all know now that the Red Mountain AVA is known for producing powerful red wines with concentration, complexity, and balance.
As of today, all wines produced by Fidèlitas are sourced either from the Fidèlitas Estate in Red Mountain or from a variety of vineyard partners in the region. They focus on single vineyard, single varietal bottles as well as classic Bordeaux style blends.
When my husband and I last visited, we loved every wine we tried, but our favorites were the Quintessence Malbec and Fidélitas Estate Vineyard Red Wine Blend.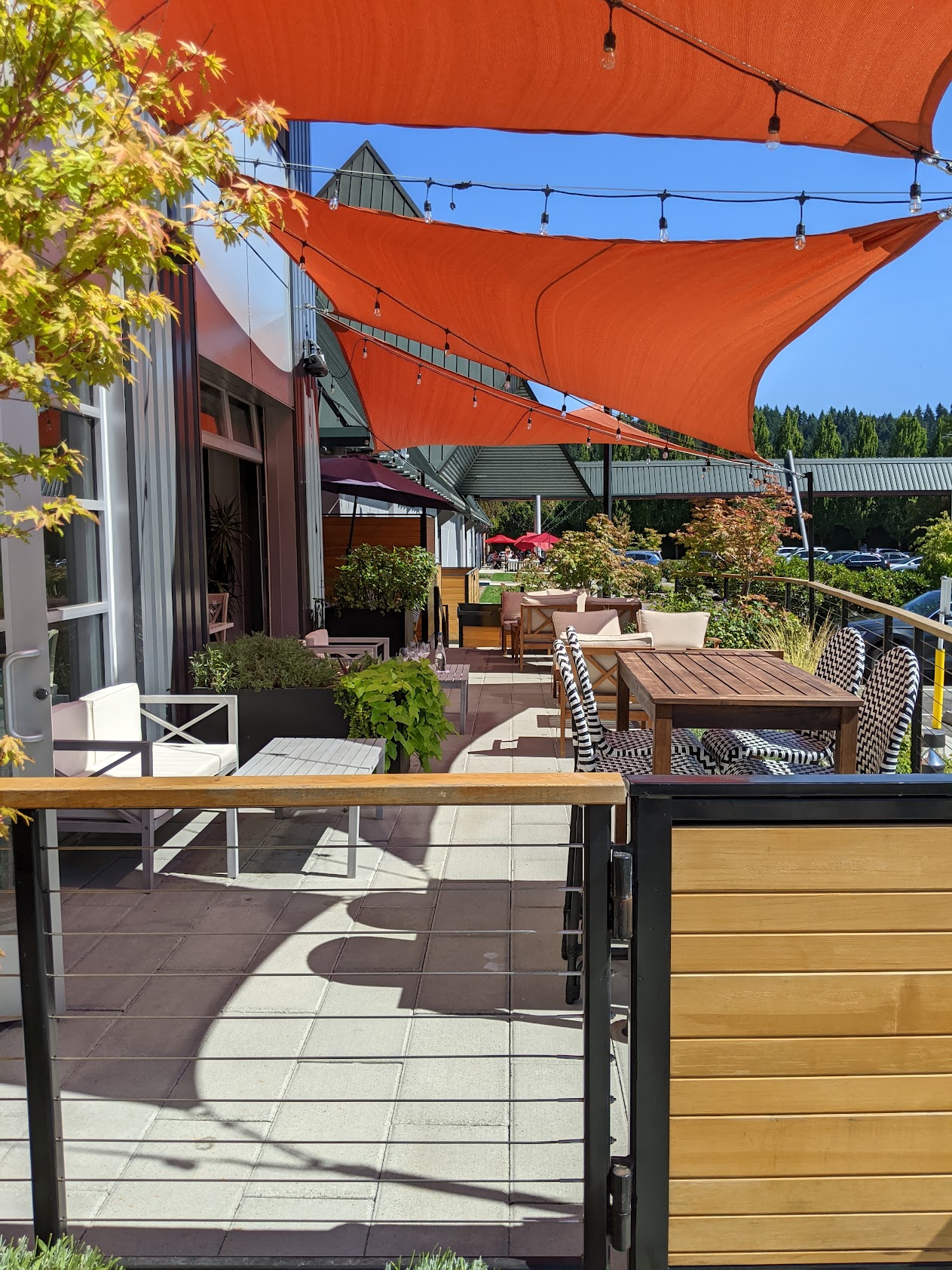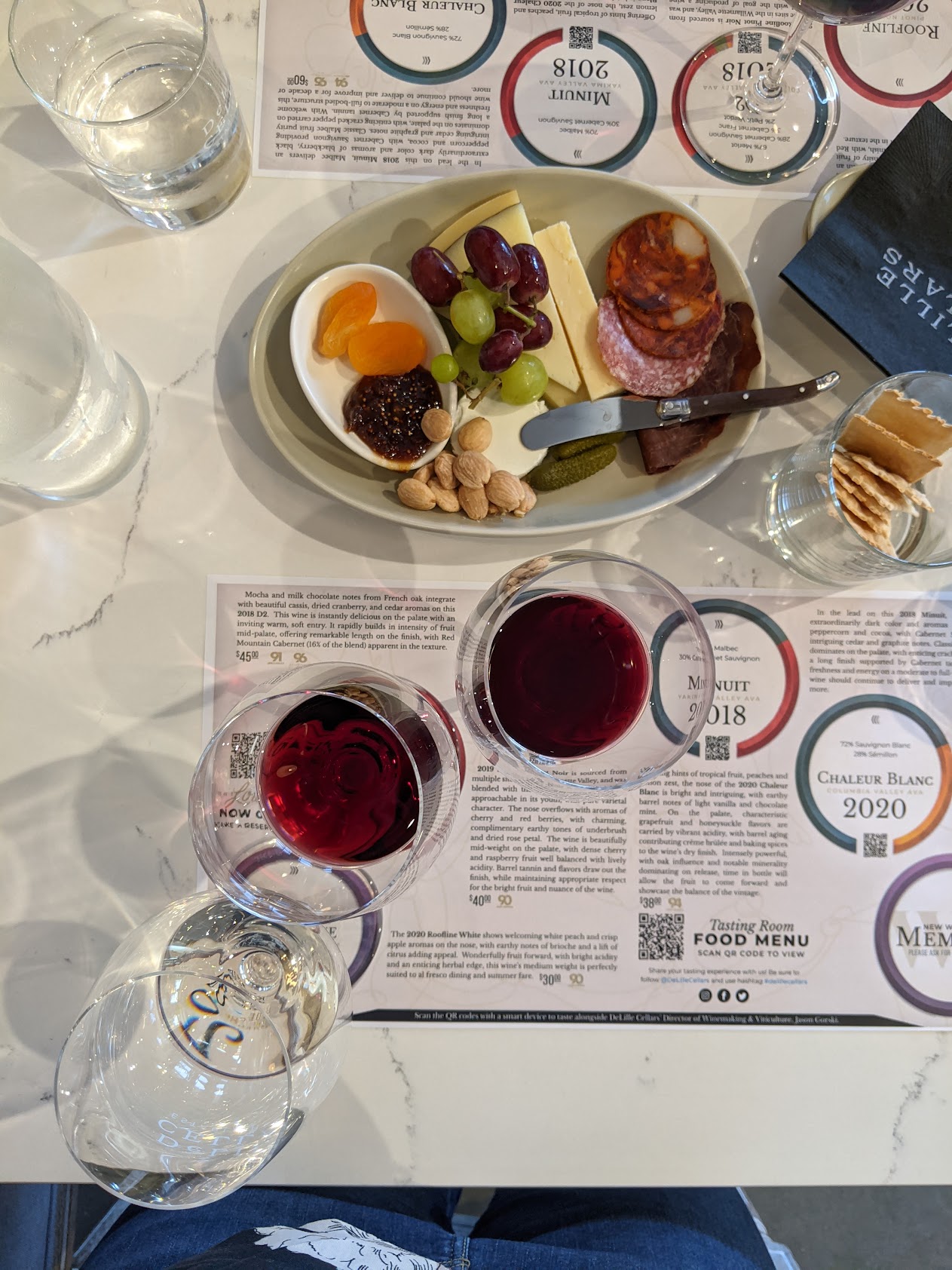 DeLille Cellars
We can't talk about the best wineries in Woodinville without mentioning DeLille Cellars. A true pioneer of Washington wines, DeLille was the first winery in the state to focus on both red and white Bordeaux-style blends. When much of the new world was focused on creating single varietal wines, DeLille realized that a good blend can transcend the sum of its individual parts.
DeLille Cellars recently moved their tasting room to a gorgeous three-story space that was once the Old Redhook Brewery in Woodinville. This building also houses their actual winemaking so you can often sneak a peek at the magic being made!
You have a few experiences to choose from at DeLille. If you're looking for a great introduction to DeLille wines, I recommend their seated tasting which includes five artisanal Bordeaux and Rhône-style blends of Washington State. On the other hand, you might consider the Library Tasting if you're looking for something a little more special. They even offer a wine blending experience if you're looking to get more hands-on with your wine!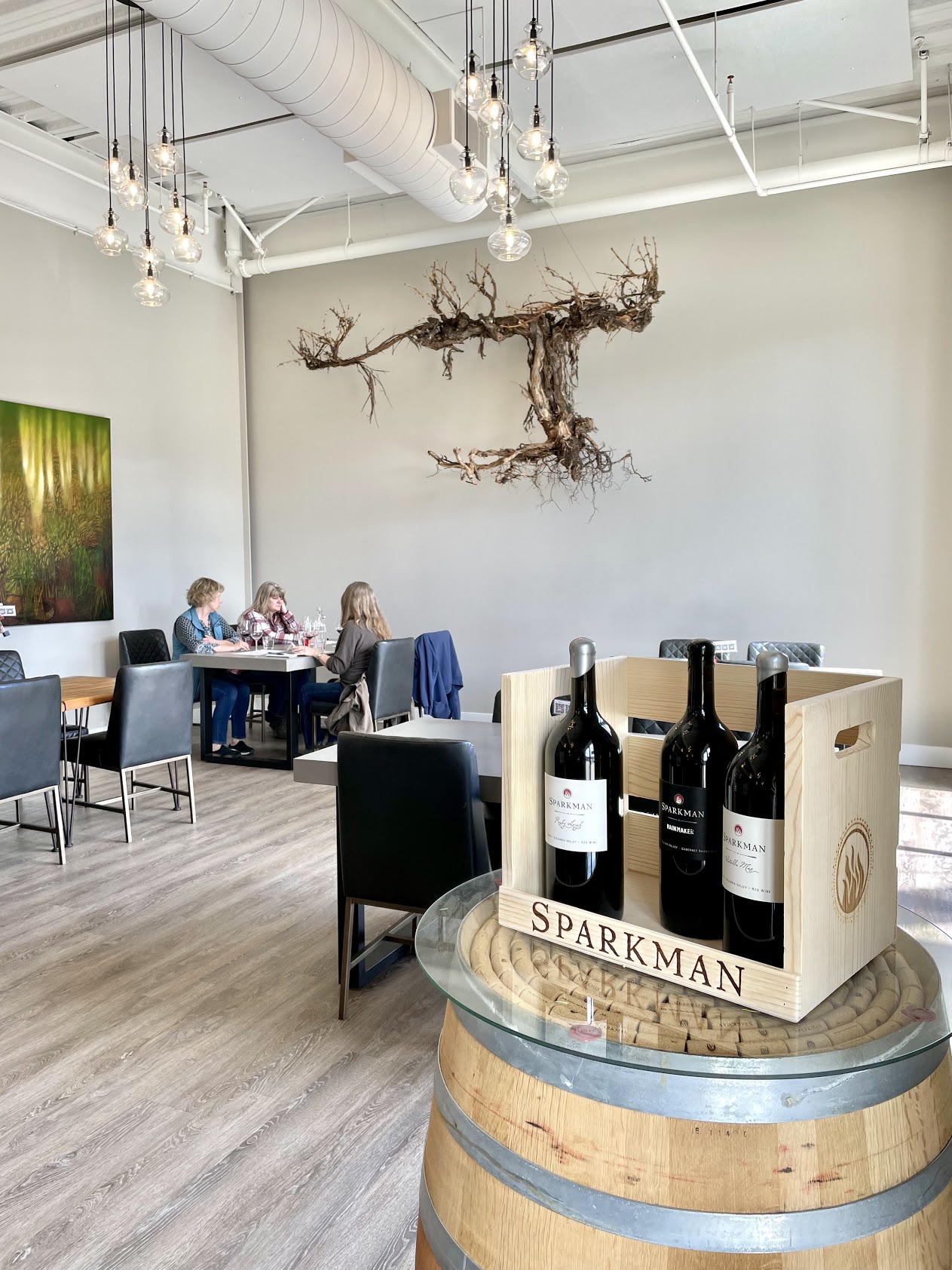 Sparkman Cellars
If you're visiting DeLille Cellars, you may as well head over to Sparkman Cellars as it's right next door! With multiple different flights to choose from and wines by the glass available, there's an option for every wine drinker in your crew.
From 289 cases in 2004 to over 12,000 cases in 2021, Sparkman Cellars is a family-owned and operated winery that focuses on producing powerful, well-balanced yet elegant wines. They live by their tagline of "Family. Good Livin'. Damn Fine Wine." What's not to love about that?
Sparkman Cellars is also one of the best wineries in Woodinville to visit if you're looking for a tasty bite to go along with your wine. Their menu changes regularly but currently includes items like fire-roasted mushroom & eggplant caponata bites, braised brisket with charred shishito peppers flatbread, a cheese & charcuterie plate, and so much more!
To help you plan your wine tasting trip to Woodinville, I've created an easy Woodinville Winery map, below! My favorite spots are highlighted with a red heart, and additional wineries are marked with purple wine glasses.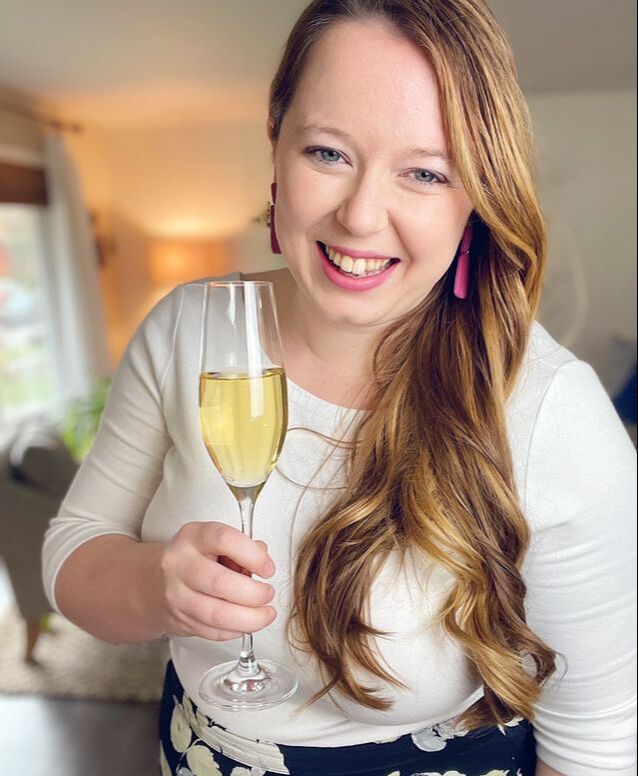 Hailey Bohlman
Hailey Bohlman is a wine educator living in Seattle, WA. She's the founder of Cork & Fizz, a wine tasting business all about having fun and learning new things while enjoying a glass of wine!
Hailey always loved learning new things as a kid, but throughout school and joining the workforce, she felt that learning became more about achieving and succeeding. It wasn't until she found her passion for wine that she rediscovered her joy for learning! With this in mind, she created Cork & Fizz to share her passion and make wine more approachable to everyone. Her goal is to be a resource for casual sippers and wine lovers like herself.
Along with her tasting she also shares helpful tips and recommendations on her instagram @corkandfizz.
Common Questions About Woodinville Wineries
How many wineries in Woodinville?
Woodinville is home to 130+ wineries spread across their four winemaking districts!

How to get from Seattle to Woodinville?
The cheapest way to get from Seattle to Woodinville is to drive. But, you could also take a bus or taxi (or taxi alternative). The distance no matter the transportation you pick is about 25 minutes.
What wine is Woodinville known for?
Woodinville is best known for its production of red wine, as Cabernet Sauvignon, Syrah, and Merlot are widely grown throughout the region. Although, they do have a great selection of white wine and rosé as well!

Other Posts You Might Like