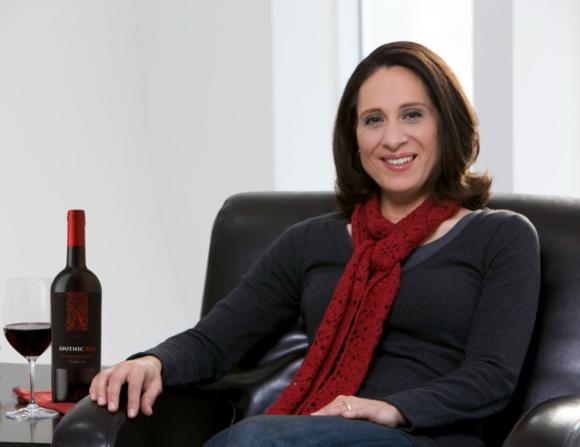 Apothic Red was one of the first wines I remember buying for myself — and one of the first bottles I ever regularly stocked in my home bar. Inspired by the word "Apotheca", a place where wine was blended and stored in 13th century Europe, Apothic Wines are well-known by present-day wine drinkers. It's easy to find a bottle of this at most grocery stores, and at around $10/bottle, it's a great price point for great flavor.
Deb Juergenson joined EJ Gallo Winery in 1995 as an analytical technician, followed by four years of wine chemistry and research before finally joining the premium winemaking team. Her passion for fun and innovative wines has helped to define the Apothic wines portfolio for the past 10 years.
Join me for a conversation with this outstanding female winemaker.
An Interview with Deb Juergenson, Apothic Winemaker
To get us started, I'd love it if you could tell us a little about yourself – what do you do, where you work, any other details you'd like to share?
I have been the Winemaker with Apothic since the beginning (about 11 years). I really enjoy pushing boundaries to give people a memorable experience. I do spend time listening to feedback and new ideas that our fans talk about. It inspires me every day!
My husband and I love hanging out in Tahoe with our two teenagers, who are incredibly energetic and fun!! I have been trying to convince them to become second-generation winemakers.
What attracted you to the wine business initially? How did you get started as a winemaker?
I was raised in the Central Valley. The diversity of produce and winemaking we have here in the Valley has always intrigued me. I earned my bachelor's degree in Geology from California State University, Stanislaus. Soon after, my interest in the soil led me to discover a passion for wine grapes and winemaking. In 1995, I began my career in winemaking.
I feel very fortunate to have such an interesting job — Apothic has always sought to break the mold to bring our fans wines we know they will love.
Can you tell us more about what it's like to be a winemaker? What does a typical day in your life look like?
Winemaking involves a lot of long days and hard work in the cellar and in the vineyards. A typical day starts early, perhaps meeting with my winemaking team in the vineyards or the winery to determine what needs to be done that day. There's a lot of managing logistics, which wines are in which tanks, where new fruit will go when it comes into the cellar, when things are being bottled, etc. There's also the more hands-on side, which I enjoy quite a bit. That's doing things like getting out among the tanks and tasting the wines to see what flavors are coming through and the style it wants to express. And, of course, blending trials, tasting all the different possible compositions for the latest Apothic release, and picking out the one that's most intriguing and interesting.
Apothic is a very evocative wine brand. How do you incorporate storytelling into your blends? What do you hope to convey with your wines?
I am always looking for something new to explore about wine, something that defies convention and has a different perspective. I let the grapes be my guide, of course, but what new expression do they want to reveal? As an Apothic winemaker, I can explore different ways of telling stories through the grapes themselves, the region they come from, and how they express themselves during fermentation and aging. The team and I always blend each wine to a vision that incorporates an approachable style with a cool unexpected perspective. We are always looking to bring a little excitement into someone's day by letting them discover something unique and different.
Exploring innovative expressions through a new flavor profile or technique allows people to discover a new aspect of what a wine can taste like. That's exciting to me. I really enjoy seeing people's reactions to Apothic, to something they may never have tasted before.
What is one piece of advice you could tell your younger self or for other women wanting to get into the wine business?
I have been in the business a long time and while there is no doubt the vineyards and wineries were dominated by mostly men, I can honestly say my path was very much influenced and supported by the male vineyard managers and winemakers I worked with and for. I do feel I had to find ways to be heard because there was an initial tendency to look past me. Once they knew I was there to stand side by side with them and work every hour and beyond to ensure our wines were always the best they could be, they all gave me the support and mentorship I needed and more. I can never repay and will never forget these men. I am committed to doing the same for the women and men around me today.
Today, it's not a matter of your gender but your leadership and ideas, and strengths. There are so many women now in winemaking, in viticulture, all throughout the wine industry. Focus on knowing your voice and knowing what's important. There are always challenges but be confident in your knowledge and make your mark!
What's your go-to wine at the moment?
Perhaps it's biased, but I am excited about the new Apothic Cabernet Sauvignon. It's incredibly smooth, backed up by lots of strawberry jam fruit characteristics and a soft touch of vanilla. This style is something my team and I have been talking about for a while and it is a totally different take on Cabernet Sauvignon. It is intentionally casual, fun, and tastes great on its own or paired with just about anything. We had a couple of warm days recently and I put a slight chill on this wine before drinking it. What a great idea! 😊