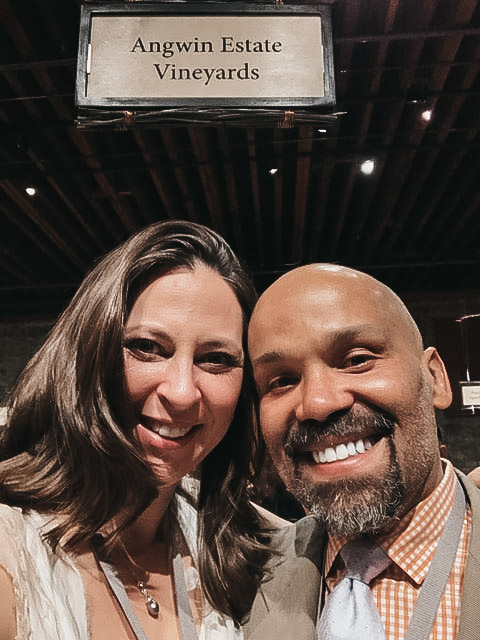 Recently I had the opportunity to sit down for a phone interview with Jon Larson, the vintner behind Angwin Estate Vineyards. Jon is incredibly passionate about what he does– we ended up speaking for almost two hours (!!) about his wines, what happens in the vineyard, and his winemaking philosophies. Originally a doctor by trade, he now crafts elegant and intentional Howell Mountain Cabernet Sauvignon; but he's not some rich guy who retired and bought a winery… Rather, he grew up in the house where he now lives surrounded by his vineyards. Back then, though, the property had no vines, and his mother was a Seventh-day Aventist who didn't believe in drinking. Becoming a winemaker was simply a serendipitous turn of events. Here are the highlights of our conversation, below!
(please note this conversation has been condensed and edited for length and clarity).

Your vineyard is near the top of Howell Mountain — what made you decide on that location?
Howell Mountain is unique. There's only a few hundred acres in the Howell Mountain AVA. The reason this place is an absolute treasure and something that should be elevated is because there isn't any more of it. It's a tiny drop in an ocean of wine, and we're a little tiny drop in that tiny drop.
As for the decision, it wasn't one. It came to me as an inheritance, actually. My mother and father lived in Southern California, and I grew up in my early years in Southern California until about 3rd grade. Then we moved to the Napa Valley to this property. So now I'm actually living in the house where I grew up. My mother passed away while I was in medical school, and in the aftermath no one else really wanted this house. It was a sort of "white elephant" — expensive to maintain and economically worthless. The house is so far out and the property taxes skyrocketed during the transfer. While practicing medicine in Iowa, my brother called up and said some guys nearby were putting in a vineyard. He suggested we borrow some equipment and put in some vines, so that's what happened. For years we sold the fruit; I was in practice and couldn't come home very often, but it helped cover the expenses.
But eventually you moved here and went all in? Do you still practice medicine?
Absolutely not. No. One of the things I believe very strongly in is the Cortez Theory or Alexander the Great Theory — when Alexander the Great landed in this campaign against Persia, he burned all of the ships and he told his men: "Either we are going to sail home on Persian ships or we're all going to die right here. So get ready."
How would you explain your winemaking philosophy? I've heard people refer to your style as "counterculture".
Your goal as a winemaker is to allow your site to express itself through whatever else you've chosen.
Once you start to use postmodern manipulation, once you start to cross flow, once you start to do flash détente, once you start to do de-alching procedures, once you start to do all these other things, you're losing a little bit at each step. That's what makes it so easy and seductive for winemakers. It's incremental. It's seductive. So you have to commit yourself from the beginning.
The things that are okay and not okay are arbitrary. I'm definitely a sulfite guy; sulfites have been around since the very first wines that were buried in the ground. I think copper fining is okay; that's been going on for thousands of years. We're married to our yeast because it's classic. It's from Saint-Emilion, it's non-GMO, it's been used for hundreds of years. It does wonderful things to the wine without pushing it in one direction or another. It's really expressive, so we like it.
Did I tell you the story about the old guys who used to buy our grapes? We used to sell our fruit and another label would custom crush it. At Premier this past year, I was pouring my 2018 and this woman I don't know runs up to me. And she's like "Oh my god, I tasted your wine. And it brought me back. I remember when we used to get your fruit, and your wine just took me back. Oh, it's so beautiful". And the thing about that for me is that it's been years. Almost a decade. It's been eight years since she had that wine. She takes a sample at a tasting where there's literally hundreds of participants, and it hits her like a lightning bolt, and she has to come to find me. She doesn't even know what I look like. That's what I'm trying to accomplish with each vintage.
Every year, you're working on improving extraction, improving ripening. How can I make all of my vines happy in their own little environment? Some vines are planted in a rockpile. What do you do to bring that out? Some vines are planted in really rich soils. What do you do about that to bring that out? There are multiple different rootstocks out there. What does each one need?
So you try to get that. Not almost perfect. I'm a perfectionist, and that can get me into trouble. But you put everything into it.
You learn something every year that improves your process, and improves how you think about things, and then improves the quality of your product.
How did you learn about winemaking?
Well, my undergraduate degree was in molecular biology and I did my research project on molecular genetics. Back then, you had to make your genetic construct, and so you spent a lot of time doing fermentation, so a little bit of what I know comes from that.
My wife and I also went to Davis and took the winemaking classes. I spent a lot of time speaking to Philip Togni about my own wines, and his wines, and what to do when. My knowledge is deep and narrow, specific to Howell Mountain Cabernet. My knowledge of how Merlot or Cabernet Franc or Petit Verdot is made is almost laughable, as I've never made wines out of those varietals.
What sets apart a truly great wine in your opinion?
It should feel like an experience — change how you see things. The texture has to be right, the shape has to be right. You don't want one of these huge, super masculine, medicinal bottles that's just screaming testosterone.
It has to be masculine, without being a bodybuilder. It has to have a certain sense to it that draws you in, but isn't overpowering. And then there have to be new nuances, even around the packaging, that you notice as you experience it. It should be obvious that somebody really cared.
And you pull that cork out, and you're like, yeah, somebody really cared about this. Somebody really put a lot of thought into making this a special product.
How would you describe your 2016 Cabernet Sauvignon?
True complexity is this: seeing something at one scale, seeing it in another scale, seeing it in another scale. And it's no simpler. It's just complicated. No matter how close you are. So when I think about that, in terms of my winemaking, that lit a little fuse in my head… that's exactly it. The wine is never less complicated. It's just different.
When you first open it, it's a little tight. There's a bit of graphite. Then, as it begins to open up, there's roses and fruits as it keeps going. Then there's more oak, cedar, and graphite. Some of it has some earth, minerality, for lack of a better way of talking about it. Then you go a little further. Sometimes there's some pine needles and sage and bell pepper… a bit of leather. Pipe tobacco, blueberry compote. And it all just keeps changing. But it never just gets to a point where you're like, okay, now it's really simple. At each scale, there's still complexity.
—
You can learn more about Angwin Estate on their website, or purchase their wines here. Today through September 10th, you can also purchase their 2016 Cab through the Napa Vintners Open the Cellar event here.