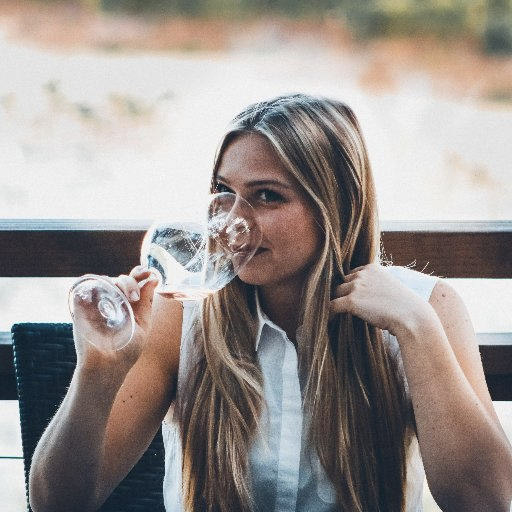 Chelsea Hoff holds a fierce tenacity for life.
Recently I had the opportunity to sit down with Fearless winemaker and proprietress, Chelsea Hoff, and I was absolutely enthralled by her passion for life, for travel, and for authentic winemaking.
Her family moved from Minnesota to California right before she started highschool, shaking up her midwest roots and presenting a new opportunity: the opportunity to view the intimate workings of a Napa winery first-hand. Her family founded Fantesca Estate & Winery, a beautiful place tucked away on Spring Mountain that's bound to capture anyone's imagination and spirit. Think: rolling hills covered in vineyards, huge shady trees covering the property, a beautiful, long driveway up to the main buildings. It's enchanting.
Right off the bat, Chelsea was enthralled, taking highschool chemistry classes dedicated to the science of winemaking and spending her weekends shadowing some of the most accomplished vineyard managers, cellar crews, and winemakers in Napa Valley. When it came time to choose where to attend college, Chelsea decided to stay close to continue her education in winemaking at UC Davis. A dream was born.
From there, she's spent time travelling the world, learning about winemaking and honing her craft, collecting bits and pieces that make up her own winemaking philosophy today. It was absolutely enthralling to hear Chelsea talk about her adventures in Italy, Bordeaux, and Australia. Her passion for life is contagious, and I left our conversation ready for my next adventure (glass of wine in hand, of course!)
Then, in 2016, Chelsea Hoff started Fearless Wines, a label for her own passions and learnings to come to life. Currently consisting of three wines — a rose of Grenache, a Chenin Blanc, and a Grenche — her wines bring unique grape varietals to light in Napa Valley.
Each wine is crafted with immense thought and care, sourced from some of the most sought-after, high-quality vineyards in California. Her wines are bottled in beautiful, seductive glass bottles that immediately catch your eye, standing out from the crowd.
Chelsea Hoff has found the perfect balance of craft and story. Her wines are true to her Napa roots, while being innovative and the challenging status quo where boundaries need to be pushed. She's bound to be a changemaker, and play a huge role in the next evolution of the Napa Valley. I can't wait to follow along in her journey, enjoying some great wines along the way.
Fearless wines are primarily sold directly to consumers. This is intentional, allowing Fearless Wines to invest deeply in the quality of their grapes and pursue what Chelsea is most passionate about: high quality wines from varietals not widely known. Wine for the innovators, the connectors, the molders of our future. Read more about the recent releases below, or head to their website to get your hands on your own!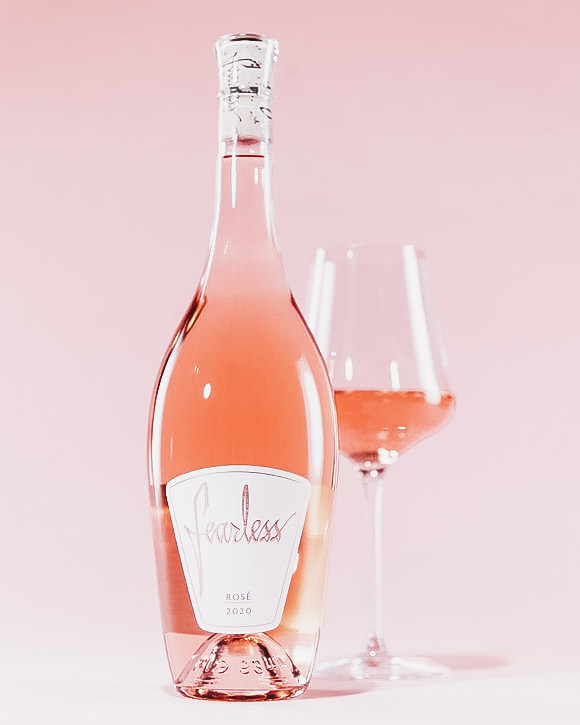 Homed in her signature seductive glass bottle, the Fearless rose is a major headturner. Think va-va-voom, Beyonce style.
The wine's color is a stunning salmon pink that stands out in prominence thanks to the glass choice . Refreshingly lively, just like the winemaker herself, you'll note aromas of orange blossom, jasmine flowers, and wild strawberries ready to jump from the glass.
The wine is crafted intentionally for rose, using only high-quality grapes picked at the optimal time for the perfect wine. Chelsea was very specific about this — she didn't want to make a saignée rose, which she views as often an afterthought, but rather the perfect rose that she could sip all year long. A rose to be proud of.
This bottle is certainly a standout: beautiful on the palate with layers of ripe strawberries and juicy summer watermelon. Mouthwatering acidity and fresh minerality deliver a smooth, elegant finish. Pair this rose with a warm summer night, either on a beach, by the pool, or perhaps on a patio somewhere. It's great on its own, or perfect for food.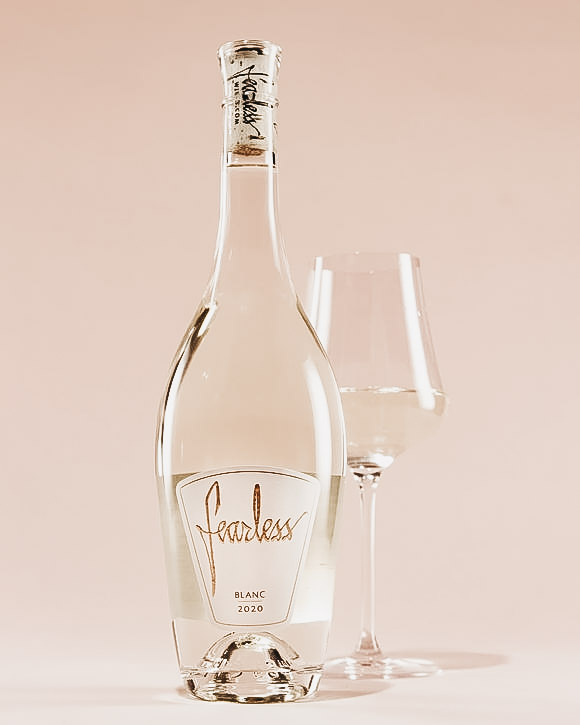 Crafted from 45-year-old Chenin Blanc vines sourced in the heart of Saint Helena, this white wine was designed to emulate the elegant Chenin Blanc of Loire Valley.
In case you went back to make sure you read that right, yes. Napa Chenin Blanc. Chenin Blanc was once widely planted with over 2000 acres existing in Napa back in the 1980's. Thanks to the Cabernet Sauvignon craze, however, now only 16 acres remain, making sourcing this difficult, but rewarding. Chelsea has gone above and beyond in more than one way with this beautiful wine.
With a stunning pale yellow hue (you could call it "angelic"), Fearless Blanc reveals aromas of orange peel, chamomile flowers, fresh pears, and highlights of honeysuckle. Crisp and focused on the palate, flavors of green apple lend a naturally bright acidity.
This ideal summertime companion is balanced by an opulent mid-palate richness and a dry mineral finish. Quaffable by nature, it's been known to disappear in your glass (it certainly disappeared in mine!)
I love Chenin Blanc paired with food — there's so many different options! You could go with cheese and charcuterie platters, southeastern Asian cuisine, or even with buttery popcorn for a cozy night in.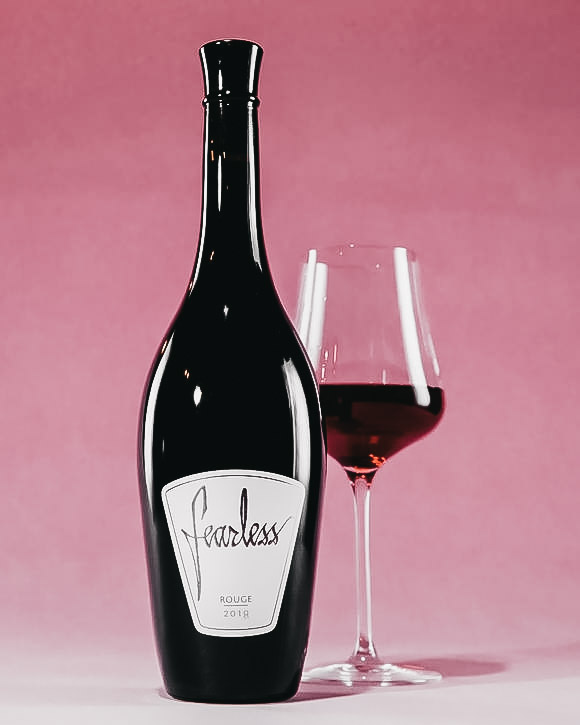 Fruity, seductive, and immediately easy to like, the Fearless Rouge is crafted from 100% Grenache, but sourced from two distinct vineyards to create the ultimate wine.
The description on their site does it far more justice than I ever could: "The organic, cooler, coastal, Santa Barbara Grenache unveils a perfume of concentrated rose water, luxardo cherries, and star anise. A rich and juicy sensation, laced with ripe red fruit, creates the body of this wine. Bonded with another organic Grenache block from the gold-laced Amador foothills, flavors of wild blackberries and cinnamon lure you in. A natural, bright mouthwatering acidity shines through this wine as it hits your palate and lingers into a silky finish."
These vineyards certainly are a match made in heaven, perfect for sipping with grilled meats, soft cheeses, or oven roasted veggies.
Whichever wine you choose, it's sure to delight! I certainly think it's about time I go pour myself a glass… 😉