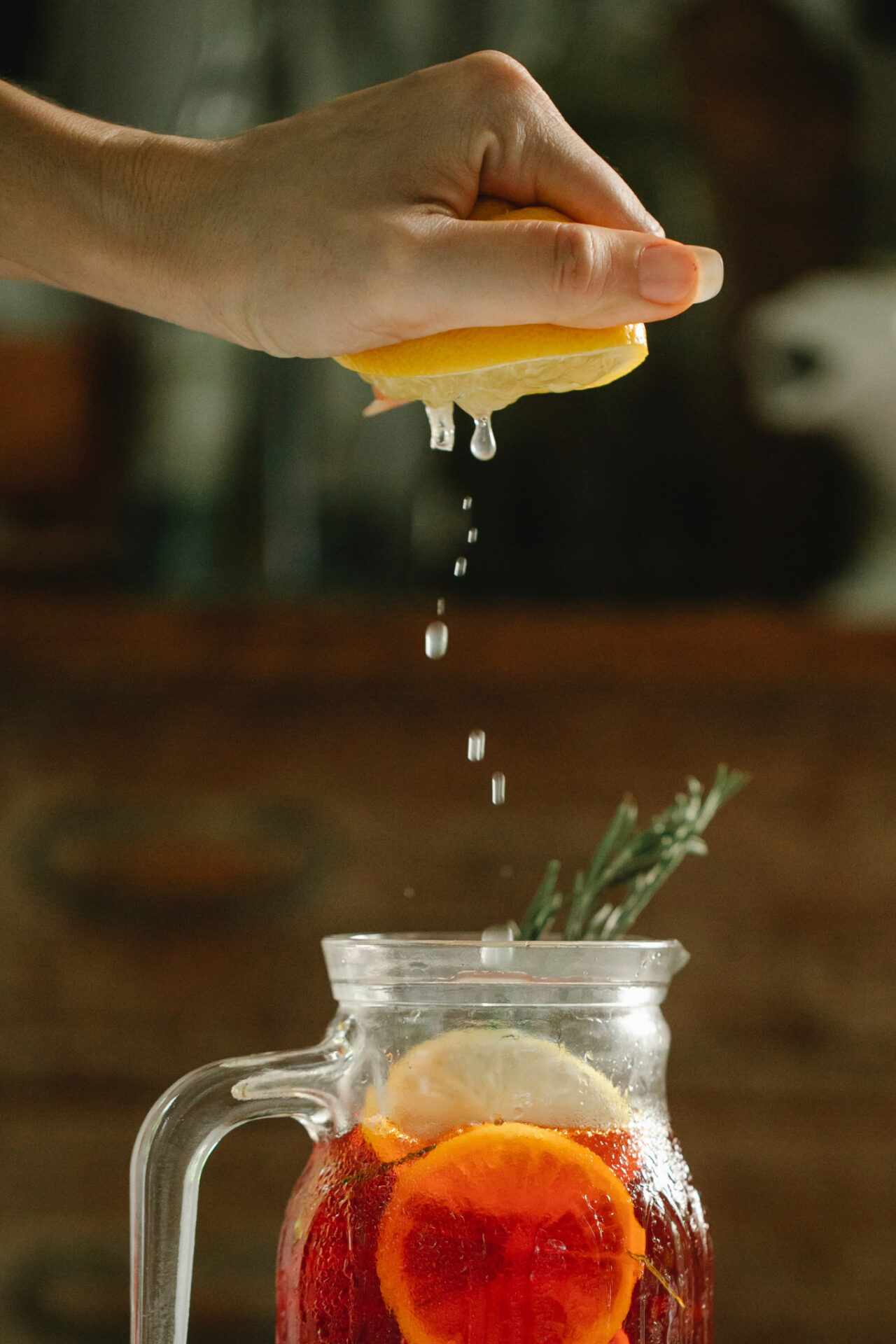 Sangria season is here and it's time to get your fill of all the fruity, wine-filled goodness! With a glass in hand, you can easily enjoy any warm-weather event, whether that means barbecuing with friends or lounging by the pool. But how do you make it just right? Our complete guide to Sangria takes out the guesswork and shows you exactly how to craft an amazing pitcher of this classic Spanish drink just like a pro bartender! From choosing the perfect fruit garnishes to picking out an exquisite wine blend – we've got you covered! So sip back, relax, and get ready for an unforgettable experience with your newfound sangria-making skills.
What is Sangria Wine and Where Did It Originate From?
Ah, Sangria. That fruity, refreshing beverage that transports us all to a sunny beach in Spain. But where did it come from?
Well, the word "sangria" actually comes from the Spanish word "sangre" which means "blood." This may seem slightly concerning, but fear not – it's only because of the red wine that is traditionally used as the base of the drink.
Sangria's history can be traced back as far as 200 B.C., although it first came to the United States during the World Fair in 1964.
Today, Sangria has become a staple drink in Spanish culture and is enjoyed all over the world.
So the next time you're sipping on a cold glass of fruity Sangria, just remember – you're drinking a little piece of Spanish history. Salud!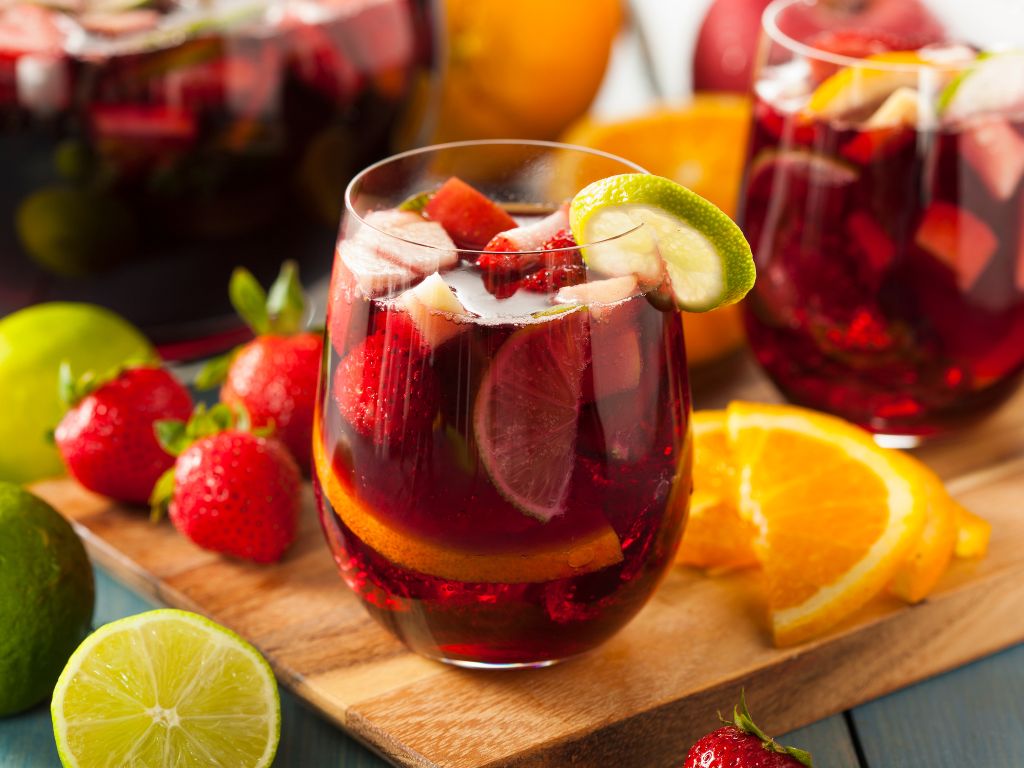 Best Wine for Sangria
Sangria is the ultimate summer sipper and an easy way to impress your friends with your mixology skills. But what wine should you use to make this delicious concoction? Look no further, my wine-loving friend!
The best wine for sangria is a fruity, fresh red wine like a Grenache or Tempranillo. Avoid anything too heavy or tannic–you want a wine that will complement the fruit and not overpower it. Also, since you'll be mixing in other ingredients, you don't need to buy anything too expensive or too complex. The wine is an important base element, but not the star of the show here!
Although traditionally sangria is crafted with red wine, you could always mix things up and use a fruity white wine or even rose to make something truly unique.
When you're crafting a mouth-watering white sangria, select any of these tasty white wine varieties – Pinot Grigio, Sauvignon Blanc or Vermentino for a an extra zesty kick; Grenache Blanc for added complexity; Albariño if you want to bring some floral notes into the mix; or Moscato when sweetness is in order.
Below we've rounded up our favorite bottles for your next Sangria Soiree!
Bonus tip: use fresh seasonal fruit for the ultimate sangria experience.
Now go forth and impress your friends with your sangria-making prowess!
Best Red Wine for Sangria
Best White Wine for Sangria
Best Brandy for Sangria
When it comes to making sangria, choosing the right brandy is essential. You don't want a brandy that's too harsh or too subtle because, let's face it, the brandy is the backbone of this beloved Spanish drink.
Ideally, look for a Spanish Brandy to keep the sangria authentic.
Traditional Spanish Sangria Wine Recipe
Ah, Sangria. The perfect balance of sweet, tangy, and boozy. This fruity concoction is a staple in Spanish households and an absolute must-have at any summer barbecue. So, what's the secret to making a pitcher of authentic Spanish Sangria? Well, it all starts with a bottle of red wine (preferably Spanish), mixed with brandy, and a touch of orange juice. Toss in some chopped fruit like oranges, lemons, and apples, and let it sit in the fridge for at least an hour (or, overnight for ultimate flavor infusion(. And don't forget the sparkling water or soda on top for that extra fizzy kick.
Traditional Spanish Sangria Ingredients:
Bottle of Red Wine (preferably something fruity and from Spain, such as a Garnacha)

½ cup Brandy

3 cups Orange Juice

1 apple

1 orange

1 lemon
How to make Traditional Spanish Sangria:
First, you will want to prepare your fruit. Slice the apple, dice the orange, and chop the lemon into small pieces.

Next, add the orange juice, brandy, and red wine into a large pitcher. Mix together well.

Then add in the fruit.

Stir the sangria together carefully.

Refrigerate until chilled and serve with ice cubes.
So next time you're craving a taste of Spain, whip up a batch of this traditional sangria and let the good times roll. ¡Salud!
Tips on Pairing Wine, Fruits, and Spices for the Perfect Sangria
When it comes to making the perfect Sangria, pairing the right wine, fruits, and spices is essential. To create a delicious and balanced flavor profile, it's important to choose a wine that complements the fruits and spices you'll be using. For example, a dry red wine pairs well with tart fruits like cranberries or pomegranates, while a sweeter white wine works well with tropical fruits like mango or pineapple.
When it comes to spices, cinnamon, cloves, and nutmeg are classic choices that add warmth and depth to the Sangria. However, it's important not to overdo it with the spices, as they can quickly overpower the other flavors.
Overall, the key to creating the perfect Sangria is to experiment with different wine, fruit, and spice combinations until you find the right balance for your taste. You can try the unique Sangria recipes below and play around until you've got it perfect for your palate!
Unique & Easy Sangria Wine Recipes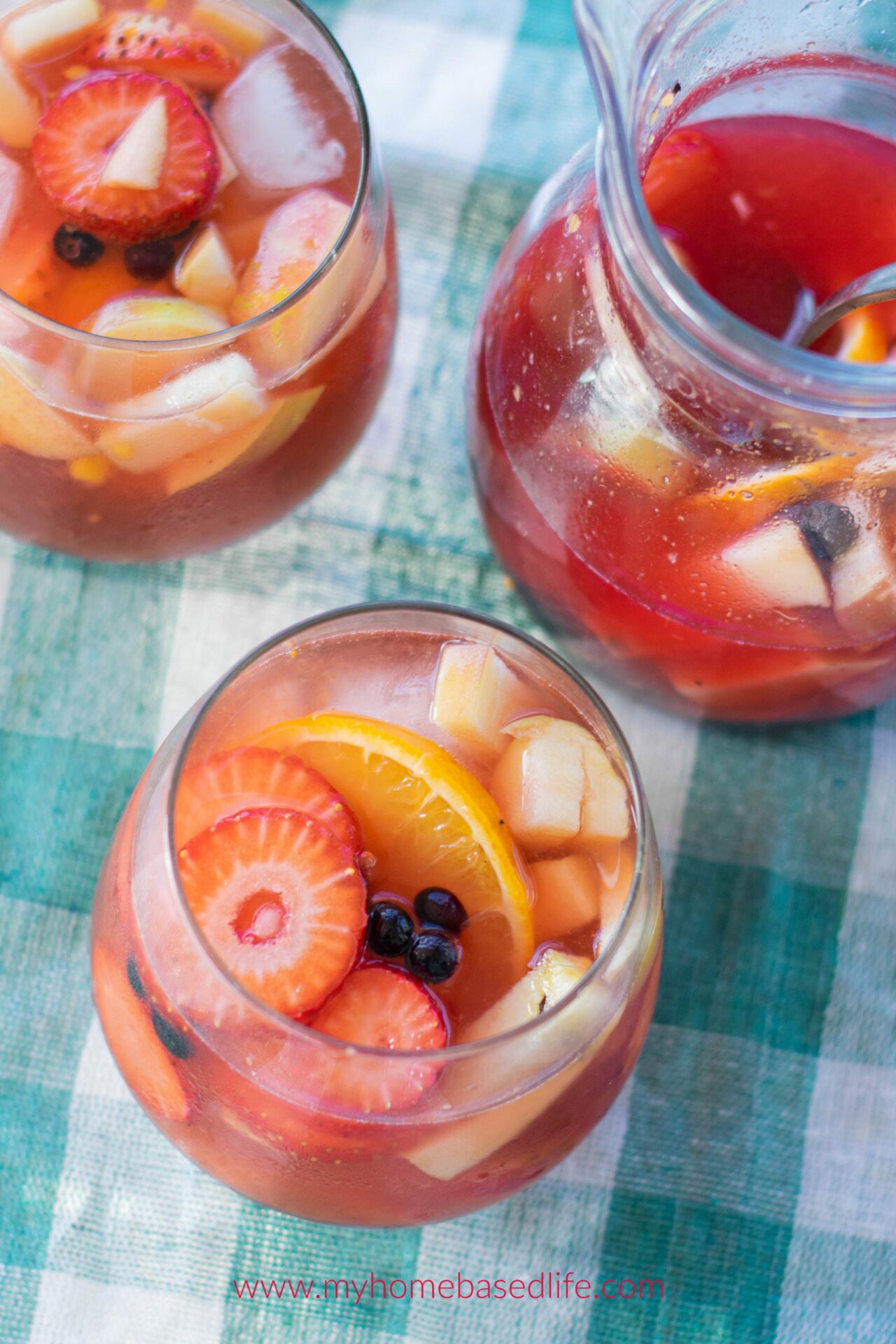 Mango Rose Sangria
Mango rose sangria – the perfect blend of fruity, floral, and downright delicious. This refreshing cocktail is like sipping a tropical paradise through a straw. With its bright colors and sweet flavors, it's impossible not to feel cheery with every sip. So what are you waiting for? Grab a glass, kick off your shoes, and transport yourself to a sun-drenched beach with every sip of this delightful libation. If you're feeling fancy, throw in some fresh fruit garnish and pretend you're on vacation – even if it's just for a moment.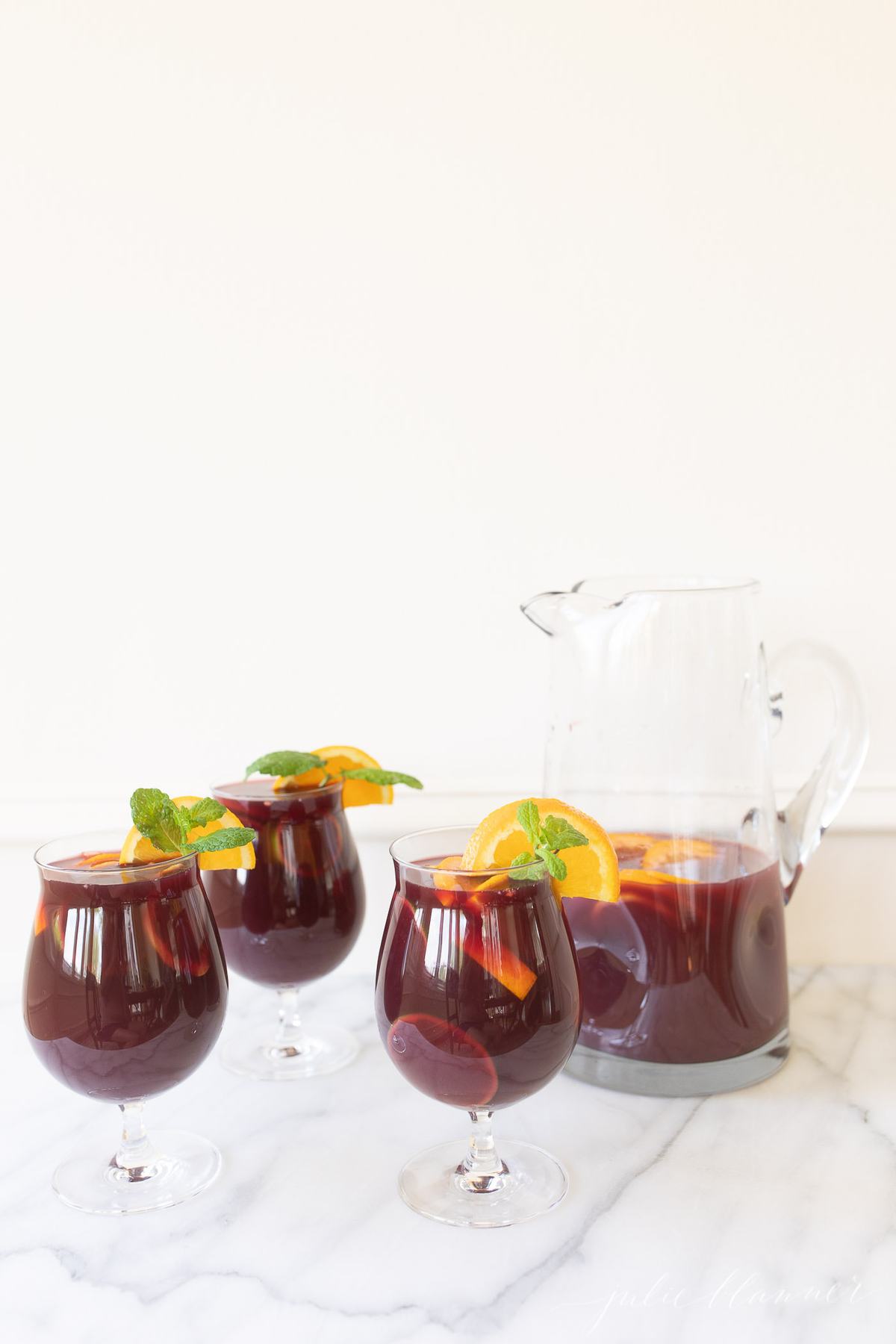 Spanish Sangria Punch
This classic drink from the land of flamenco and bullfighting has crossed oceans and borders to become a beloved cocktail all around the world. With its vibrant red color, refreshing taste, and ability to transport you straight to the sun-kissed beaches of Barcelona, this punch is a must-try for anyone who loves a good tipple. And hey, if you're feeling fancy, you can even add some sparkly soda water or a shot of brandy to take it up a notch. So gather your friends, grab your sangria pitcher, and get ready for a fiesta like no other! Salud!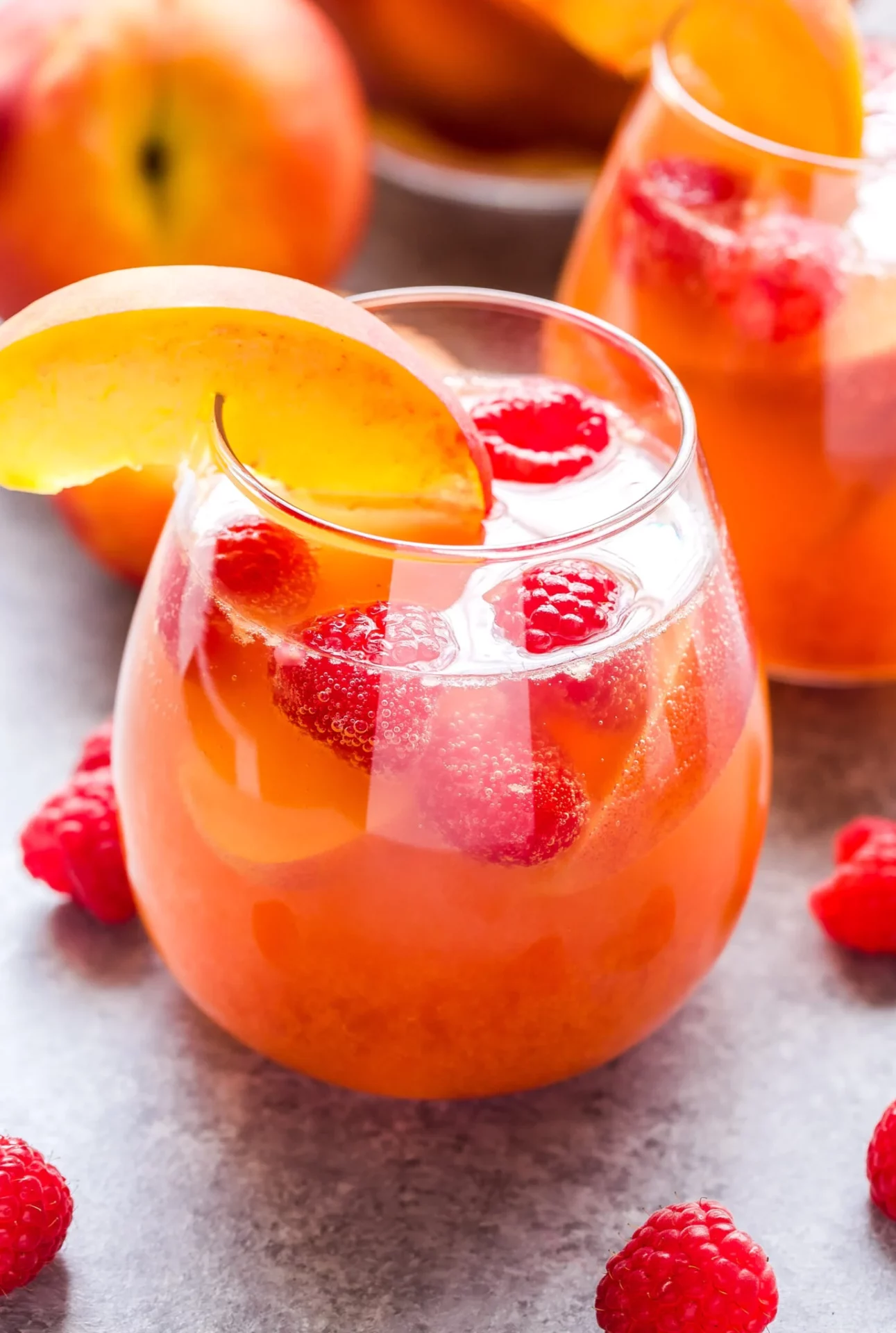 Peach Rosé Sangria Wine
Looking for a refreshing drink to impress your guests this summer? Look no further than peach rosé sangria. This delightful blend of rosé wine, fresh peaches, and a splash of brandy is sure to have everyone asking for the recipe. It's the perfect drink to sip on a hot day or to serve at your next backyard BBQ. So go ahead, channel your inner mixologist and whip up a batch of this deliciously witty peach rosé sangria. Cheers to summer!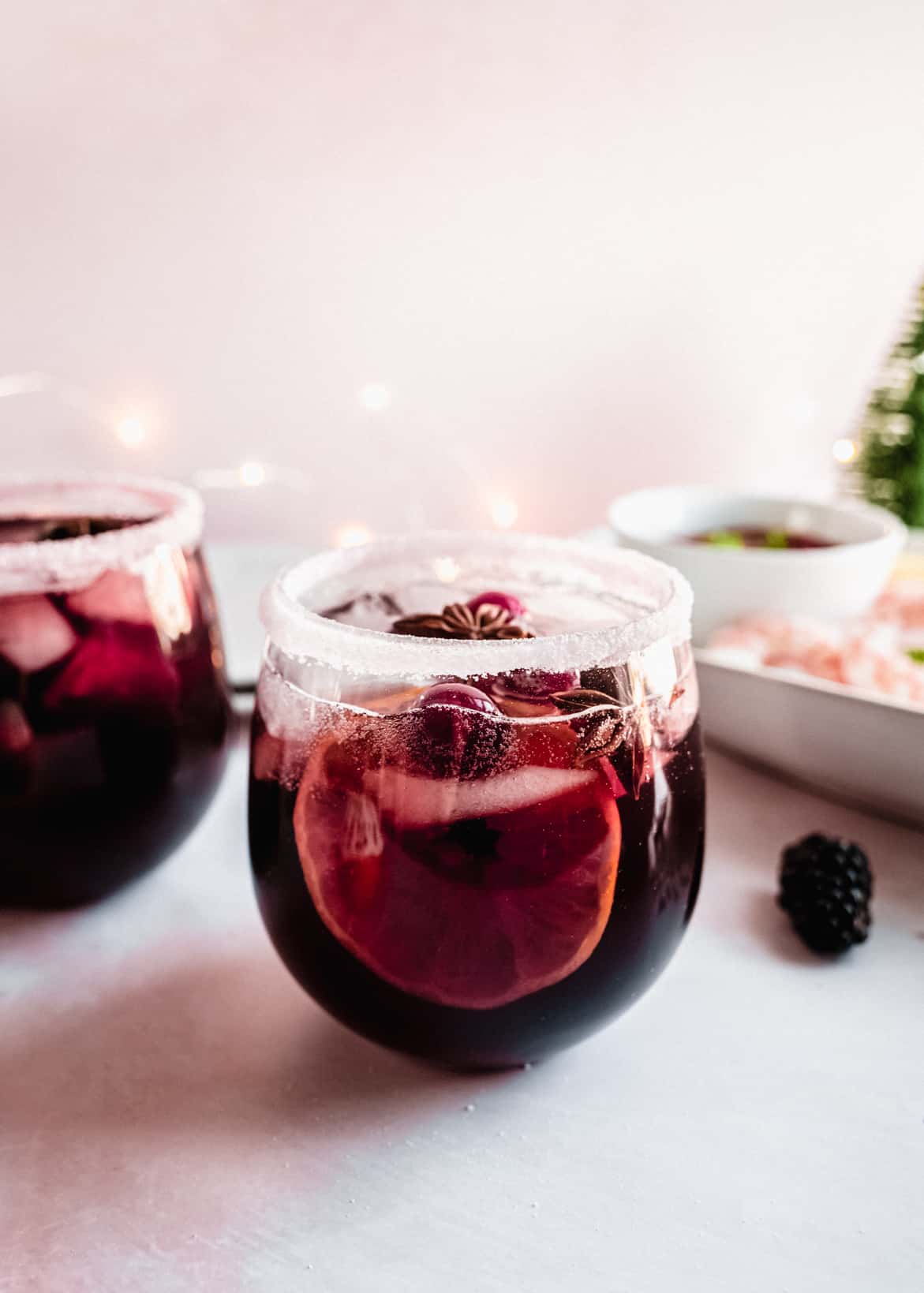 Christmas Sangria
Christmas just got extra special with the arrival of the ultimate holiday spirit booster – Christmas Sangria. This festive drink is a perfect blend of red wine, orange juice, cranberries, and cinnamon sticks – all coming together to make a wholesome delight that's sure to light up your party. Not only is it insanely delicious, but the vibrant and deep red hue of this drink also adds a notable touch of festivity to any table setting. So, this year, skip the traditional eggnog and bring in the merry-making with the delightful and oh-so-witty Christmas Sangria.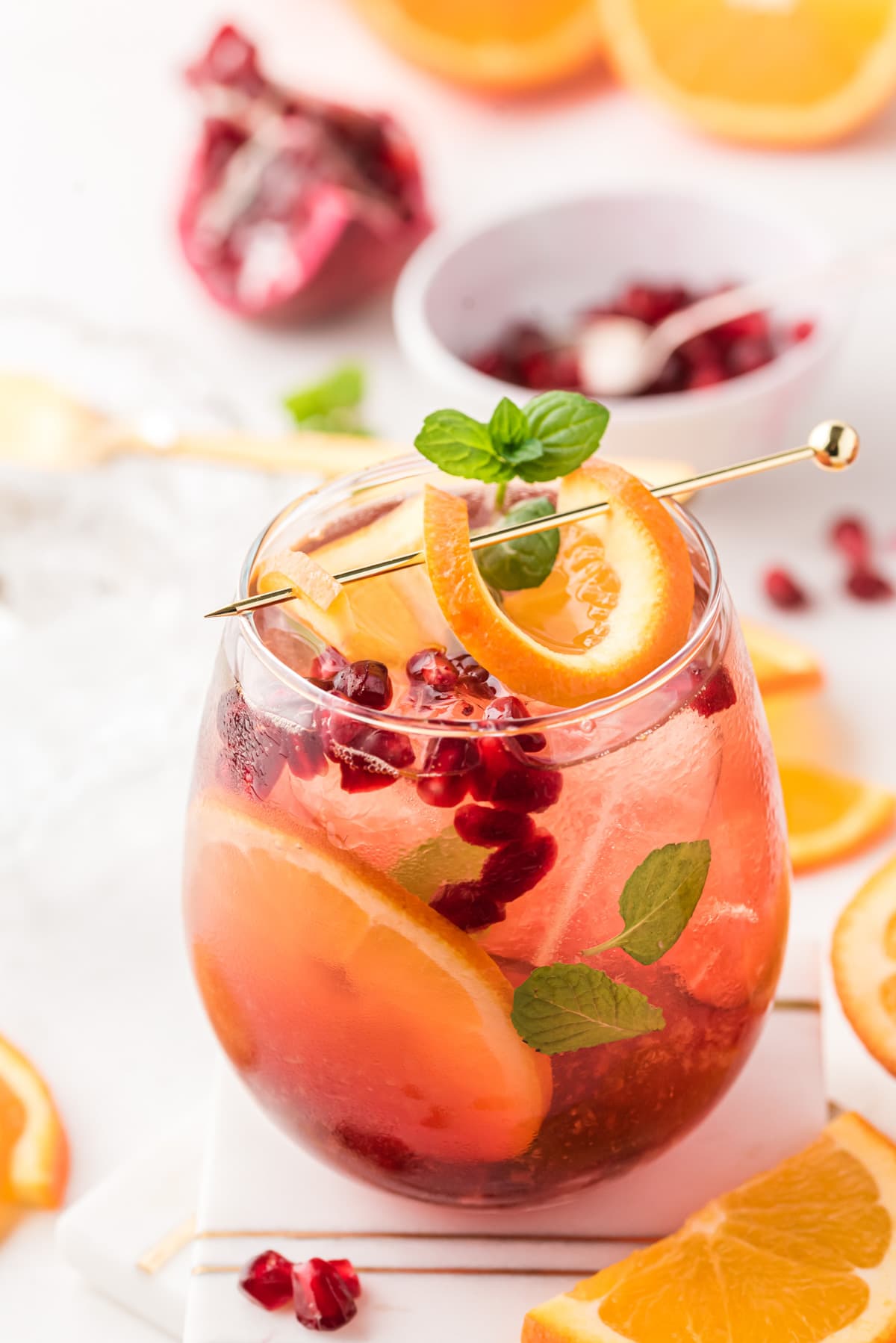 Pomegranate Holiday Sangria
Picture this: it's the holiday season, the lights are twinkling, the music is playing, and you find yourself with a group of friends or family. What better way to celebrate than with a pomegranate holiday sangria? This cocktail is the perfect mix of sweet and tart, with the added bonus of being loaded with antioxidants. Plus, the vibrant red color makes for the ultimate festive addition to any party. So, ditch the boring eggnog and impress your guests with a drink that's both delicious and nutritious. Just make sure to save a glass for Santa Claus, because we have a feeling he'll be stopping by for a sip or two.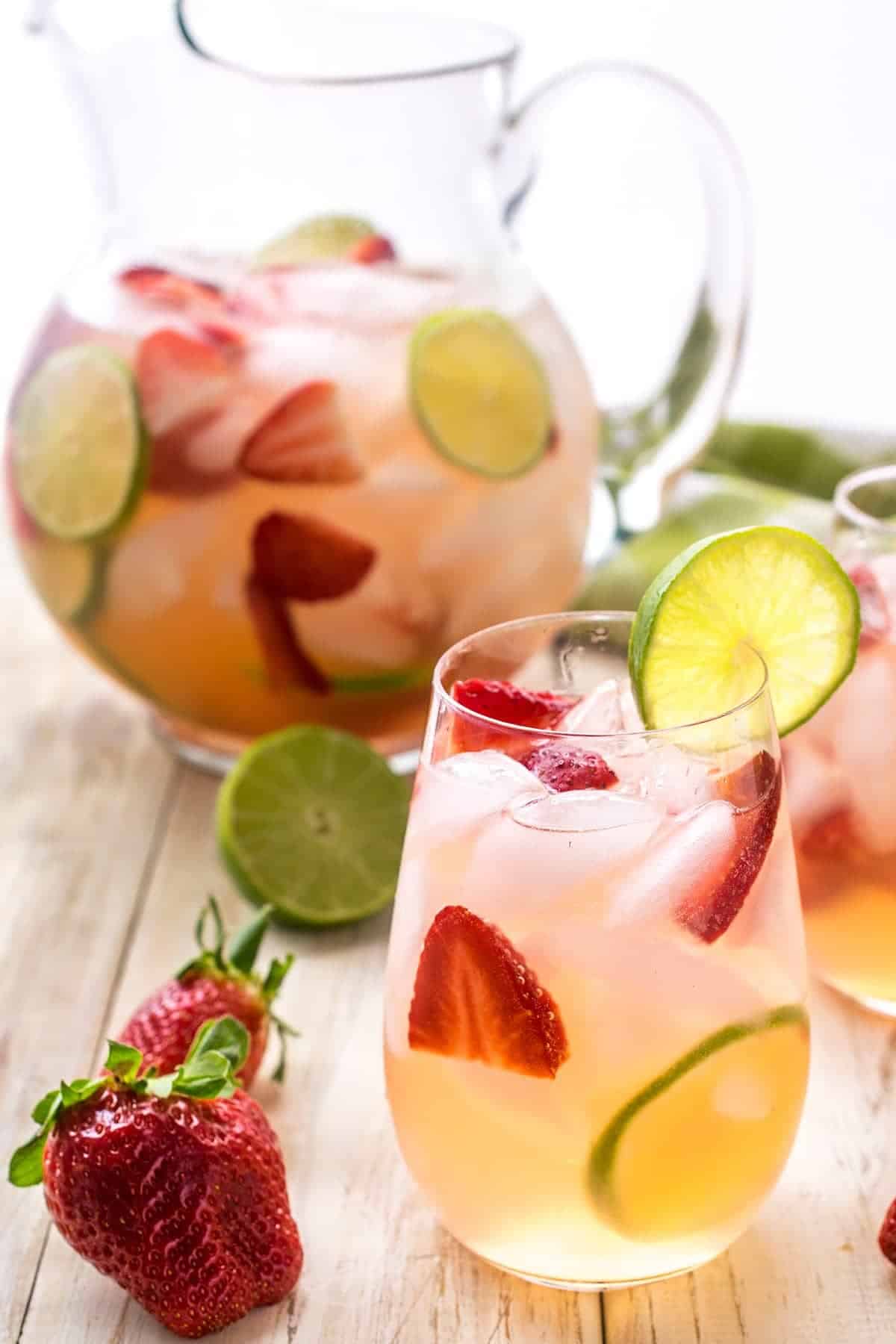 Strawberry Sangria
There's nothing quite like sipping on a cool glass of strawberry sangria on a warm summer day. Refreshing, fruity, and just the right amount of intoxicating – this beverage is the ultimate way to jazz up any BBQ or picnic. The blend of fresh strawberries, crisp white wine, and a hint of brandy make for a complex and delightful flavor profile that is sure to impress even the most discerning of palates. Whether you're enjoying a glass poolside or pouring a pitcher for a big group, one thing's for sure: this sangria is a crowd-pleaser that will have everyone asking for the recipe.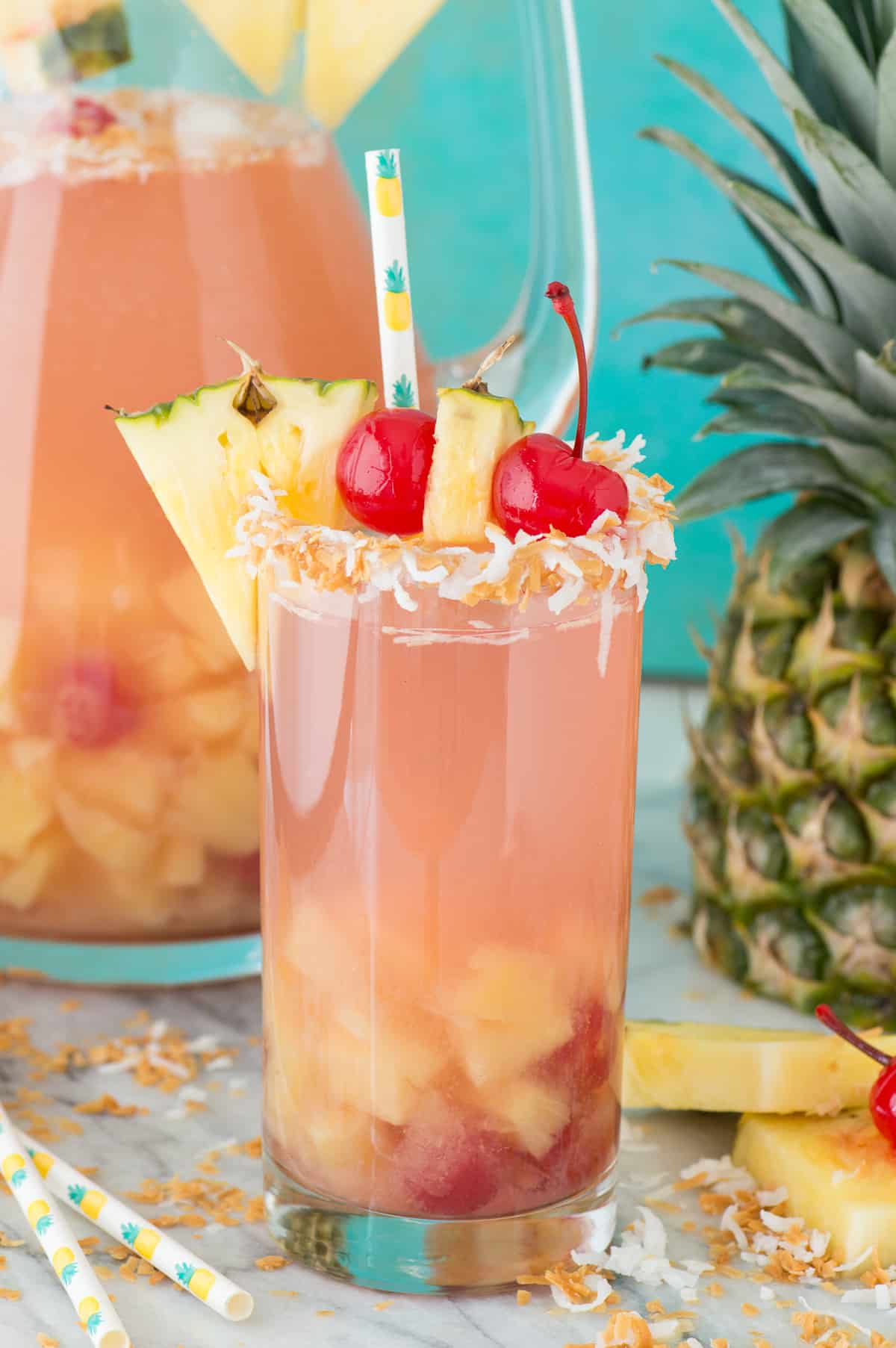 Pina Colada Sangria
If you're in the mood to transport yourself to a tropical paradise with just one sip, may I suggest a pina colada sangria? This drink combines the classic flavors of a pina colada with the refreshing kick of a sangria, making it impossible not to be swept away to a white sandy beach in your mind. With notes of pineapple, coconut, and white wine all mingling together, you may just find yourself daydreaming about lounging in a hammock, soaking up the sun. So go ahead, take a sip, close your eyes, and let the pina colada sangria work its magic.
If you're looking to add a bit of fun and flair to your next summer gathering, look no further than a cute sangria pitcher to serve up your fruity concoction. Not only do they add a touch of whimsy to your tablescape, but they're also practical – allowing for easy pouring and refilling for all your thirsty guests. From cheeky puns to colorful designs, there's a cute sangria pitcher out there for every taste and personality. Plus, when the party's over, these pitchers will make a great addition to your bar cart or kitchen decor. So, cheers to summer sipping and adorable pitchers!
What is Sangria?
Sangria is a popular alcoholic beverage originating from Spain and Portugal. It typically consists of red or white wine that is mixed with chopped fruits, such as oranges, lemons, and apples, as well as a sweetener such as sugar or honey, and sometimes brandy or another type of liquor. The mixture is then left to marinate for several hours to allow the flavors to meld together. Sangria is typically served chilled and is a refreshing and fruity beverage that is perfect for summertime gatherings or any occasion where a light and flavorful drink is desired.
How to make white Sangria?
White Sangria is a refreshing and delicious variation of the traditional red Sangria that is perfect for hot summer days. Here is a simple recipe to make your own white Sangria at home:
Ingredients:
1 bottle of white wine (750 ml)

1/2 cup of brandy

1/4 cup of triple sec

2 tablespoons of sugar

2 cups of sparkling water

1 lemon, sliced

1 lime, sliced

1 green apple, chopped

1 cup of grapes, halved
Instructions:
In a large pitcher, combine the white wine, brandy, triple sec, and sugar. Stir until the sugar has dissolved.

Add the sliced lemon, lime, chopped apple, and halved grapes to the pitcher and stir to combine.

Refrigerate the Sangria for at least 2 hours or overnight to allow the flavors to meld together.

Just before serving, add the sparkling water to the pitcher and stir gently.

Serve the white Sangria over ice and garnish with additional fruit if desired.

This recipe is just a starting point, and you can experiment with different types of fruits and liquor to create your own unique white Sangria recipe that perfectly suits your taste preferences.
Is Sangria wine?
Sangria is a wine-based cocktail that typically consists of red or white wine that is mixed with chopped fruits, a sweetener, and sometimes brandy or another type of liquor. While wine is a significant ingredient in Sangria, it is not just wine. Other ingredients are added to the wine to create the cocktail's distinctive flavor and fruity character. The alcohol content of Sangria can vary depending on the recipe and the amount of liquor added. Overall, while Sangria is made with wine, it is considered a mixed drink or a cocktail rather than just wine.
How long does Sangria last?
Sangria can last for up to three days when stored properly in the refrigerator. However, the flavor and texture of the Sangria can change over time, so it's best to consume it within the first day or two for optimal taste.
The fruit in the Sangria can also begin to break down and become mushy if left in the mixture for too long, so some people prefer to remove the fruit after a day or two to keep the Sangria fresh.
To extend the shelf life of Sangria, you can store it in an airtight container or bottle and keep it chilled in the refrigerator until ready to serve. It's important to note that Sangria should not be stored at room temperature, as this can promote bacterial growth and spoil the drink.
Is Sangria Sweet?
Sangria can be sweet, but it depends on the recipe and the specific ingredients used.
Sangria typically includes a sweetener such as sugar, honey, or fruit juice, which adds a touch of sweetness to the drink. The sweetness level can also be influenced by the type of wine used, as some wines are naturally sweeter than others. Red wines tend to be more full-bodied and have a higher tannin content, which can make them taste drier than white wines. White wines, on the other hand, tend to be lighter and crisper, which can make them taste sweeter.
Ultimately, the sweetness of Sangria can vary depending on the recipe, the ingredients used, and personal preference.
What color is Sangria?
The color of Sangria can vary depending on the type of wine and fruit used in the recipe.
Red Sangria is typically made with red wine, which gives it a rich and deep red color. The addition of fruits like oranges, lemons, and apples can also give the Sangria a slightly orange or pink hue.
White Sangria, on the other hand, is made with white wine, which gives it a light and golden color. The fruits used in white Sangria can also influence its color. For example, if you add yellow and green fruits like apples and kiwis, the Sangria may have a slight greenish tint.
Overall, the color of Sangria can be a beautiful and vibrant addition to any gathering or occasion.